Fantasy Football 2012: Breaking Down the Elite Players and Duos at Wide Receiver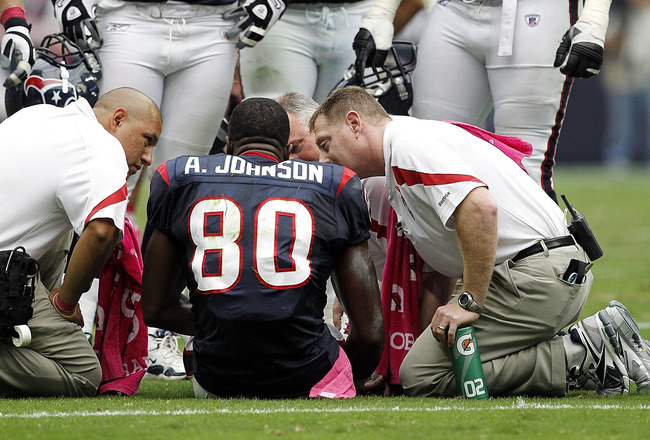 Andre Johnson has been replaced as the consensus No. 1 fantasy football WR
Bob Levey/Getty Images
No position in fantasy football is more interesting than the wide receiver position. There is tremendous depth at the top of the position. The NFL has gradually shifted to a passing league which has moved the fantasy football emphasis from the running back position to the quarterbacks and wide receivers.
There are several different groups of WRs that we will look at:
Elite WRs on teams where they are the only game in town.
Elite WRs on teams with one (or more) other elite WRs.
Other veteran WRs
Possible breakout duos
We are looking for WRs that will either be your No. 1 WR, or at least a high-end No. 2 WR.
As with anything in fantasy football, you need to know how your league works. In standard (non-PPR) leagues, there is an emphasis on WRs who score TDs and rack up yardage. In PPR leagues, you want WRs who catch the most passes.
Truly elite WRs are worth playing in any format, but in PPR leagues there is added value in having players who receive more targets in the passing game.
If you play in a league where you have to start three WRs, you will need to draft them earlier. It's that simple.
You never want to be caught short, and if you only need to start two RBs there will be plenty of depth at that position.
If you play in a PPR league with a RB/WR flex, you should almost always be starting a WR as your flex, barring unusually good depth at RB.
For comparison between WRs I will be using the Expert Consensus Ranking (ECR) from Fantasy Pros. ECR is the average ranking of many other rankings compiled from "experts" all over the Internet.
Calvin Johnson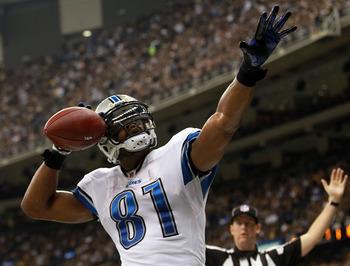 Ronald Martinez/Getty Images
Fantasy Pros Expert Consensus Rankings = 1 (Standard), 1 (PPR)
Calvin Johnson is in a category all by himself.
He is the consensus No. 1 fantasy WR and he will be a first round draft pick in every fantasy league. There is a definite drop-off from Johnson to the No. 2 fantasy WR, in all formats.

Elite WRs on Teams That Lack a Second Elite WR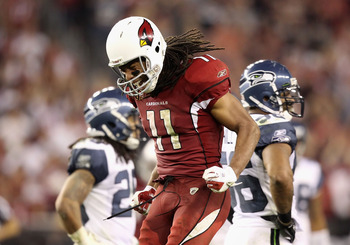 Christian Petersen/Getty Images
Larry Fitzgerald: Fantasy Pros Expert Consensus Rankings = 2 (Standard), 2 (PPR)
Due to Andre Johnson's injury history, Fitzgerald has become the consensus No. 2 WR. He has proven that he can produce no matter who the Cardinals put under center.
The addition of rookie WR Michael Floyd should actually help Fitzgerald, even if Floyd doesn't emerge as a viable fantasy option as a rookie, as it will take the spotlight off of Fitzgerald from time-to-time.
Andre Johnson: Fantasy Pros Expert Consensus Rankings = 3 (Standard), 3 (PPR)
It's really all about health with Johnson. You can't expect him to play 16 games anymore. When he plays he will still be an elite option, but he carries a ton of risk due to how early he will be selected in fantasy drafts.
A.J. Green - Fantasy Pros Expert Consensus Rankings = 7 (Standard), 7 (PPR)
It's tough to remember that Green was a rookie (with a fellow rookie at QB) without training camp (thanks to the lockout) after looking at his production last season. With Green and QB Andy Dalton getting regular offseason of work together they should only improve in their second year.
Elite WRs on Teams That Lack a Second Elite WR (Continued)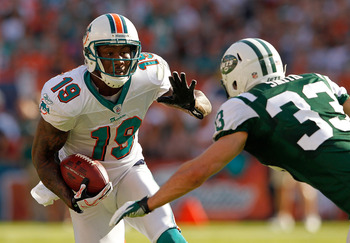 WR Brandon Marshall was traded from the Miami Dolphins to the Chicago Bears this off-season.
Mike Ehrmann/Getty Images
Brandon Marshall - Fantasy Pros Expert Consensus Rankings = 11 (Standard), 9 (PPR)
Marshall was traded to Chicago this offseason and was reunited with his former Broncos teammate, QB Jay Cutler.
Marshall will by far be the No. 1 target in the Bears passing game and Cutler will have no problem airing it out, even when the coverage is there. If he stays healthy (and out of trouble) Marshall could be in for a monster season.
Steve Smith - Fantasy Pros Expert Consensus Rankings = 14 (Standard), 13 (PPR)
As long as Smith stays healthy and Cam Newton stays under center for the Panthers, there's no reason to think Smith won't put up WR1 numbers, even if the Panthers once again fail to provide a viable WR to start across from Smith.
It's the Panthers running game (and Cam Newton's legs) that give Smith room to operate.
Percy Harvin - Fantasy Pros Expert Consensus Rankings = 17 (Standard), 15 (PPR)
Harvin really emerged midway through last season after seeing limited snaps early in the year, and he produced with both Christian Ponder and Joe Webb under center.
With Adrian Peterson likely to be somewhat limited when he returns, Harvin should be the centerpiece of the Vikings offense. Only his ability to stay healthy prevents him from being ranked higher.
Elite WR Duos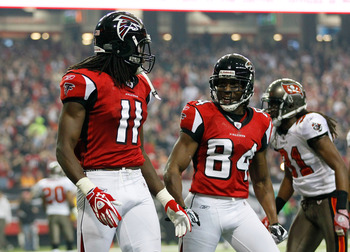 Julio Jones and Roddy White
Kevin C. Cox/Getty Images
Roddy White - Fantasy Pros Expert Consensus Rankings = 4 (Standard), 5 (PPR)
Julio Jones - Fantasy Pros Expert Consensus Rankings = 12 (Standard), 12 (PPR)
With Michael Turner declining, the Falcons are shifting to a more passing-based offense.
Jones was another rookie who didn't have an offseason last year. A full training camp could mean increased targets for Jones, most likely at the expense of White. Jones does need to stay healthy, as he did miss games in 2011.
Wes Welker - Fantasy Pros Expert Consensus Rankings = 6 (Standard), 4 (PPR)
Brandon Lloyd - Fantasy Pros Expert Consensus Rankings = 26 (Standard), 28 (PPR)
Really, Welker also shares targets with TEs Rob Gronkowski and Aaron Hernandez, but Brandon Lloyd has show that he can seriously produce in a Josh McDaniels offense.
With Tom Brady at the controls of such an offense, Lloyd should get plenty of chances for big plays and TDs. Welker could see a decline in targets and TDs.
Greg Jennings - Fantasy Pros Expert Consensus Rankings = 5 (Standard), 6 (PPR)
Jordy Nelson - Fantasy Pros Expert Consensus Rankings = 13 (Standard), 14 (PPR)
Jennings and Nelson aren't alone in the Green Bay passing game, but they figure to be the primary two targets. Jennings will be the more consistent options, while Nelson offers more big-play potential.
As long as the Packers offense picks up where it left off in 2011, both WRs could be WR1 options.
Elite WR Duos (Continued)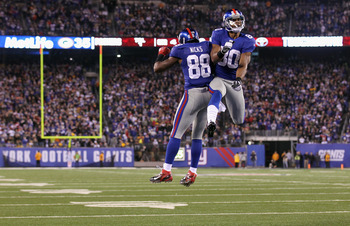 Hakeem Nicks and Victor Cruz
Nick Laham/Getty Images
Hakeem Nicks - Fantasy Pros Expert Consensus Rankings = 8 (Standard), 8 (PPR)
Victor Cruz - Fantasy Pros Expert Consensus Rankings = 10 (Standard), 11 (PPR)
Eli Manning has proven that he is an elite QB who makes the players around him better, which bodes well for these guys.
Nicks suffered a foot injury in May, but he's expected back for Week 1. Cruz might not be able to repeat all of the big-play success he had last season, but he can still be an elite fantasy option as Manning's No. 2 target.
Miles Austin - Fantasy Pros Expert Consensus Rankings = 15 (Standard), 19 (PPR)
Dez Bryant - Fantasy Pros Expert Consensus Rankings = 18 (Standard), 18 (PPR)
This duo hasn't seen a ton of time on the field together due to injuries to both players.
As seen by the production from Laurent Robinson last season, the Cowboys passing game can support two elite WR options. An improved running game and offensive line could really open things up for the Dallas passing game.
Jeremy Maclin - Fantasy Pros Expert Consensus Rankings = 24 (Standard), 25 (PPR)
DeSean Jackson - Fantasy Pros Expert Consensus Rankings = 25 (Standard), 24 (PPR)
If the Eagles WRs (and Michael Vick) can stay healthy, they can produce WR1 fantasy numbers.
As you can see by their rankings, nobody can pick a favorite between the two WRs. I personally prefer Maclin, but Jackson's big play ability can swing fantasy match-ups in the blink of an eye.
Mike Wallace - Fantasy Pros Expert Consensus Rankings = 8 (Standard), 10 (PPR)
Antonio Brown - Fantasy Pros Expert Consensus Rankings = 27 (Standard), 27 (PPR)
Wallace's holdout could hurt his fantasy draft stock a bit, but I would expect him to be in camp before the season begins. We've seen the Steelers passing game produce elite fantasy options before and their emphasis on the offensive line in the draft can only help.
Emmanuel Sanders could steal some targets from Brown if he's healthy, but Brown more than proved what he can do in 2011.
Other Elite Veteran Options at WR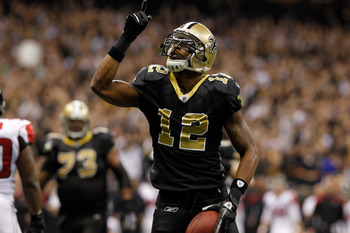 New Orleans Saints WR Marques Colston
Chris Graythen/Getty Images
Marques Colston - Fantasy Pros Expert Consensus Rankings = 16 (Standard), 16 (PPR)
Colston will have the same injury risk attached to him that he does every season, but as long as Drew Brees is under center for the Saints, Colston will have fantasy value.
The departure of Robert Meachem could result in a few extra targets for Colston if he can stay on the field.
Dwayne Bowe - Fantasy Pros Expert Consensus Rankings = 19 (Standard), 21 (PPR)
Bowe has all of the physical talent in the world, but Bowe disappears at times on the football field. If he's focused and Matt Cassel plays alright, Bowe can be a WR1, but expect second-year WR Jonathan Baldwin to play a bigger role in the offense in 2012.
The return of TE Tony Moeaki and the presence of WR Steve Breaston will also cut into Bowe's targets.
Steve Johnson - Fantasy Pros Expert Consensus Rankings = 23 (Standard), 23 (PPR)
Johnson proved that his 2010 breakout was no fluke by putting up solid numbers for the Buffalo Bills in 2011. This is the first year that Johnson will get an entire offseason of work with Bills QB Ryan Fitzpatrick.
It's unlikely that Johnson improves much more, but with a couple more TDs he can be a low-end WR1.
Possible Breakout WR Duos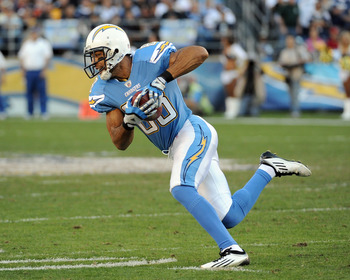 Former Chargers WR Vincent Jackson signed with the Tampa Bay Buccaneers in the off-season.
Harry How/Getty Images
Vincent Jackson - Fantasy Pros Expert Consensus Rankings = 22 (Standard), 20 (PPR)
Mike Williams - Fantasy Pros Expert Consensus Rankings = 42 (Standard), 43 (PPR)
The Tampa Bay Buccaneers made drastic changes on offense this offseason. They signed WR Vincent Jackson away from the Chargers and traded starting TE Kellen Winslow Jr. to the Seattle Seahawks.
If Josh Freeman can recapture his 2010 form, both Jackson and Williams could be excellent fantasy options.
Demaryius Thomas - Fantasy Pros Expert Consensus Rankings = 20 (Standard), 17 (PPR)
Eric Decker - Fantasy Pros Expert Consensus Rankings = 29 (Standard), 26 (PPR)
Both Thomas and Decker were early draft picks who have a ton of potential, but it's the presence of new Broncos QB Peyton Manning that could send this duo into the ranks of elite WR duos.
It's not easy to even pick which WR you prefer until we can see both on the field with Manning under center.
The Best of the Rest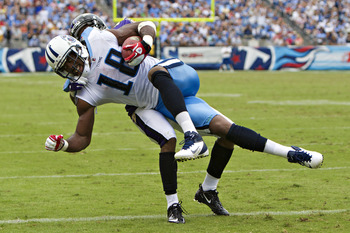 It is unknown if Titans WR Kenny Britt will be healthy when the 2012 season begins.
Wesley Hitt/Getty Images
The fact that there are still more WRs with excellent potential should indicate to you how deep the position is this season. Even after I've listed almost 30 options, I guarantee you that I've failed to mention at least two WRs who end up being top-15 fantasy options.
Most of these players are aging veterans, promising rookies or players returning from injury. There are entire teams (like the Oakland Raiders and San Francisco 49ers) where we have no idea how the WR group will play out.
It's almost a given that a second- or third-year WR who was regarded as a "bust" will breakout as a star in 2012. It's just how these things work.
If I had to draft a WR not listed here as a WR2 with WR1 upside, I might draft these guys:
Torrey Smith - Fantasy Pros Expert Consensus Rankings = 28 (Standard), 29 (PPR)
Santonio Holmes - Fantasy Pros Expert Consensus Rankings = 32 (Standard), 32 (PPR)
Robert Meachem - Fantasy Pros Expert Consensus Rankings = 31 (Standard), 33 (PPR)
Denarius Moore - Fantasy Pros Expert Consensus Rankings = 35 (Standard), 36 (PPR)
How Do You Determine Which of These WRs to Draft?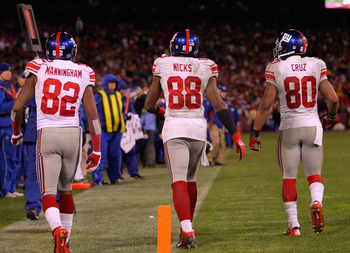 It was Victor Cruz, not Mario Manningham who ended up as the No. 2 WR for Eli Manning and the Giants
Doug Pensinger/Getty Images
There really are almost 30 WRs with a shot at being top-12 fantasy options. Not to say that the WR position will be predictable, but there's much more stability here than there is at RB, which is why you most likely will end up with two WRs before drafting two RBs this year.
Fantasy football is very much a game about balancing risk and reward. If you risk too much, you could end up with a horrible team. If you don't take enough risks, you've probably doomed yourself to a middle-of-the-road fantasy team.
Sure, you could still win a championship, but it will be more about being lucky than being good.
Drafting two or three of these elite WR options offers you high potential while minimizing your risk.
WRs tend to produce more consistently from year-to-year and they get injured less often than RBs.
Don't get me wrong, crazy stuff can happen at WR. I drafted Mario Manningham last year thinking that the No. 2 WR on the Giants could blow up. The No. 2 WR on the Giants did. It's just that his name was Victor Cruz, and it wasn't me who claimed him off of waivers.
What do you think about the WRs this year? What elite options are about to fall off? What emerging WRs will take the next step in 2012?
Thanks for reading, and please use the comments feature if you have anything to add to the discussion.
For more follow along on Twitter
Check out John at SportsSomething
Keep Reading