2012 NFL Depth Chart Predictions: 10 Units with the Most Quality Depth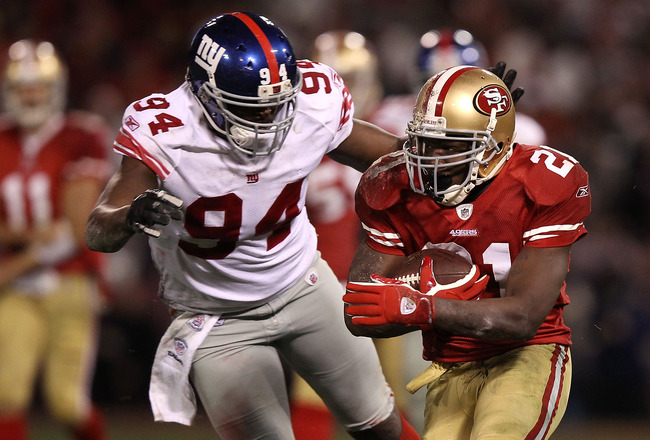 Ezra Shaw/Getty Images
Depth is an asset too often overlooked in today's NFL.
Having one great option at any given position is nice, but being able to accumulate solid players behind that player is necessary to win consistently.
Simply look at the 2011 Indianapolis Colts for an example.
When Peyton Manning was lost for the season due to injury the team made a rash decision to bring in a retired Kerry Collins because they were not comfortable with the back-ups already in place.
This kind of scenario is a scary reality for some teams.
However, the following ten units should ensure no such doomsday occurs for their respective organizations.
10. Miami Dolphins Running Backs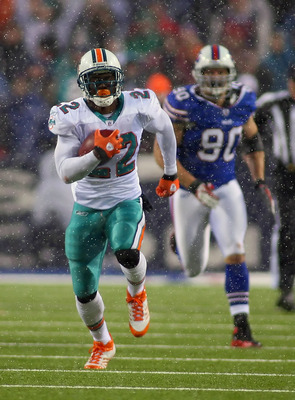 Rick Stewart/Getty Images
Daniel Thomas
Steve Slaton
Lamar Miller
What is not to love about the backfield the Miami Dolphins have assembled?
Reggie Bush is one of the biggest home run threats in all of football and last season proved he can handle a heavy workload.
Daniel Thomas is a rising star with uncapped potential.
Steve Slaton has had his issues with injuries, but when healthy has showed tremendous skill.
And Lamar Miller is the hometown rookie draft pick with great speed and a solid frame.
The Dolphins are known for their offensive variety and this backfield bunch should keep opposing defenses guessing at all times.
9. New England Patriots Tight Ends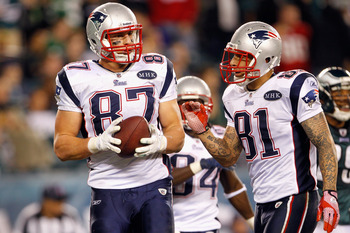 Rich Schultz/Getty Images
Aaron Hernandez
Rob Gronkowski
Daniel Fells
What the New England Patriots have done with two tight end formations is amazing.
Aaron Hernandez and Rob Gronkowski are both featured players in the Patriots offense and both get plenty of catches and touchdowns.
Defenses have to play the ultimate guessing game when deciding how to handle the speed and skill of Hernandez when matched with the power and surprising hands of Gronkowski.
They combined for over 160 catches, 2200 yards and 24 touchdowns in 2011.
Don't expect those numbers to slow down in 2012.
8. Buffalo Bills Running Backs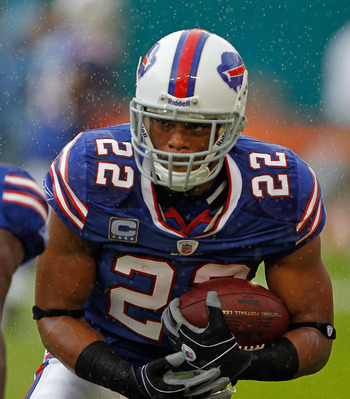 Mike Ehrmann/Getty Images
Fred Jackson
C.J. Spiller
Tashard Choice
Fred Jackson is one of the most consistently underrated running backs in the NFL.
He has gained at least 900 yards in each of the last three seasons while also maintaining a minimum per carry average of 4.2 yards.
Couple his versatility with the game-breaking speed and dynamic ability of C.J. Spiller, and then toss in a quality third option in Tashard Choice and you have a formidable unit.
7. Atlanta Falcons Cornerbacks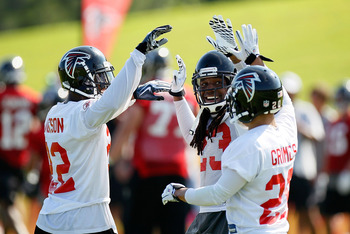 Kevin C. Cox/Getty Images
Asante Samuel
Brent Grimes
Dunta Robinson
Sometimes great depth does not have to come in the form of five or six players.
In the case of the Atlanta Falcons cornerbacks it comes down to three great names.
Asante Samuel, Brent Grimes and Dunta Robinson may not be quite on the level of the Philadelphia Eagles from a season ago, but their talent is still outstanding.
Each of these players could assume a No. 1 cornerback role elsewhere in the league.
Instead, they have assembled one of the best units in the NFL.
6. Detroit Lions Defensive Tackles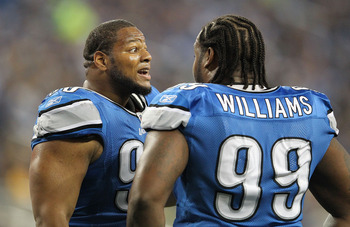 Leon Halip/Getty Images
Ndamukong Suh
Nick Fairley
Corey Williams
Sammie Lee Hill
Assuming Nick Fairley finds a way to control himself off the field the Detroit Lions will have a scary defensive tackle rotation in 2012.
Ndamukong Suh is one of the best young talents in the NFL and his combination of size, skill and speed make him a tough matchup for any offensive lineman in the league.
Corey Williams is an underrated veteran with a great motor and Sammie Lee Hill is a mammoth 6'4" 330 lbs. road blocker that stops traffic dead in it's tracks.
Fairley is the unknown here. He was hampered by injuries during his rookie campaign, but if he returns to the form he showed in his final season with the Auburn Tigers then Detroit will be in a great position for years to come.
5. New England Patriots Quarterbacks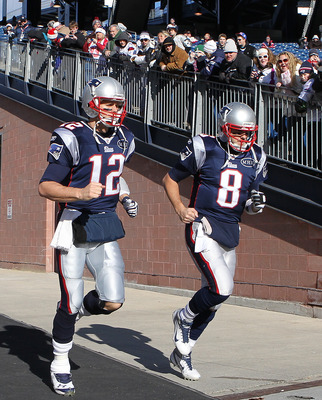 Jim Rogash/Getty Images
Remember how the Indianapolis Colts had no verifiable back-up plan in place for when Peyton Manning was injured?
Well the New England Patriots have taken the complete opposite route.
Tom Brady always has quality quarterbacks behind him, as evidenced in 2008 when Matt Cassel stepped in and led the Patriots to 11 regular season wins.
In 2012 New England will march out Brian Hoyer and Ryan Mallet behind Brady.
Hoyer is the solid No. 2 option and has three years worth of playbook knowledge and Brady tutelage at his disposal.
Mallett is the prized future of the franchise. An early draft pick last season that will be given plenty of time to learn and mature into a legitimate NFL quarterback.
The Patriots never want to see Brady go down, but at least they are prepared for such an occasion.
4. Green Bay Packers Wide Receivers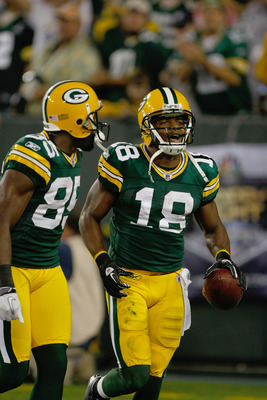 Scott Boehm/Getty Images
Greg Jennings
James Jones
Jordy Nelson
Donald Driver
Randall Cobb
Aaron Rodgers is an elite quarterback no matter what kind of talent is surrounding him, but putting these kinds of weapons at his disposal makes an almost unstoppable combination.
Donald Driver is clearly not the Pro Bowl receiver he once was, but Greg Jennings has cemented himself as the best receiver on the Green Bay depth chart and one of the top options in the entire league.
James Jones, Jordy Nelson, and Randall Cobb add even more skill to this receiving corps and allow the Packers to trot out a legitimate five receiver set when the opportunity presents itself.
Nelson and Cobb in particular are remarkable slot men with no fear of going over the middle to make the big play.
It's no wonder Green Bay finished 3rd in passing yards in 2011.
3. New York Giants Defensive Ends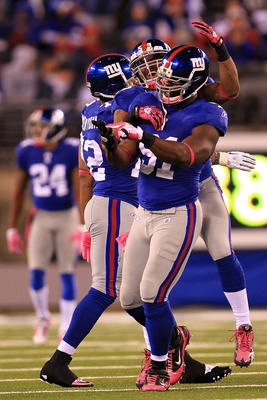 Chris McGrath/Getty Images
Justin Tuck
Osi Umenyiora
Jason Pierre-Paul
Mathias Kiwanuka
Justin Trattou
On any given play an opposing offensive tackle may be staring into the eyes of Justin Tuck, Osi Umenyiora, Jason Pierre-Paul or Mathias Kiwanuka.
That is simply a no-win situation.
The Giants have the ability to pass rush in a way most teams can only dream of.
Three Pro-Bowlers at one position is an almost unfair advantage and New York is fortunate to have such a skilled unit.
2. Cincinnati Bengals Cornerbacks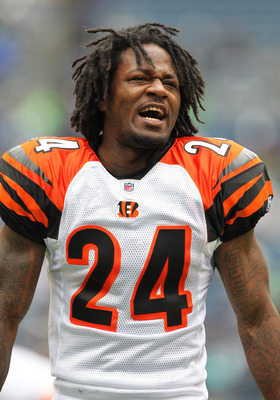 Otto Greule Jr/Getty Images
Nate Clements
Dre Kirkpatrick
Jason Allen
Leon Hall
Terrence Newman
Pacman Jones
The Cincinnati Bengals are loaded at the cornerback position.
Even if you do not consider Pacman Jones a real option, they still have at least four players that could start on most depth charts.
Nate Clements, Leon Hall and Terrence Newman are all proven commodities with track records of excellence.
Dre Kirkpatrick has a ton of potential coming out of Alabama and can help the Cincinnati secondary become the most daunting in the league.
Interceptions will be thrown at a rapid rate this year for any team facing the Bengals.
1. San Francisco 49ers Running Backs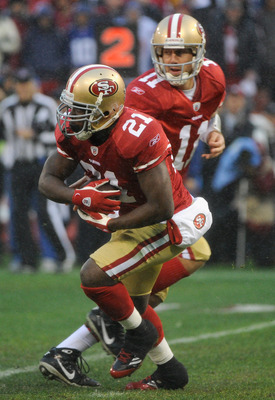 Thearon W. Henderson/Getty Images
Kendall Hunter
LaMichael James
Why the San Francisco 49ers felt the need to add LaMichael James to their depth chart is a mystery that remains unsolved.
What is known is that he adds another explosive element to a backfield with more depth than any other unit in the league.
Frank Gore is the every down back that can carry the workload.
Brandon Jacobs can be the bulldozer when the occasion calls for it, and Kendall Hunter and James provide the change of pace that decimates defenses.
The only problem for this unit will be finding enough carries to satisfy them all. A problem the 49ers are probably happy to have.
Keep Reading