A Rough Blueprint for How the New York Giants Can Repeat
May 22, 2012

Andrew Burton/Getty Images
The New York Giants have won two of the last five Super Bowls, which means it might only take a repeat performance in 2012 to conjure the "D" word in East Rutherford.
In fact, defensive end Justin Tuck is already going there (via the New York Post):
You get that the first time you're in awe. You win a second one you think 'Maybe we can do something here.' Let's make it a dynasty. We want to make it a dynasty.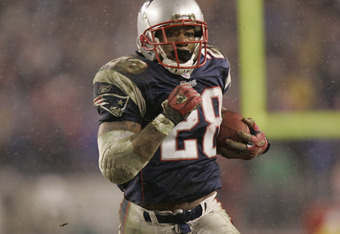 Mike Ehrmann/Getty Images
Now, winning two titles in half a decade is quite an accomplishment, but doing the whole back-to-back thing (not to mention making it three in six years) is a whole 'nother feat. The only team able to successfully defend their championship this century was the 2004 New England Patriots—a team that was also in dynasty mode.
So to create a blueprint for how these Giants can repeat as champions, it makes sense to look back at that Pats team that bucked the odds.
Simply Put, You Have To Be Better
This seems to go against logic, but so much good fortune is involved in winning a championship that you can't usually just deliver the same output the next year and enjoy the same results.
This is especially true with the Giants, who won only nine regular-season games in 2011, barely making the playoffs. Remember: Defending champs have targets on their backs, too. 
And when you consider that the rest of their division underachieved last year, it's safe to say that the Giants absolutely must improve in order to win that fifth title in New Orleans in February.
The 2003 New England Patriots were 14-2, but they still managed to make some major improvements in their repeat season. The Pats gave up 22 more points but scored 89 more than they did the year prior. They went 14-2 both seasons, but their offensive ranking shot up from 11th in '03 to fourth in '04, and their defense was ranked in the top three both years.
The Giants will almost certainly have to win more than nine games. And this time, it would help if they'd score more points than they allow (they gave up six more than they scored in 2011).
That Means Better on the Ground, Too
Like the Giants in 2011, the 2003 Patriots were dreadful on the ground. The Giants averaged a league-low 3.5 yards per carry last year, but in their first of back-to-back title season, the Pats posted an average of just 3.4. 
But with the addition of Corey Dillon, New England increased that number to a respectable 4.1 in their repeat season.
The Giants appear to realize that it's necessary to improve the running game. Otherwise, they wouldn't have used a first-round pick on Virginia Tech back David Wilson.
If Ahmad Bradshaw can stay healthy, there's little reason to believe he can't return to his 2010 form. And if Bradshaw and Wilson live up to expectations, the Giants could be able to gain some respectability on the ground in an effort to defend their title.
Improving on Strengths Might Also Be Necessary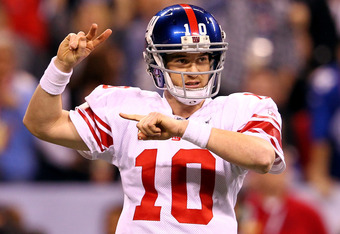 Al Bello/Getty Images
Tom Brady dramatically improved his game after winning that second title, which is exactly what Eli Manning will have to do. The numbers indicate there's less room for improvement here than there was for Brady, who upped his average by almost a full yard and his rating by seven points, but Manning could still manage to lower his interception total from 16 and increase his completion percent from 61.0.
The key, though, will again be the pass rush. Without making any major additions, the Pats increased their sack total from 41 in '03 to 45 in '04.
The Giants' pass rush finished tied for third in the NFL with 48 sacks last season, so they'll have to once again flirt with 50 to contend for the Lombardi Trophy. This won't be an easy task if Osi Umenyiora isn't on the roster, if Jason Pierre-Paul hits any sort of wall in his third season or if Justin Tuck has health problems again.
People Will Have to Step Up
For the Pats in '04, it was Dillon, Ty Warren and Rosevelt Colvin. The Giants will need players to keep emerging. Losing Aaron Ross, Brandon Jacobs and Mario Manningham on the open market and Jake Ballard to injury won't kill them, but the natural evolution of a good team calls for breakout performances.
In addition to needing something more from Bradshaw and a jolt from Wilson in the offensive backfield, the Giants will be looking for guys like Prince Amukamara, Martellus Bennett, Domenik Hixon and Ramses Barden to kick it up several notches.
Following their first two championships, the Giants failed to make the postseason. But in 2008, they followed up a Super Bowl season with two more wins and more production on both sides of the ball. And yet they still got dumped in their first playoff game. The chips are stacked against them, but at least there's a somewhat reliable blueprint in place.
Now it comes down to execution.
Oh, and some luck is probably necessary as well.