New England Patriots: 5 Rookies to Watch in Training Camp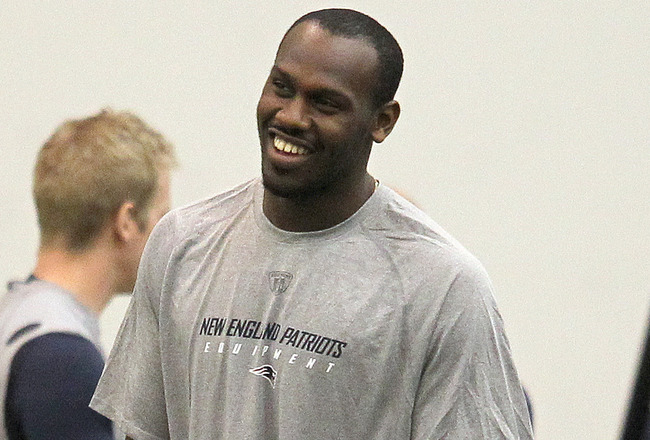 Chandler Jones Could Be Used In a Variety of Ways
Jim Rogash/Getty Images
The New England Patriots move towards July's training camp with one of the most intriguing rookie classes they have had in years. This year's training camp will be one of the first big steps in reinvigorating a defense that has not been in elite form since the 2004 Patriots defeated the Philadelphia Eagles in Super Bowl XXXIX.
This offseason, fans can at least have hope that this will be the group to turn the tide. Here are five rookies in particular that will look to be a part of this overhaul.
No. 1: Dont'a Hightower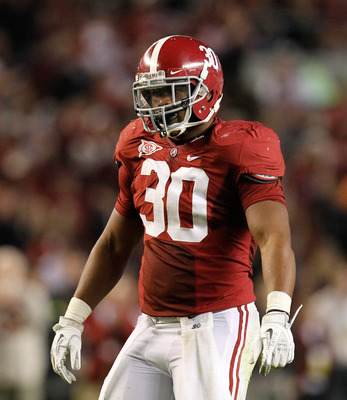 Kevin C. Cox/Getty Images
Linebacker Dont'a Hightower heads into training camp as one of the most interesting players to watch because of his sheer versatility. Watching him throughout camp will be telling of how the teams sees him being utilized in their defense.
Where exactly Hightower will line up will depend on whether Bill Belichick decides to run primarily a 3-4 or 4-3 defense this season. The selection of Hightower would seem to make it more likely for them to run a 4-3 defense again, with Brandon Spikes in the middle and Jerod Mayo and Hightower on the outside.
It will be very interesting to see whether Hightower spends any practice time with the defensive ends. Hightower was used at times at Alabama as a down-lineman to rush the passer. It would not be beyond Belichick to give him practice time with the defensive ends, similar to how tight end Aaron Hernandez spends much of his time with the wide receivers.
I would expect that even if Hightower never puts his hand on the ground during training camp, you will still see it often during games this season. Belichick has even utilized cornerback Kyle Arrington as a rush end before, so Hightower would seem like a lock to continue that role in New England.
The key to watch with Hightower is still undoubtedly who he is lined up with in the linebacking corps. The most likely scenario is that he is on the field with the other starters from day one—and never looks back.
No. 2: Alfonzo Dennard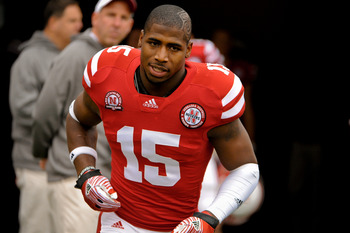 Eric Francis/Getty Images
Cornerback Alfonzo Dennard headed into this year's NFL draft with most analysts projecting him to go in the first three rounds. An arrest for felony assault and four draft rounds later, the New England Patriots pulled the trigger and selected him with the 224th pick.
Dennard's legal situation is surely one to monitor going forward, but either way, the team got a much better player than most others picked in the seventh round.
In training camp, Dennard will enter into a battle with many other corners, but luckily for him, the depth chart at the position is by no means set in stone. If Dennard is able to come in and be competitive throughout camp and the preseason, it is not outside of the realm of possibility he could be a starter opposite a player like Kyle Arrington or Devin McCourty.
Ras-I Dowling, McCourty, Darius Butler, Jonathan Wilhite and Terrence Wheatley have all started games as rookie corners in Bill Belichick's defense in recent seasons, so he obviously is not terribly uncomfortable throwing them into the fire.
However, it will by no means be handed to Dennard. He will have to show he is a capable of being a key cog in the defense with a strong performance in camp.
As always, it will be telling to simply look at who Belichick has him paired with the first time he takes the field during camp. If he is lined up along with someone like Marquice Cole, people may be over-selling his value to the team a bit.
No. 3: Chandler Jones
Otto Greule Jr/Getty Images
Syracuse defensive end Chandler Jones is a player the Patriots obviously coveted in this draft, trading up from the 27th pick up to 21 to select him. He, like Hightower, is a player whose utilization will be contingent on which scheme the Patriots choose to run.
His best use would seem to be at his natural position as a 4-3 defensive end, where he was featured in college. However, undoubtedly the Patriots will deploy the 3-4 at some point throughout the season, and under that scenario, it will be very interesting to see how Jones is used.
Throughout the draft process, he was often viewed as a defensive end/outside linebacker type "edge" player. If the Patriots are to use Jones in that 3-4 outside linebacker role at some point, they will need to start working with him at that position early and often during training camp.
Making the transition from playing lineman in college to a stand-up linebacker in the Patriots' system is not one many players have been successful with. Jones is the first high pick the Patriots have used on a player of that type during the Belichick era.
The biggest key to watch for with Jones will be how he looks when he is standing up. Does he look fluid turning his hips and running back into coverage? Does he understand what zone he needs to be at in coverage? Can he set the edge in the running game?
These will all be keys to his success or failure if he is ever going to be an outside linebacker in Bill Belichick's 3-4 defense.
No. 4: Jake Bequette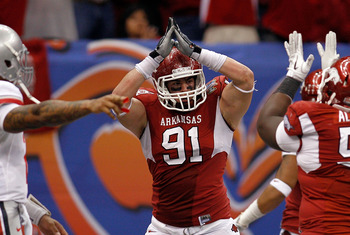 Chris Graythen/Getty Images
The Patriots doubled up with pass-rushers, selecting Jones in the first round and then grabbing Arkansas's Jake Bequette in the third. Bequette actually has the better resume when it comes to getting after the quarterback, recording seven sacks as a junior and ten as a senior in 2011.
Bequette will have a chance to fight for a role as a pass-rusher in the Patriots immediately, thanks to the absence of Andre Carter and Mark Anderson from last year's defense.Belichick could be eying Bequette and Jones as a pair of book-end pass-rushers, and it will interesting to see if they are ever paired that way during camp.
Bequette's key competition will be against players like Trevor Scott, who has already had a little success in the league with the Raiders, and Markell Carter, who is looking to get after it after a year on the Patriots' practice squad.
Bequette is so interesting to watch because the range of possibilitity is so wide. He could be a starter on day one, or he could be buried on the depth chart behind guys like Jones, Scott, and maybe even Andre Carter if he is to return.
It is all on him to go out and show his worth from the get-go when camp opens up in July.
No. 5: Tavon Wilson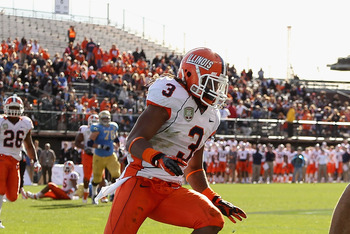 Ezra Shaw/Getty Images
This list would be incomplete without by far the most questioned pick by the Patriots in the 2012 NFL draft, defensive back Tavon Wilson.
Most national pundits had Wilson penciled in as a player who would be selected on day three of the draft, likely in Round 6 or 7. Seemingly no one had him as a player who would be wise to take in the second. Luckily for him, Bill Belichick did.
Oddly enough, he is not even the first Illinois corner/safety with the last name Wilson to be selected in the second round by Bill Belichick (Eugene, 2003). Like Eugene Wilson, if Belichick views him as a safety, he should compete for playing time immediately without much of a problem considering the lack of quality players at the position.
Patrick Chung returns and joins free agent-signing Steve Gregory, but after the two of them, the caliber of player really falls off.
Chung is clearly a player who is better the closer to the line of scrimmage he is. However, Gregory is much more of a traditional free safety, the role Wilson will likely be looking to play in the secondary. Barring injury, they should both be fixtures in the defensive backfield throughout the season, regardless of which of them starts.
Wilson, with a solid training camp, should have no problem locking down the third safety spot at worst. If he does not, this will be one of the most scrutinized picks Belichick has ever made during his tenure in New England.
If Wilson struggles and is suddenly paired with players like Ross Ventrone or Sergio Brown during camp and the preseason, get ready for plenty of screaming callers on the local sports talk shows.
Keep Reading

New England Patriots: Like this team?