San Francisco 49ers: 7 Reasons Why I Am a Fan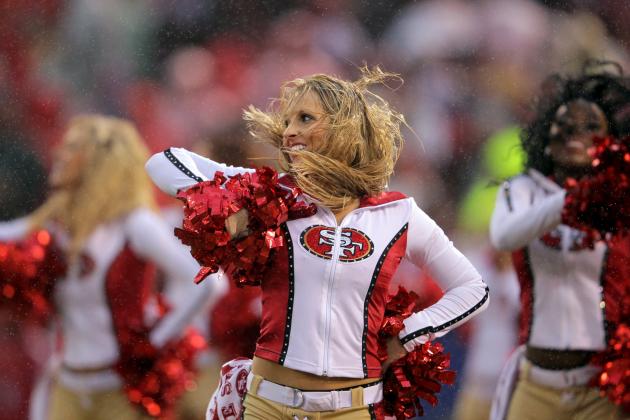 Doug Pensinger/Getty Images
Gold Rush
The San Francisco 49ers captured my loyalty when they developed winning ways in 1981. It seemed sudden. A team that had losing seasons seemingly forever, lovable but clumsy, cute but inefficient, all came together in one magical season
Under ex-Stanford coach Bill Walsh and with a spindly-legged young quarterback with the Hollywood name of Joe Montana, the team started pulling out wins in the last few moments of each game. They attained the nickname, among my posse at least, of "The Heart Attack Kids."
We started recording the games on old VCR tapes so we could watch them over again at our leisure. For the first time in decades, our local NFL team was fun to watch.
The 49ers games became more than just an excuse to get together, drink beer and barbecue.
Since 1981 they have been my annual focus. Even during the bad years in the early 2000's, I watched, sometimes admittedly groaning as they found ways to lose game after game.
It was worth the wait. In 2011 they again came to life and won an amazing 13 regular-season games and pulled off an improbable victory against the Saints in one of the most entertaining and exciting postseason games I have ever seen.
Here are seven reasons that I am a San Francisco 49ers fan.
Begin Slideshow

»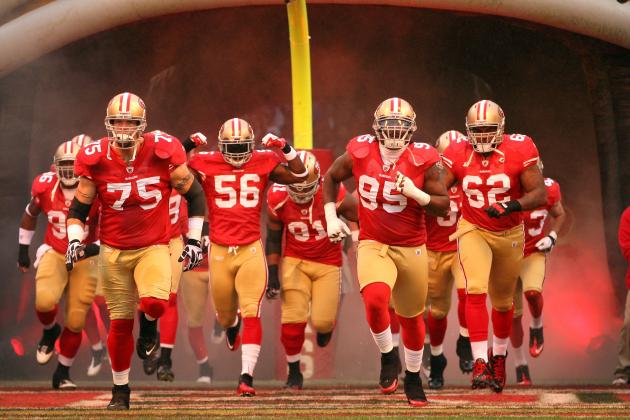 Ezra Shaw/Getty Images
Charge of the Red and Gold
The 49ers are named after a lionized group that came to California because they had a bad case of gold fever. They were composed of a rag-tag group of losers, malcontents, rascals, thieves, confidence men, immigrants, sailors, broke farmers, runaways, gamblers, storekeepers, saloon owners, hardware vendors muleskinners and unmentionables.
And they were followed by the real riffraff.
They all came hoping to strike it rich, to make everything better by becoming rich and famous. Most worked hard, found no yellow metal and gave up, broke and sometimes broken. Many found other employment supporting the other areas of California's growing richness.
They formed the backbone of the State; the marrow from which California grew into the sixth largest economic engine in the world and the most populated state in the union.
Writers of that day called them the 49ers because the immigration started in 1849, shortly after a nugget of gold was found at Sutter's saw mill at the base of the Sierra Mountains near Sacramento.
At one time so many sailing ships had been abandoned in the San Francisco Bay that one could hop from one to the other for miles. Some are still there, beneath the Embarcadero, and are dug up whenever a new building goes in.
A San Francisco tailor was doing a bang up business patching pants torn up by prospectors climbing over rocks and up mountains hunting for gold. One day he looked out over the bay filled with abandoned ships and had an epiphany.
He bought up unused sail cloth left on the abandoned ships and fashioned the canvas into strong, durable pants with rivets to keep pockets from tearing. Thus the Levi's brand was born and Levi Strauss became a rich man.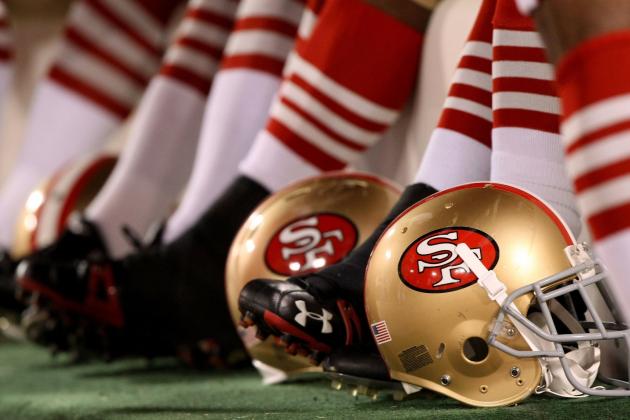 Jed Jacobsohn/Getty Images
49ers Helmets
The Red and Gold colors match those of my old high school and signify both the precious metal found in the state, and the blood spilled to protect this land.
In a football uniform the colors are primal, striking, clean and very American.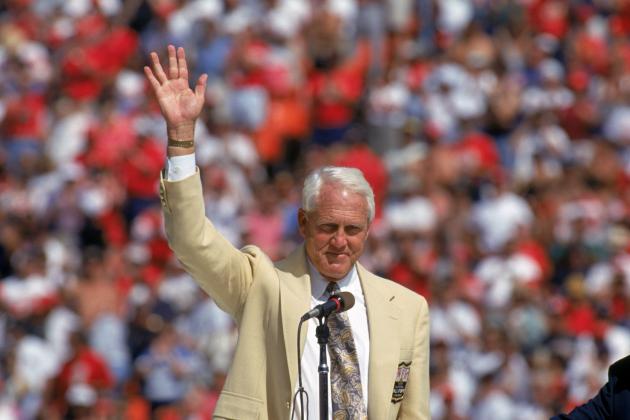 George Rose/Getty Images
Bill Walsh retires after a stellar career
Colorful personalities abound among the 49ers coaches.
Bill Walsh turned the NFL into a new thing with his version of the West Coast Offense.
Mike Singletary brought a blue-collar rock 'em sock 'em type of attitude which, although it became thin as the year wore on and losses accumulated, did give the 49ers some physical toughness that they did not lose after he went on to other things.
Jim Harbaugh has brought back the brains and heart to the team as well as the sense of humor and fun. Who else would have three linemen (offense and defense) out catching passes?
Or a trick play where the wide receiver Michael Crabtree loiters near the sideline while the field-goal team takes the field, only to catch a touchdown thrown by the kicker?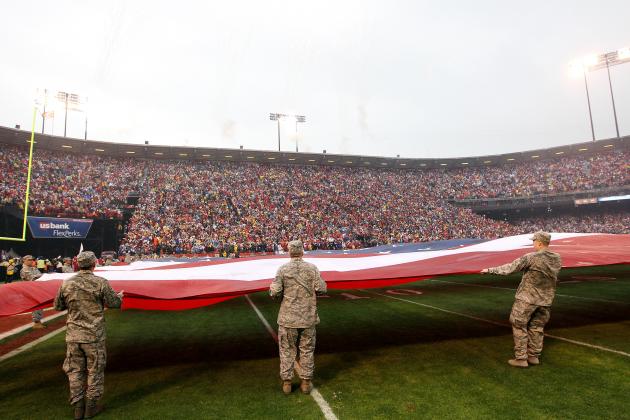 Ezra Shaw/Getty Images
The Star Spangled Banner yet waved
It is aging and about to be retired, but Candlestick Park has some stories to tell. I wish I had the space here to tell them, but since this is an article and not a series, I'll only detail a few.
On October 17th, 1989, when the World Series game between the San Francisco Giants and the Oakland A's was in the warm-up stage, the stadium shook like a disco dancer, then shook again. It was the Loma Prieta earthquake, and parts of Oakland, the Bay Bridge and San Francisco literally fell down that afternoon.
The game was postponed for 10 days. Repairs were made to cracks in the old stadium.
On December 19th, 2011, during a Monday Night Football game against the vaunted Pittsburgh Steelers, the lights went out just before game time. Not the lights in San Francisco, mind you, just the lights in Candlestick Park.
Some transformer blew or something, and it took 32 agonizing national TV minutes to fix the problem.
Once the lights came back on, the game commenced, and a physically defensive battle was underway. But then again, with 12:13 left to play in the game, the lights again went out, this time for 19 minutes.
In spite of the interruptions, the 49ers won the game.
Old Candlestick was showing her age. Knowing she was to be replaced by a new stadium in Santa Clara, she was revealing her reluctance to give up the best NFL team that ever was.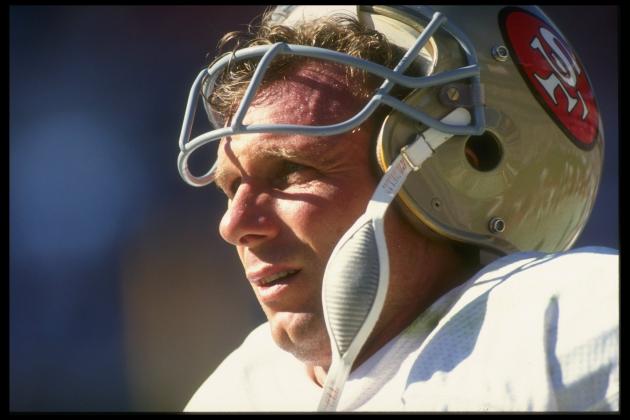 Mike Powell/Getty Images
History makers Y A Tittle, John Brodie, Joe Montana and Steve Young
Y. A. Tittle, John Brodie, Joe Montana, Steve Young, Jeff Garcia!
Who can ever forget these guys? The last three played for the 49ers over a 14-year period when the Red and Gold were the best of all NFL teams.
Add to that a winning percentage in the big game of 100 percent, and a Lombardi Trophy every 2.8 years on average.
Wow!
Now quarterback Alex Smith leads the 49ers. With an inspirational coach, he is accumulating some of the stats that made the first four famous, as well as the win percentage.
Too often insulted with the "game-manager" moniker, he also is a game winner, with a 13-3 regular season record in 2011. Wins count more than anything else.
The future years will tell the real story of course, but the promise is there, and I'm hoping it pans out.
Most NFL teams have a great quarterback that shows up once in every three or four decades. The 49ers have had many great ones in only 60 years of being an NFL team.
In San Francisco, you are expected to be a great quarterback if you play for the 49ers.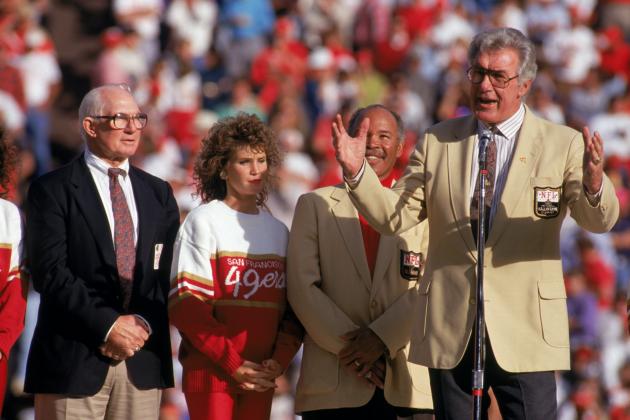 George Rose/Getty Images
Bob St. Clair
Mind Pictures; Let the old bean ponder over these names:
Hugh McEllhenney, Joe Perry, John Henry Johnson, Bob St. Clair.
Jerry Rice, John Taylor, Neon Deion, Ronnie Lott, Eric Wright, Dwight Clark, Fred Dean, Charles Haley, Bubba Paris, Roger Craig, Tom Rathman, Steve Wallace and his foam covered helmet to protect against more concussions—just to name a few players that stood out from the crowd in the NFL.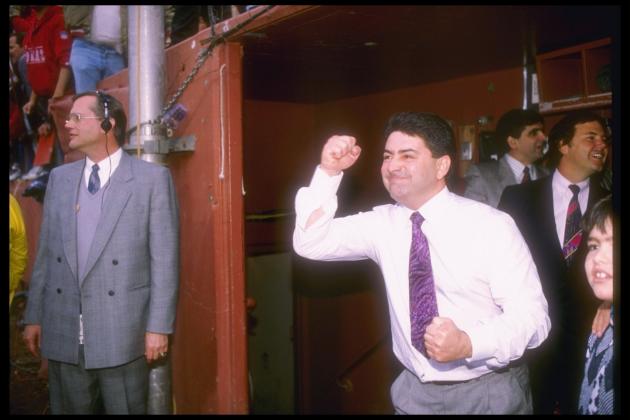 Otto Greule Jr/Getty Images
Give 'em hell, Eddie
The 49ers have not only been a team with spirit, they also have shown they are a team of heart.
When 49ers safety Jeff Fuller lost the use of his right arm after a helmet-to-helmet tackle in 1989, [owner Eddie] DeBartolo set up a personally funded annuity that Policy says will pay Fuller about $125,000 a year for life. Policy said then-NFL Commissioner Paul Tagliabue contacted the 49ers after Fuller's injury and DeBartolo's gesture became the model the league followed in caring for players who suffer catastrophic injuries. [SF Gate]
And to that, one can add a name as yet practically unrecognized for his wise ability to set goals and then step back and let the pros set the strategy and tactics to make it happen.
We will all appreciate Jed York more as the years and the wins roll on.
And that is not to mention the crop of 2012 49ers stars.