The 25 Best Leaders in the NFL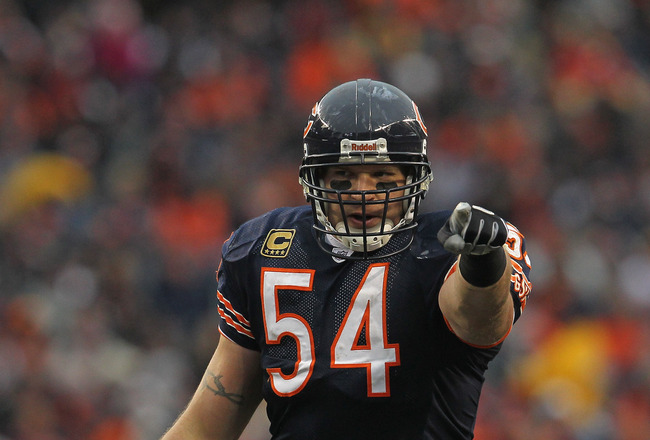 Jonathan Daniel/Getty Images
Leaders aren't built. They are not made from the grass sod of a stadium. Franchises cannot create a leader out of fairy dust.
They are men (and women) who standup and prove that they are capable of shining above the rest. They do this with actions and by living in a way that represents the best that we as humans have to offer.
Ben Roethlisberger might not belong in that category, but he is a true leader on the football field. Tony Romo might have won one postseason game, but he is a leader.
This article is going to focus on the 25 players in the National Football League who represent what it means to be a leader.
Yes, a leader on the football field and off.
25. Tony Romo, Quarterback, Dallas Cowboys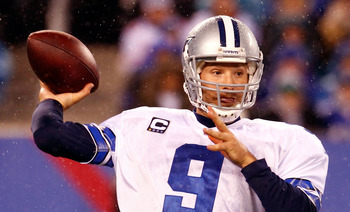 Jeff Zelevansky/Getty Images
Yes, Tony Romo has won a total of one playoff game in his six years as the starting quarterback for the Dallas Cowboys.
This really doesn't matter to me.
Romo has struggled when it counts the most on the football field. However, he never struggles to lead those Dallas Cowboys in terms of passion, accountability and strength.
Remember, Dan Marino never won a Super Bowl. Did anyone ever seriously question his leadership ability?
There are various examples that I can write about that leads me to believe that Romo belongs on this list. How about him coming back after multiple broken ribs against the San Francisco 49ers last season?
Facing a defense that Ben Roethlisberger and Drew Brees coward against, Romo came back and led the Cowboys to an impressive overtime victory.
This earned my respect and that of many Cowboys' fans as well.
This is something that stories are written about. Now win a Super Bowl!
24. Troy Polamalu, Safety, Pittsburgh Steelers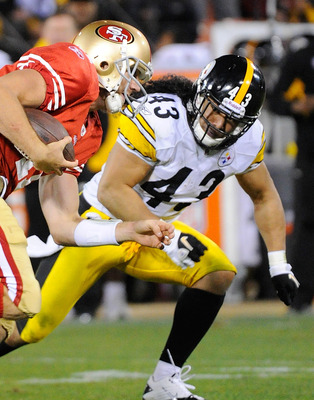 Thearon W. Henderson/Getty Images
"Give everything for what you love." This might sound like a Tony Robbins infomercial, but the reality of the statement sticks with me to this day.
Troy Polamalu gives his heart and soul on the football field. He gives up that body to help the Pittsburgh Steelers win. This could be said for most players in the National Football League, but it is more apparent when it comes to the talented safety.
This is leading by example and showing teammates what it means to be all in.
23. Philip Rivers, Quarterback, San Diego Chargers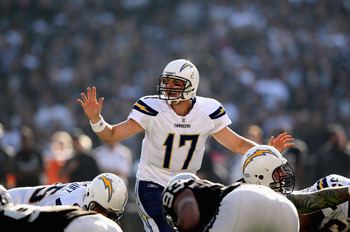 Ezra Shaw/Getty Images
Is there such thing as quiet anger? This is a term in psychology that is best used to describe people who are way too tightly wound.
Philip Rivers is a perfect representation of someone that you would see in a movie who is about to go on some type of a shooting spree. However, he also has the voice in the huddle and on the football field. A type of person that someone probably wouldn't approach on a street corner.
Despite the fact that this mentality hasn't worked out in terms of wins and losses on the football field, you can sure bet that he has a lot of respect from teammates.
This is a guy who gives 100 percent every single time that he does something. I mean, every single time. He gets angry because things don't turn out the way he wants them to. He gets angry because players don't perform the way they are supposed to. Heck, he gets angry because he doesn't perform up to par at times.
I want that leader on my team.
22. Peyton Manning, Quarterback, Denver Broncos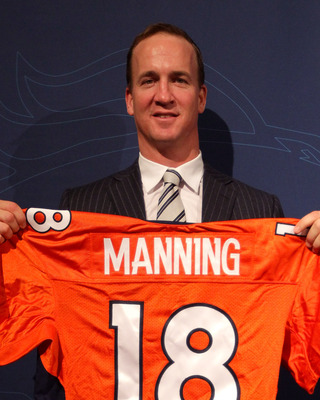 Doug Pensinger/Getty Images
Peyton Manning. What can I say about this dude that already hasn't been said? He was the heart of an Indianapolis Colts team that had the greatest regular season run of any franchise in the history of the National Football League.
He did this with a cast of characters that probably would have fallen on their backside without him. Oh wait, that happened.
Now Manning and his "aw shucks" mentality joins the Denver Broncos in an attempt to win one more Super Bowl crown before all is said and done in his career.
Will it happen? I doubt it. However, it is extremely hard to question what this man has done since jumping onto the scene as a rookie in 1998.
21. Darnell Dockett, Defensive Line, Arizona Cardinals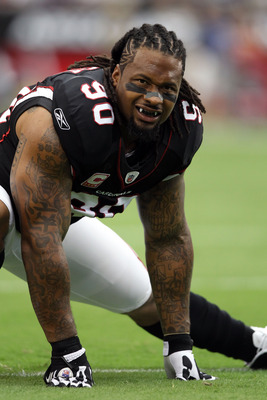 Christian Petersen/Getty Images
Say what you want about Darnell Dockett and his mouth off the football field—he is a true team leader on it. He shows anger at teammates who don't give 100 percent, and expects that type of effort from himself.
He plays with a tremendous motor and passion that isn't compromised due to a lack of wins. It is hard to imagine what No. 90 is going through without being on a winning team.
I guess you can ask fellow Arizona Cardinals players that.
20. Takeo Spikes, Linebacker, San Diego Chargers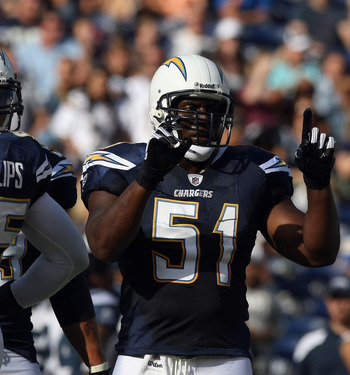 Donald Miralle/Getty Images
Talk about hard luck. Takeo Spikes has failed to make the postseason in each of his 14 NFL seasons. This doesn't mean that the veteran linebacker isn't a leader or a winner. It just means that luck hasn't been on his side.
This is a guy who sent a video to the San Francisco 49ers' fans after leaving for the San Diego Chargers least season. He wished them and the franchise the absolute best. This despite the fact that the 49ers didn't offer Spikes a contract because they had NaVorro Bowman waiting in the wings.
Spikes leads with passion and commitment on the football field. He impresses upon other players to give their all on every play. In the process, Spikes helps along young players and makes everyone around him better.
19. Drew Brees, Quarterback, New Orleans Saints
Jed Jacobsohn/Getty Images
"BountyGate" probably did tarnish the image of Drew Brees. You cannot tell me that he had no idea what was going on with the New Orleans Saints defense over the course of the last few seasons. There is no way to justify ignorance here.
You also have his current contract dispute.
None of this changes the fact that Brees has led this franchise from the grappling hell off the basement to the Super Bowl championship.
None of this could change the fact that Brees chose the city of New Orleans, just a few months after it was destroyed by Hurricane Katrina, over the lifestyle of South Beach.
None of this can change the countless charitable organizations that Brees leads or is a part of.
This is a true leader in every possible way.
18. Alex Smith, Quarterback, San Francisco 49ers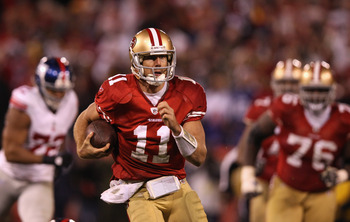 Ezra Shaw/Getty Images
I might get a lot of crap for this. How can a quarterback who has been considered a bust up until a year ago be on this list?
Well, it is all about Alex Smith's attitude and what he brings to the table on a consistent basis. I am not talking about talent or throwing for 300 yards.
Rather, I am talking about a player who chose to come back to a city that had turned their back on him. A quarterback who has been through so much adversity, but consistently comes up strong in the face of it.
There is absolutely nothing that Smith's teammates would not do for him. They see what he has been through and how he has come out of it with flying colors.
Let's see if he can add a Super Bowl to the trophy case in order to prove all the skeptics wrong.
17. Maurice Jones-Drew, Running Back, Jacksonville Jaguars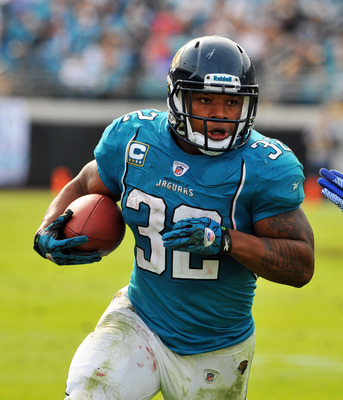 Al Messerschmidt/Getty Images
Direct quote from Maurice Jones-Drew here:
You're the only one that can put pressure on yourself... No one else can put pressure on you. It's self-inflicted. For me, I just want to go out and play football
And play football is what he does. The small running back shows the heart of a champion every time he suits up, consistently providing teammates with inspiration.
This has been the MO of the running back since his days of playing football at UCLA. Jones-Drew was told "he was too small to play" or "choose another profession."
Well he made it a goal to prove all these skeptics wrong.
Now it is up to the Jacksonville Jaguars to surround Jones-Drew with more talent so that he can prove that championships happen to good guys.
16. Richard Seymour, Defensive Line, Oakland Raiders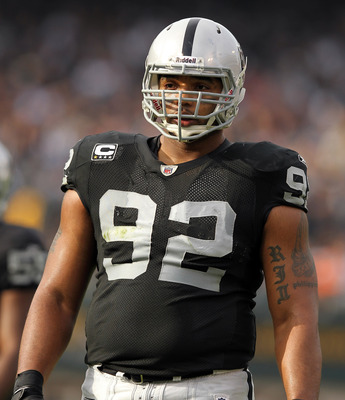 Ezra Shaw/Getty Images
It must have been hard for Richard Seymour when he was traded from the New England Patriots to the Oakland Raiders. The veteran defensive lineman was going from one of the best franchises in the league to one of the worst.
What Seymour did is make it his goal to bring leadership and passion to a Raiders defense without it.
While this hasn't shown up much on the scoreboard, it is pretty damn apparent what he brings to the table on a consistent basis.
15. Champ Bailey, Cornerback, Denver Broncos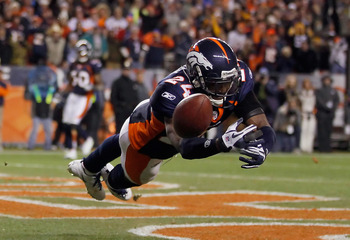 Jeff Gross/Getty Images
Do everything right, lead by example and show youngsters how it is done. This is something that Champ Bailey has down throughout his NFL career with the Washington Redskins and Denver Broncos.
He is flawless in terms of coverage, teaches other players how to hone their technique and doesn't complain about much off the field.
Bailey fully embodies what the term "leader" is supposed to represent.
14. Jeff Saturday, Center, Green Bay Packers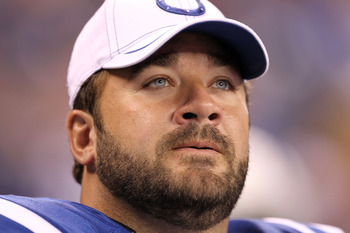 Andy Lyons/Getty Images
Working with owners during the 2011 lockout, Jeff Saturday proved himself to be a leader in every possible way. Playing center for the Indianapolis Colts over the course of the last 13 seasons, he proved himself to be a great football player.
Despite arguments on the field during certain times with Peyton Manning, the two had a great relationship. The future Hall of Fame quarterback relied a great deal on Saturday in terms of continuity on the offensive side of the ball.
It led to some record numbers being put up.
Now Saturday will have that very same opportunity with Aaron Rodgers and the Green Bay Packers. You can bet he will not disappoint.
13. Andre Johnson, Wide Receiver, Houston Texans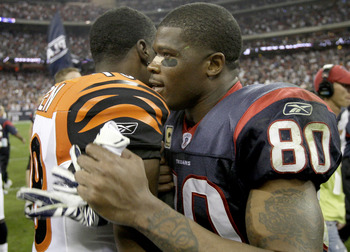 Thomas B. Shea/Getty Images
The term "diva" has been commonplace when talking about wide receivers in the National Football League. It is the me, myself and I mentality that has consistently caused PR harm to this position.
Well this has changed a great deal over the course of the last couple seasons.
Andre Johnson is one of the primary reasons for this. The quiet leadership that he exudes both on and off the football field is something that young receivers entering the league can look up to.
Johnson doesn't complain about not having help in the passing game. You wont hear stories of off-field issues, and he definitely isn't one to run his mouth on the football field.
A true leader!
12. London Fletcher, Linebacker, Washington Redskins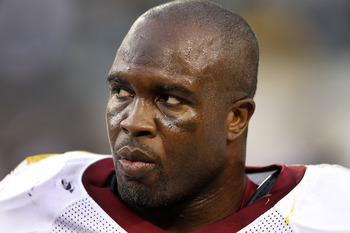 Rob Carr/Getty Images
London Fletcher has recorded 100 or more tackles in a record 12 consecutive seasons. What makes this staggering statistic even more impressive is the fact that Fletcher was a rookie free agent for the St. Louis Rams in 1998.
His height and perceived lack of athletic ability was a primary reason that no team selected him that season.
They must feel pretty dumb right about now.
More than this, Fletcher is the epitome of what a professional athlete should be in terms of leadership off the field. He won the Walter Payton Man of the Year award in 2008 and continually provides a spark for whichever team he plays with.
11. Ben Roethlisberger, Quarterback, Pittsburgh Steelers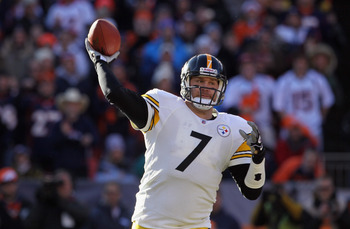 Jeff Gross/Getty Images
We all have our own opinions of Ben Roethlisberger the man and what he represents off the football field. That conversation is for another time.
On the football field Big Ben represents exactly what it means to be a leader. No. 7 will not let any type of injury deter him. He shows up on a consistent basis, hurt or not.
In fact, Roethlisberger might have to be considered one of the toughest players in the entire National Football League. This enables other players on the field to follow him through the rigors of a 17-week schedule.
James Caan's character on The Program had a great quote that is relevant in the real world. "Are you hurt, or are you injured?" Roethlisberger fully understands the difference and will make every possible attempt, even through possible long-term injury, to play.
He will go through hell or high water to play. It really is that simple!
10. Charles Woodson, Cornerback, Green Bay Packers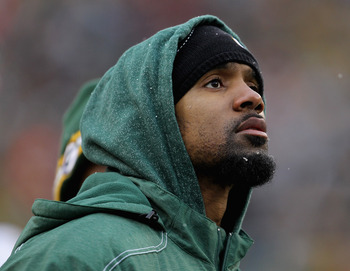 Jonathan Daniel/Getty Images
Leaders win and win consistently. This is something that Charles Woodson has done throughout his Hall of Fame career.
The former No. 4 overall pick of the Oakland Raiders has been the driving force behind stellar Green Bay Packers' secondary play up until last season.
He shows uncompromisable strength in the face of adversity. Injuries continue to dog the talented corner, but he comes back stronger every single time and rarely misses a game due to this.
My utmost respect goes to Woodson and what he brings to the table on a consistent basis.
9. Justin Smith, Defensive End, San Francisco 49ers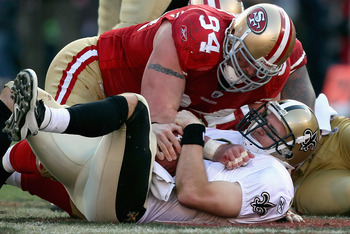 Jed Jacobsohn/Getty Images
If you saw the way Justin Smith played in the postseason last year, then you will fully understand why he deserves to sit atop this list. The All-Pro defensive lineman didn't just dominate against the New Orleans Saints, his continued aggression on every single play inspired a San Francisco 49ers defense.
Smith would go up against double-teams and come out on top. He would have multiple blockers thrown at him along multiple tiers of the line and still get to Drew Brees.
This has been a consistent aspect of Smith's game over the course of the four seasons in San Francisco, but has just recently been brought to national attention because of the team's overall success.
It is the idea that other players are taking up what he is preaching on the football field. Player with a non-stop motor, never give up on a player, and go 100 percent every single time.
It is the type of leadership that changes a good defense into a dominant one. We saw this in San Francisco last year.
8. Aaron Rodgers, Quarterback, Green Bay Packers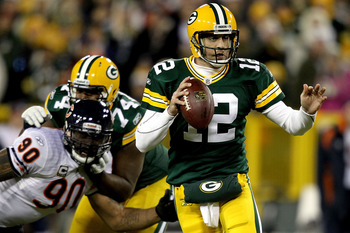 Matthew Stockman/Getty Images
Ever since Aaron Rodgers was drafted by the Green Bay Packers to backup Brett Favre, he has done everything the right way.
This quarterback leads by example on and off the field. What he brings to the table is a maturity well beyond his years and talent that shows up a great deal on Sunday's.
Expect a few more championships from Rodgers before all is said and done.
7. Ed Reed, Safety, Baltimore Ravens
Rob Carr/Getty Images
Despite recent talk that Ed Reed isn't "committed" to playing in 2012, the veteran safety has been a cog along one of the best defensive runs in the history of the National Football League.
Along with Ray Lewis, he has embodied what passion, grit and sportsmanship should be all about. Playing through various injuries hasn't stopped Reed in the past either.
His electric play-making ability in the secondary is something that has consistently led the Ravens pass defense. More so, Reed just refuses to be anything less than extraordinary in every aspect of the game.
A true giant among men.
6. Mark Herzlich, Linebacker, New York Giants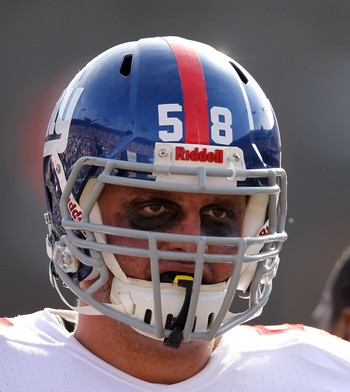 Ezra Shaw/Getty Images
Imagine being in the height of your life and then going to the doctors office and finding out that you have cancer. Seriously, this is something that the vast majority of us could scarcely imagine.
This is the situation that Mark Herzlich found himself in after an All-American season at Boston College a few years back.
His muscle mass dwindled, as did his draft stick. The Boston College product was considered a first-round pick prior to cancer, but went undrafted following.
His story is one of inspiration. Herzlich overcame this tragic situation and made the New York Giants out of training camp last season.
No matter what the cancer survivor does in his NFL career, he will be a leader and inspiration for countless individuals looking for something as they battle the disease.
5. Eli Manning, Quarterback, New York Giants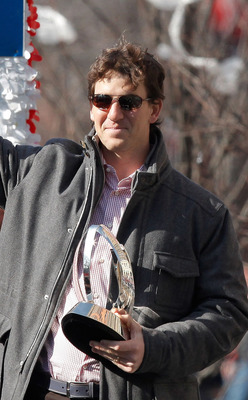 Andrew Burton/Getty Images
Leading by example is one of the strongest aspects of the best players in the National Football League. Dominating when it counts the most is a part of this.
The New York Giants won a total of nine games during the regular season before their amazing Super Bowl run. If it wasn't for Eli Manning, they would have been on the outside looking in come the postseason with a record well below .500.
This is fact.
Manning doesn't request the media spotlight off the field. He is a quiet leader who represents exactly what it means to lead with actions, not words.
You will never hear "bulletin board" material come from the younger Manning. Rather, he does this talking on the football field when it counts the most.
4. Brian Urlacher, Linebacker, Chicago Bears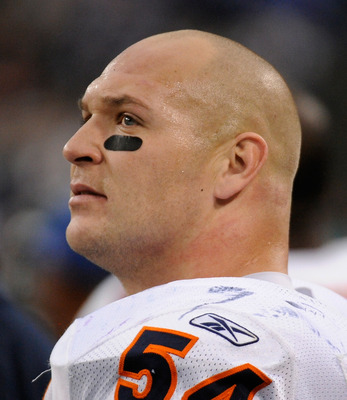 Hannah Foslien/Getty Images
Brian Urlacher is not only the inspirational leader of the Chicago Bears defense, he leads by example. The future Hall of Fame linebacker has earned four First Team All-Pro honors and eight Pro Bowl appearances. More than that, he plays with a great deal of passion on the football field.
The former first-round pick makes everyone on that side of the field better. A 2009 wrist injury that caused Urlacher to miss all but one game had a dramatic impact on the success of the Bears as a whole, and the defensive specifically. Chicago ranked 21st in scoring defense that season.
3. Tom Brady, Quarterback, New England Patriots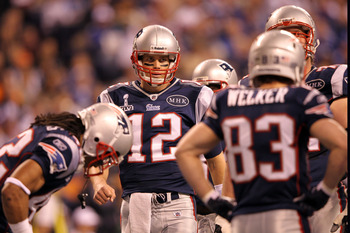 Jamie Squire/Getty Images
You don't earn five trips to the Super Bowl as the starting quarterback of a franchise if you are not a leader. Tom Brady might get heated on the field and draws some criticism for his lifestyle off the field, but he is a true team captain all the way around.
This is a player who makes everyone around him better. Opponents respect Brady for his knowledge of the field and the game. Teammates respect him because he wins.
You just cannot ask for much more than that.
2. Patrick Willis, Linebacker, San Francisco 49ers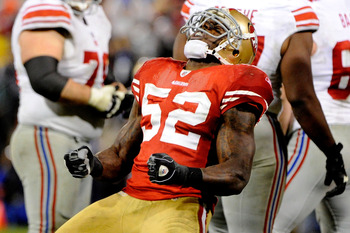 Thearon W. Henderson/Getty Images
Patrick Willis is one of a long line of African-American football players who have defied drug use, tragedy and family violence as a youngster to make it big.
ESPN recently focused on the plight of Willis growing up in their amazing series E60. This tells a story of a person that had to deal with growing up way too soon. Responsible for three siblings because his father was addicted to drugs and his mother left, Willis represented what it means to be a "big brother."
This hasn't changed since he joined the National Football League.
Willis leads the San Francisco 49ers defense in every possible way. He plays emotionally on the football field, taking out some anger on opposing offenses. He makes everyone around him better and is a vocal leader.
Not to mention, Willis might go down as the best linebacker to every play the game when all is said and done.
1. Ray Lewis, Linebacker, Baltimore Ravens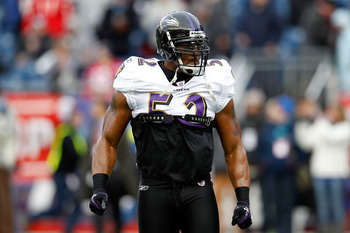 Rob Carr/Getty Images
Ray Lewis is probably the most passionate football player that I have ever watched. You can see steam coming from his face even during training camp in August.
He expects this same passion from teammates, and usually gets it. It is impossible to be the captain of a defense that consistently ranks in the top five of the league if you are not a leader.
Even at his advanced age Lewis consistently makes the Baltimore Ravens defense better just due to his mere presence on the football field.
Can't say much more than that.
Keep Reading