Green Bay Packers 2012: 10 Rookies to Watch for Pack's 2012-13 Season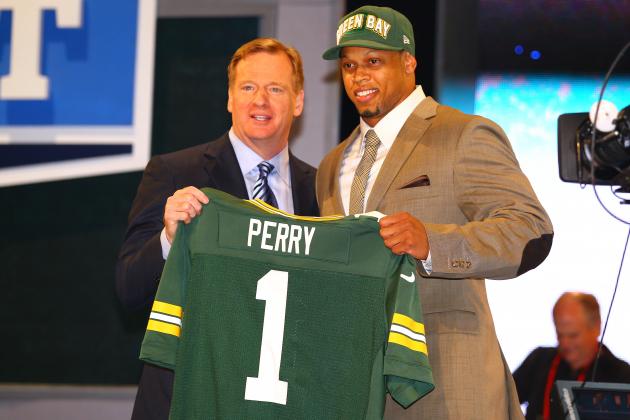 Al Bello/Getty Images
Packers' First Round Pick Nick Perry
Every year teams have personnel turnover and rookies are thrust into the spotlight and expected to perform. The Packers had eight draft picks and signed 14 priority free agents this off season. There are a handful of guys who should see major playing time right out of the gate. Let's take a look at ten guys who will make contributions this season.
Begin Slideshow

»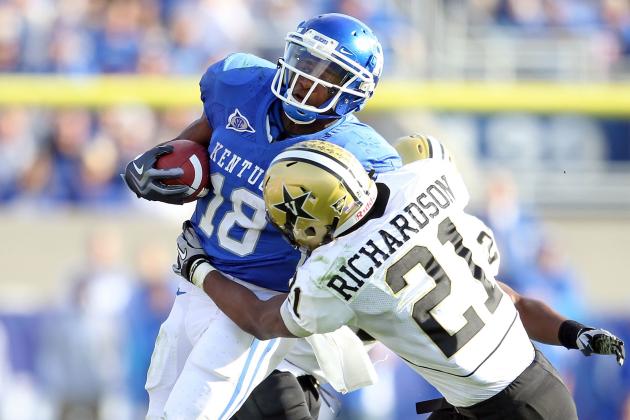 Andy Lyons/Getty Images
Richardson tackling his new teammate Randall Cobb
A priority free agent find for the Packers, Sean Richardson is a physical safety with the raw tools to develop into a rotational player in the Packers' secondary.
He's a big in-the-box type of safety at 6'2, 216 with good speed (a 4.52-40) and tackling ability. As a rookie, he'll likely end up either on special teams units or on the practice squad, but he has the physical skills to develop into a more useful player down the road.
His downfall is that he struggles in coverage, but there's definitely a niche for him in the NFL and Green Bay coaches will find that spot for him.
The receiver from South Dakota State was a media favorite at the Shrine Game with this size and speed on display. Green Bay was able to snag him as an undrafted free agent.
He's a 6'3, 220 pound target who played basketball for his first four years at South Dakota State but retained a season of eligibility to play football and converted to the gridiron to play wide receiver during his final season and posted 61 catches, 961 yards and six touchdowns in his lone football season.
Moss is a great athlete who can go up and get the football and will compete with Tori Gurley for the wide receiver spot on the Packers' practice squad which is currently serving as a place holder for the fifth receiver job when Donald Driver ultimately calls it quits.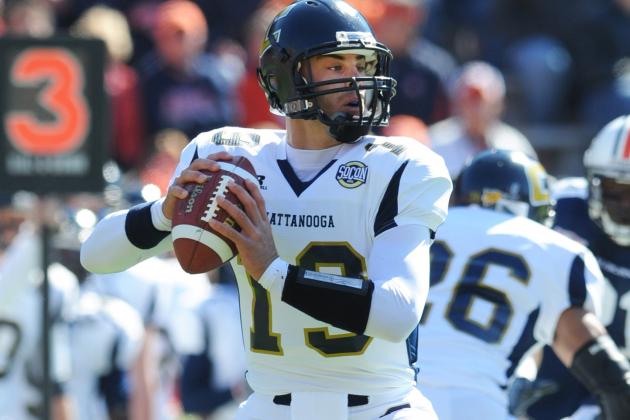 Al Messerschmidt/Getty Images
Packers' seventh round pick, B.J. Coleman
Green Bay likes to take late round fliers on quarterbacks and after the departure of Matt Flynn, this was a year many expected the Packers to do it again.
Coleman is a solidly built player at 6'3, 233 with a strong arm and smooth throwing motion, but he's a bit over-aged (24) and played at FCS Tennessee-Chattanooga. Packer fans will love his cadence as the Tennessee Volunteers transfer grew up idolizing Peyton Manning and tries to mimic his on-the-field mannerisms under center.
Coleman will compete with Graham Harrell for the top backup job behind defending NFL MVP Aaron Rodgers. The Packers have done a great job of developing young quarterbacks and with Coleman's raw skills, if they can develop him and work on some of his deficiencies then in two to three years he may become a guy that Green Bay can use as an asset in a trade.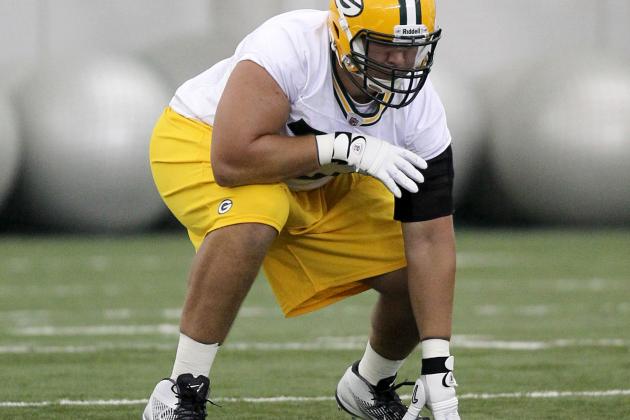 Mike McGinnis/Getty Images
Packers' seventh round pick, Andrew Datko
Had it not been for injuries, Datko very well could have been a second day selection, but due to his injury history he slid all the way to the Packers in the seventh round. He has major shoulder problems, but when healthy, he can provide great depth to the Packers offensive line.
In the seventh round, teams are rarely looking for starters, but rather are looking for guys who can provide valuable depth and guys that they would have a tough time signing as priority free agents. Datko would have had a long line of suitors with his ability to protect the quarterback.
He was able to stonewall players like Derrick Morgan, Robert Quinn and Willie Young while at Florida State and has the ability to play both tackle spots. Florida State runs a zone-blocking scheme similar to Green Bay's so there should be a very short learning curve for Datko. If he can stay healthy, he can be a valuable addition to the Packers' offensive line.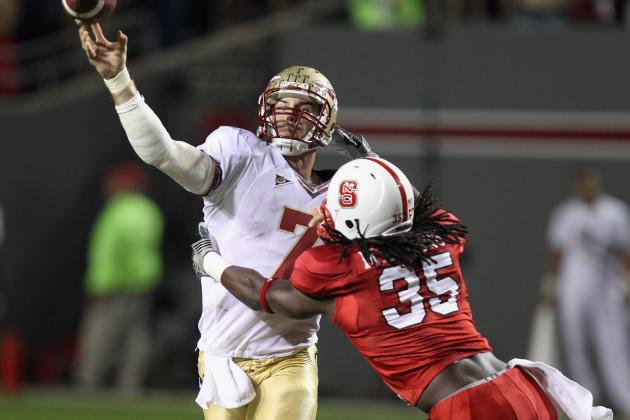 Streeter Lecka/Getty Images
Packers' fifth round pick, Terrell Manning hitting current Vikings' QB Christian Ponder
In the fifth round, Green Bay was able to grab North Carolina State linebacker Terrell Manning. Manning is a versatile linebacker who can play inside or outside in a 3-4 defense.
He's a smaller linebacker at less than 240 pounds, but he's explosive and a great pass rusher. Mel Kiper, for example, had a second round grade on Manning, so the potential to become a real steal in the fifth round is there.
Manning has struggled with injuries in the past, but as long as he can stay healthy he should become a solid contributor for Green Bay's linebacker rotation. He'll be competing in training camp with Brad Smith and Erik Walden for the top rotational spots behind Matthews and Perry.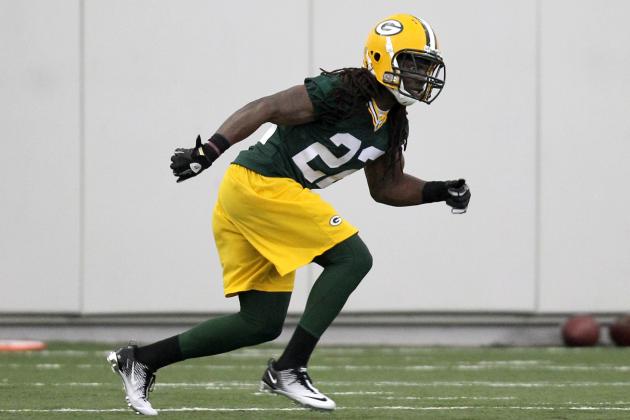 Mike McGinnis/Getty Images
Packers' fourth round pick Jerron McMillian in Rookie Camp
The little-known safety from Maine was a surprise pick by the Packers in the fourth round, but he has the raw skills to develop into a starter in Green Bay. After the release of Nick Collins, the Packers were left with a hole at safety with only Morgan Burnett looking like a solid starter.
Nick Collins was a great athlete at the safety spot, but McMillian may be an even better one. He does not possess the ball skills over coverage ability that Collins had but McMillian is lightning fast and a hard hitter which should be a good complement to the ball hawking ways of Burnett.
Green Bay has one of the best scouting departments in the NFL and they have spoken very highly of McMillian so I'd expect McMillian to compete for the starting safety job left vacant by Collins during training camp. It should also be noted that Collins (Bethune-Cookman) and McMillian were both taken out of FCS schools.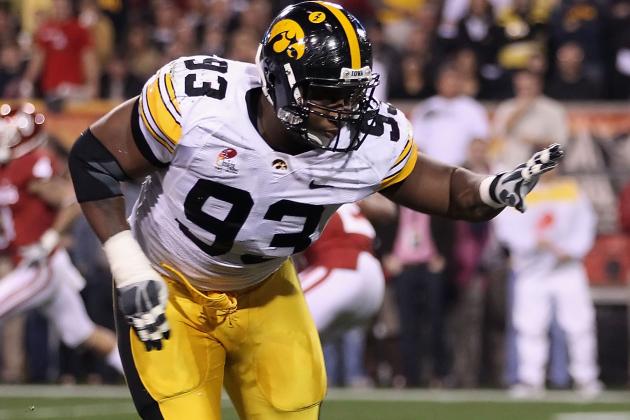 Christian Petersen/Getty Images
Packers' fourth round pick Mike Daniels
Ted Thompson has shown a penchant for taking powerful and athletic players across his defensive line and that's exactly what the Packers are getting in Mike Daniels. While a little short at just over six feet, Daniels has terrific athletic ability, boasting an incredible 41 inch vertical leap at 291 pounds. His lower body explosion helps him get into the backfield which is how he was able to record a team-high 13 tackles-for-loss last season at Iowa.
While there are only three starting spots across the defensive line in Green Bay, there is always a rotation of players to keep the big men fresh. Expect Daniels to be an active part of this rotation to start the year while Anthony Hargrove is serving his eight-game suspension.
If he performs well, he may find himself a permanent part of what should be a great defensive line rotation in Green Bay.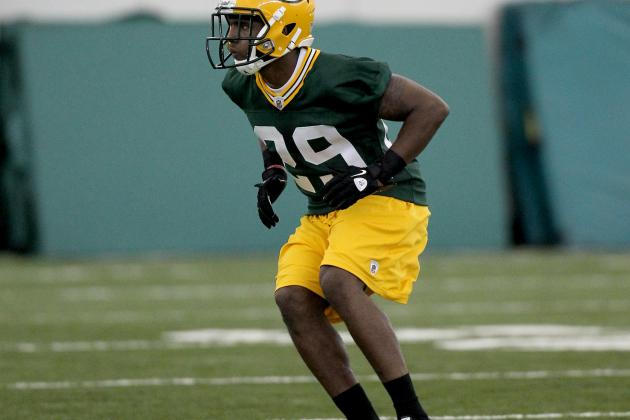 Mike McGinnis/Getty Images
Packers' second round pick Casey Hayward competing at mini camp
The philosophy of the Packers' defense under Dom Capers has had a bend but don't break mentality with an emphasis on creating turnovers. Unfortunately, last season the Packers failed to stop the pass and young cornerback Sam Shields did not progress the way that coaches had hoped.
Hayward is a ball hawking cornerback with terrific ball skills who will fit perfectly in Green Bay's scheme. Expect Hayward to start the year in nickel and dime packages covering slot receivers. But his role could expand as the season wears on.
He also has the versatility to slide over to safety which could land him some extra playing time following the release of Nick Collins.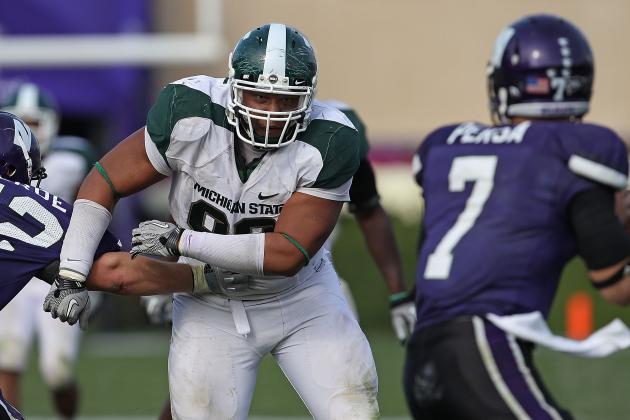 Jonathan Daniel/Getty Images
Packers' second round pick Jerel Worthy chasing after Northwestern's Dan Persa
The Packers were severely hurt by the departure of Cullen Jenkins last off season. GM Ted Thompson clearly thought that Mike Neal would be able to step into his place and perform, but unfortunately, Neal can't seem to stay on the field and looks like he's headed toward a career path similar to Justin Harrell rather than Jenkins.
Insert Jerel Worthy, a college defensive tackle who has scheme versatility and can kick outside to play the five-tech in a 3-4 defense. While not much of a pass rusher, he does a great job of taking on blockers and opening up lanes for linebackers and that is exactly what Green Bay is going to ask him to do for Clay Matthews and Nick Perry. Green Bay traded up in the second round to land Worthy, so expect him to see the field early and often.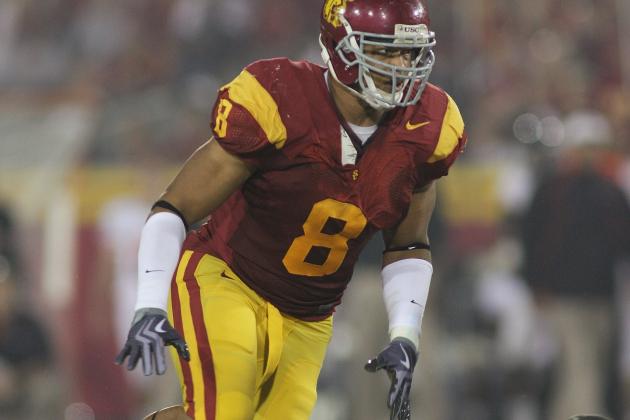 Jeff Golden/Getty Images
Packers' first round pick Nick Perry
Green Bay spent their first round pick, #28 overall, on USC OLB/DE Nick Perry. Perry is a dynamic athlete who plays with a chip on his shoulder similar to his counterpart in Green Bay, Clay Matthews.
Perry played with his hand in the dirt at USC but will stand up and play outside linebacker for the Packers in their base 3-4 scheme, but he'll also likely line up at defensive end on occasion as defensive coordinator Dom Capers runs a hybrid scheme.
Expect Perry to start from day one and give the Packers a pass rushing presence opposite Matthews that has not existed in recent years. Green Bay fans should be excited to see Perry in Green and Gold and expect the Packers to build upon the 29 sacks they accumulated last season.