Josh Beckett: Boston Red Sox SP Runs Away with AL Worst of the Night Award
May 11, 2012

Jim Rogash/Getty Images
All Josh Beckett had to do on Thursday night was give the Boston Red Sox a quality start against the Cleveland Indians.
If Beckett could have managed to do that, then all the negative vibes surrounding his recent golf outing would have been swept away. He could have walked off the mound with his middle finger raised to the Fenway Park crowd, and nobody would have booed. 
Alas, Beckett did walk off the mound to a chorus of boos and for good reason. In two-and-a-third innings pitched, he allowed seven runs (all earned) on seven hits and two walks. He gave up two home runs, bringing his season total to nine home runs allowed in just 34.2 innings of work.
The boos were very loud, but you just got the feeling that they weren't loud enough. Courtesy of a series of unfortunate events, Beckett had more than earned the ill will of the Fenway Faithful.
Beckett's start was just, well, the start. The Sox went on to lose the game 8-3, their eighth loss in nine games in the month of May. Afterwards, Beckett met to share a few words with the media. Had he chosen his words carefully, he could have quelled the unrest in Red Sox Nation.
Instead, he said exactly the kind of things that we're used to hearing from him, and that's not a good thing.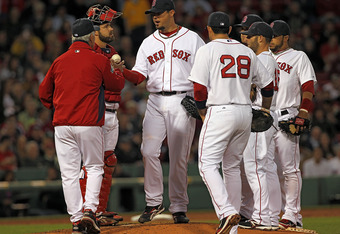 Jim Rogash/Getty Images
Matt Pepin of Boston.com collected the key quotes from Beckett's post-game presser. Included among them was a not-so-subtle shot at Red Sox fans.
"I pitched like [expletive]," Beckett said when he was asked about being booed when he was taken out in the third inning. "That's what happens. Smart fans."
Smooth, Josh. Dare we ask what that whole golf mess was all about? Here is his response:
"We get 18 off-days a year. I think we deserve a little bit of time to ourselves."
I see, and it never occurred to you that playing golf a few days after you had to be scratched from a start due to right lat soreness would be an issue?
"I spend my off-days the way I want to spend them. My off-day is my off-day."
Basically, he treats his off-days like you and I treat our own. Time off is precious, and it must be taken advantage of.
The difference is that you and I aren't starting pitchers who only have to work every fifth day and roughly 30-35 times a year. Beckett is making $15.75 million this season. If he makes 30 starts this year, that's over $500,000 a start.
Darren Rovell of CNBC broke it down even further (as he usually does): 
Josh Beckett gets paid $86,066 per in-season day. Yes, that includes off days.

— darren rovell (@darrenrovell) May 11, 2012
David Ortiz is making $14.575 million this season. He's going to play in about 145 games this season. That's about $100,000 a start for him. He's going to give the Red Sox far more bang for their buck, and my guess is that he's not going to complain about his free time.
Beckett has put the Red Sox in a tough spot. He already missed one of his scheduled starts, and then he put himself in a situation where he could have injured himself and missed additional starts. Then he went out and got knocked around by an Indians club with a team batting average that was somewhere below the .250 mark.
He is now 2-4 on the season with a 5.97 ERA, and he spent Thursday night sinking to new lows both on the mound and off it.
So without further ado, I'd like to present Josh Beckett with today's American League "Worst of the Night" award. He earned it.
And then some.
This Week's Other "Winners"
If you ever want to nominate someone for "Worst of the Night" honors, hit me up on Twitter.