Carlos Pena: Tampa Bay Rays 1B Takes Home AL Worst of the Night Award
May 9, 2012

Abelimages/Getty Images
The last two years were pretty rough for Carlos Pena, but he's looked much more like his old self this season after rejoining the Tampa Bay Rays over the winter.
Pena entered Tuesday's game against the New York Yankees batting .252 (.398 OBP .447 SLG) with five home runs—numbers far more respectable than the ones he put up in 2010 and 2011.
Yankees starter Ivan Nova and two relievers then proceeded to humble Pena. 
Check that. It would be more accurate to say that they proceeded to embarrass Pena.
Tampa Bay's slugging first baseman did not have a good day at the office. He went 0-for-5 with four strikeouts, and the one at-bat in which he didn't strike out resulted in a double play. All told, he left six men on base.
Seeing as how the Rays lost by just two runs, those stranded runners loom pretty large in the box score. Pena had chances to make a difference in Tuesday's game, and he just couldn't come through.
Appropriately, Pena was at the dish when the game ended.
The Rays entered the top of the ninth down 5-3, and David Robertson was on the hill trying to earn his first save in place of Mariano Rivera. A walk to Will Rhymes, a single by Sean Rodriguez and a walk to Ben Zobrist loaded the bases. Pena came up looking to give the Rays the lead with two outs.
He was able to work the count to 2-2, but that's as far as his at-bat went. Robertson zipped a fastball over the outside corner, and he got the call from home plate umpire Jim Joyce for strike three. 
MLB.com has the video highlights.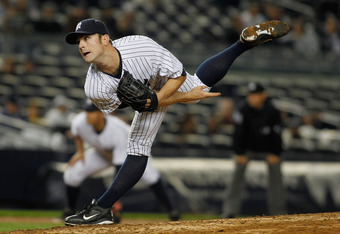 Mike Stobe/Getty Images
Pena is known to strike out a lot, but Tuesday's performance was his first Golden Sombrero of the season. His batting line is now down to .241/.383/.426.
The bigger problem? Pena has just two hits in May, and they came in the same game against the Oakland Athletics. His hot start has taken a turn for the worse.
He can't let the slump last for too long. With Evan Longoria on the shelf, the Rays need Pena to produce—basically, the opposite of what he did Tuesday night at Yankee Stadium.
He'll get things figured out, eventually. For now, I am bestowing the American League's "Worst of the Night" award on him.
May he wear it in shame, along with his Golden Sombrero.
If you ever want to nominate someone for "Worst of the Night" honors, hit me up on Twitter.