Fantasy Football 2012: Choose Your QB: Ryan Fitzpatrick vs. Ben Roethlisberger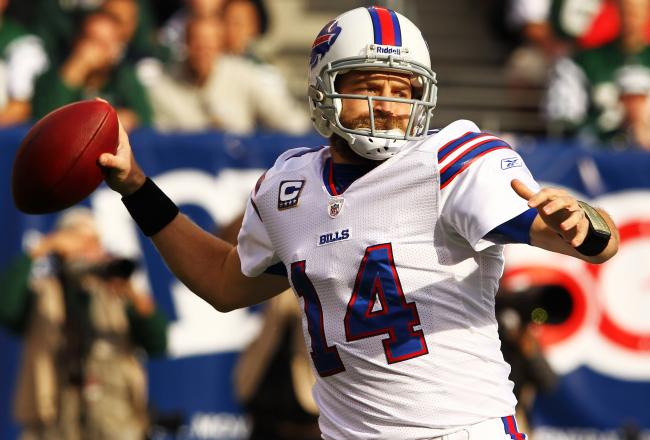 Bills QB Ryan Fitzpatrick (3,832 yards passing, 24 TDs last year) had seven games of 275 yards and/or three TDs in 2011.
Al Bello/Getty Images
Today's installment of "Choose Your Quarterback" pits Pittsburgh's Ben Roethlisberger against Buffalo's Ryan Fitzpatrick—the No. 16 and No. 17 passers in my pre-draft listing of Top 25 quarterbacks.

Here's a week-by-week fantasy breakdown of Fitzpatrick vs. Big Ben...just in case you're torn on which signal-caller to draft in Round 6 or 7 of the August fantasy drafts:

Week 1—Roethlisberger (@ Denver) over Fitzpatrick (@ N.Y. Jets)
Week 2—Fitzpatrick (vs. Kansas City) over Roethlisberger (vs. N.Y. Jets)
Week 3—Roethlisberger (@ Oakland) over Fitzpatrick (@ Oakland)
Week 4—Fitzpatrick (vs. New England) over Roethlisberger (BYE)
Week 5—Roethlisberger (vs. Philadelphia) over Fitzpatrick (@ San Francisco)
Week 6—Roethlisberger (@ Tennessee) over Fitzpatrick (@ Arizona)
Week 7—Fitzpatrick (vs. Tennessee) over Roethlisberger (@ Cincinnati)
Week 8—Roethlisberger (vs. Washington) over Fitzpatrick (BYE)
Week 9—Roethlisberger (@ N.Y. Giants) over Fitzpatrick (@ Houston)
Week 10—Fitzpatrick (@ New England) over Roethlisberger (vs. Kansas City)
Week 11—Fitzpatrick (vs. Miami) over Roethlisberger (vs. Baltimore)
Week 12—Fitzpatrick (@ Indianapolis) over Roethlisberger (@ Cleveland)
Week 13—Fitzpatrick (vs. Jacksonville) over Roethlisberger (@ Baltimore)
Week 14—Fitzpatrick (vs. St. Louis) over Roethlisberger (vs. San Diego)
Week 15—Roethlisberger (@ Dallas) over Fitzpatrick (vs. Seattle)
Week 16—Fitzpatrick (@ Miami) over Roethlisberger (vs. Cincinnati)
Week 17—Roethlisberger (vs. Cleveland) over Fitzpatrick (vs. N.Y. Jets)
Final Tally
Fitzpatrick edges Big Ben, 9-8
Breakdown
Let's start with a qualifier: The Bills' schedule is considerably easier than the Steelers'. Buffalo has four dates with New England and Miami, three games against the NFC West's Arizona, St. Louis and Seattle, and one juicy Week 12 clash with Indianapolis.


Even if coach Bruce Arians—and not Todd Haley—was still directing the Steelers' offense, I'd still prefer Fitzpatrick over Big Ben for Weeks 10-14. In fact, you'd be hard-pressed to find any NFL team that has a more doable slate than New England, Miami, Indy, Jacksonville and St. Louis over that five-game stretch. And Fitzpatrick basically wins this competition during that vital five-week period.


I love Big Ben for 275 yards and/or three TDs—the minimum threshold for elite fantasy QBs—against Peyton Manning and the Broncos in the season opener.


The pre-draft ranking probably won't change with Roethlisberger over Fitzpatrick. By season's end, he'll likely own a slight edge in yards passing. That said, I would rather have Fitzpatrick as my quarterback in the latter half. That schedule for the fantasy playoff period of weeks 13 through 16 (vs. Jacksonville, vs. St. Louis, vs. Seattle, at Miami) is pure gold.
Jay Clemons can be reached on Twitter, day or night, at @ATL_JayClemons.
This article is
What is the duplicate article?
Why is this article offensive?
Where is this article plagiarized from?
Why is this article poorly edited?