2012 Training Camp Battles: New England Patriots Running Back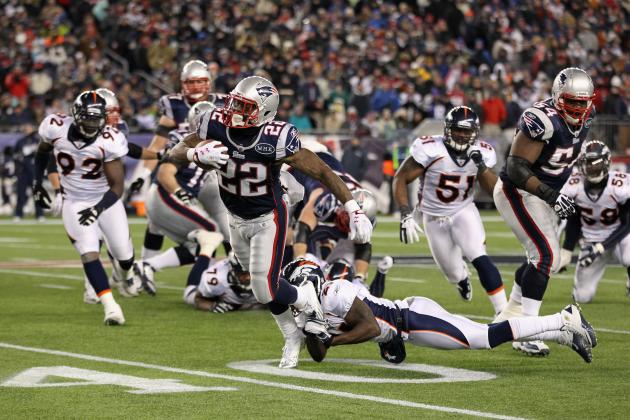 Jim Rogash/Getty Images
Stevan Ridley, RB
In the wake of the New England Patriots "defense first" draft, it seems odd to focus too much attention on the running back position. The Patriots—with OC Josh McDaniels back in the fold and a glut of wide receivers under contract—seem to be leaning towards the wide open, hurry-up aerial attack Pats fans have become familiar with over the past half-decade.
The running back position was, at best, a complimentary piece of the scheme rather than a feature in 2011. BenJarvus Green-Ellis and Danny Woodhead fulfilled smaller roles in the Patriots' offense last year, accounting for almost 600 fewer yards in 2011 than in 2010, and between the two of them they averaged almost a yard less per touch.
But 2011 draft picks Stevan Ridley and Shane Vereen offer a unique promise of balance to the New England offense. Ridley showed flashes of real explosiveness in limited action last year, and Vereen brings a pedigree out of Cal as the kind of versatile chain-mover that Bill Belichick loves.
With third-down wild card Danny Woodhead still under contract, along with ex-Colt Joseph Addai and Ole Miss UDFA Brandon Bolden, the Patriots are revamping their running back stable for the 2012 campaign.
Begin Slideshow

»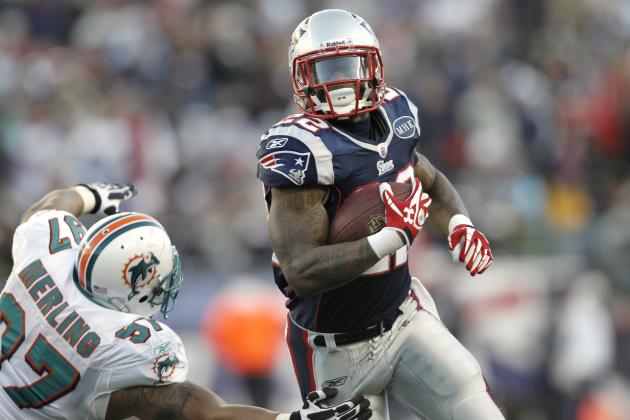 Winslow Townson/Getty Images
Stevan Ridley, RB
The LSU product opened some eyes in limited action in 2011.
In late fall last year when the Law Firm's YPC hovered in the mid-threes, a little noise was made about Stevan Ridley's opportunities to carry the rock, given how well he'd run against Buffalo and Oakland. As a between-the-hashes back, Ridley brings good power and a high revving motor that breaks through the first wave of tacklers. He can bounce outside, and although his top end speed is average, his acceleration is very good.
Smaller DBs will have a hard time against Ridley's 225-lb. frame, and like a lot of bruisers, he doesn't shy away from contact, finishing his runs like good linebackers finish tackles. And critical to the Patriots offense, Stevan does not shirk blocking duties.
What's not to like?
Ridley only became a starter during his final year at LSU, and one could argue that shows in his lack of polish. Ball security got Ridley in Bill Belichick's doghouse after Stevan fumbled twice in fewer than 100 touches in 2011. Discipline is something of an art form to the Patriot way, and perhaps Ridley can glean some in a full training camp in 2012.
Also, Ridley as a pass-catcher is a mystery. He only had 17 receptions his entire collegiate career, so his viability as a target for Tom Brady is a secret to everyone but his coaches.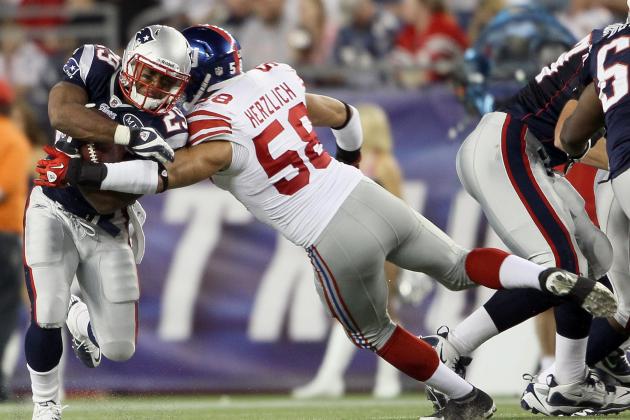 Elsa/Getty Images
Shane Vereen, RB
Patriots fans got to see very little of the Cal product in 2011. With only 15 touches last year, Shane Vereen still has a lot to prove as a pro.
Shane came to the Pats after a very versatile career at Cal. He played behind Jahvid Best most of his career there, but his durability was never in question; he got into at least 12 games all three seasons with the Golden Bears.
He finished with over 2,800 rushing yards and found the end zone 29 times on the ground. Key to his skill set is his ability as a receiver: Vereen racked up at least 200 receiving yards every year at Cal, and he shows soft hands and excellent routes when he splits out wide. He also has significant experience in the kick return game, which the Patriots may test him on this summer.
What's not to like?
Shane is slightly undersized for a feature back. Vereen is one of the fastest players on the Patriots roster, but he's not going to snowplow the defense's front lines like Ridley can. One consistent knock on him leading up to last year's draft was that he'll sometimes swing and miss on pass protection.
The Patriots drafted him in the second round, so clearly they saw something in Shane that they liked. Picks that high aren't expected to be bit players.
But given his pass-catching ability and his fourth gear, he might fill something of a hybrid role in the New England offense against weaker pass defenses.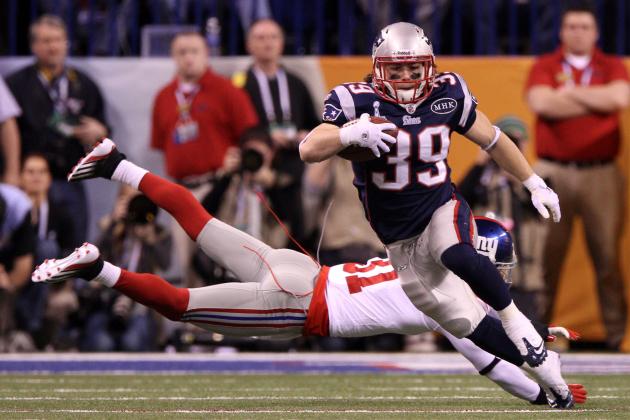 Elsa/Getty Images
Danny Woodhead, RB
The Patriots pulled off a real coup in September 2010 when they snapped up little-known Danny Woodhead, who had been released a few days before by the New York Jets.
The pride of Chadron State College in Nebraska, Woodhead very quickly filled the niche left by the injured Kevin Faulk, especially as a third-down safety valve out of the backfield, who shows good patience waiting for a seam and outstanding burst after the first cut.
As with many Patriots players, Woodhead has been used in an eclectic array of roles on special teams, too. Offensively, his production dipped in 2011 but his total yards did not, as he accounted for more than 400 return yards. Bill Belichick clearly trusts Danny as a receiver and ball carrier, and his contributions in other areas solidify his value to the team.
What's not to like?
Woodhead's lack of size will always limit him as a potential feature back. His listed weight of 195 pounds must get a laugh from anyone who's actually seen him play. Elusive and speedy in space, his skill depends on slipping through the grasp of the first defender. Woodhead isn't running over anybody.
And valuable though he is as a target for Tom Brady, the short stature that makes him a slick runner also means he occupies very little real estate as a receiver, and this limits him to short routes underneath and out to the flat.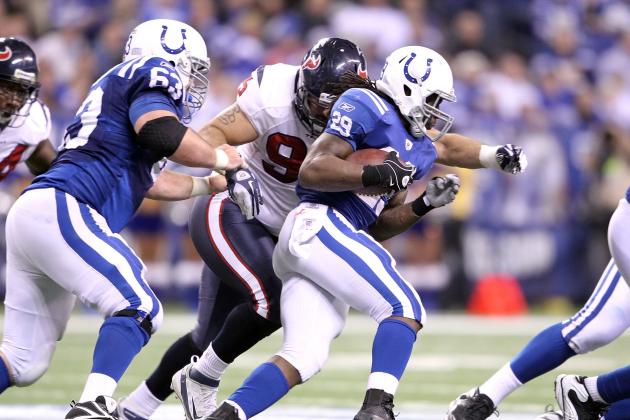 Andy Lyons/Getty Images
Joseph Addai, RB
Let the post-Manning exodus continue.
After six seasons in Indy, the Colts said goodbye in March to their veteran running back. Joseph Addai (released the same day as Gary Brackett and Dallas Clark no less) comes to New England for a one-year contract on the heals of two frustrating, injury-plagued seasons.
The LSU alum brings qualities back to the Patriots running corps that left when BenJarvus Green-Ellis signed with Cincinnati.
He shows good vision and patience, and still possesses a good stutter step to gain extra yards. He has the size and willingness to be excellent in pass protection. Addai almost never puts the ball on the ground (five fumbles since his rookie season), and he has shown himself to be an outstanding receiver out of the backfield, topping 300 yards three times in Indy.
What's not to like?
Even as a rookie Addai was not a burner, and he certainly isn't now. Since his freshman campaign when he averaged 4.8 yards per carry, he has settled into the mid-threes in recent years, and like the Law Firm he rarely breaks off huge runs.
That he hasn't started a full 16 games since 2006 should raise a flag about his durability.
He has the mettle and toolbox to perform well as a running jack-of-all-trades, and his time working in the Peyton Manning offensive machine only strengthens his resumé. But one could wonder how the veteran can adapt to being a cog in McDaniel's scheme after carrying much of the load with the Colts.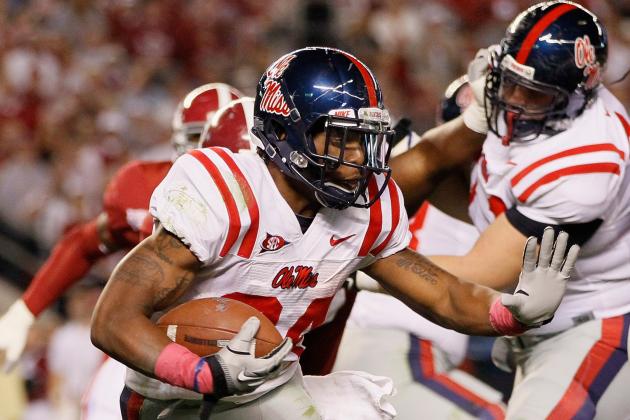 Kevin C. Cox/Getty Images
Brandon Bolden, RB
The unknown quantity in the Patriots' stable of running backs is Brandon Bolden of Ole Miss. Signed one week after the draft, Bolden is a powerful inside runner with below average speed and elusiveness, but he will break tackles between the hashes and hit seams hard with a low pad level. Bolden was something of an unknown even in the SEC, playing on a terrible Rebels squad that only won two games in 2011.
His best work came in 2010, when he averaged 6.0 yards on the ground and had better than 300 yards receiving. That kind of production against SEC defenses commands some attention, and while scouts do not praise his technique or speed, his size and vertical leap (38") suggest a cannonball runner that can hit defenses in the mouth at the next level.
What's not to like?
Bolden brings a red flag with him to New England, having been suspended right before the Rebels' October game against Alabama. And his final campaign at Ole Miss is a mixed bag, flashing brilliance some games and becoming a non-factor during others, which suggests either a nagging injury or Bolden not being on the same page with his coaches.
And the most carries he ever had in a year was 163. One would hope a feature back would get more touches than that in a full season.
The Patriots clearly are hopeful for Bolden after the last UDFA they signed out of Ole Miss (Green-Ellis). Bolden has an uphill battle in training camp 2012 to prove himself against veterans Addai and Woodhead and the sophomores Ridley and Vereen.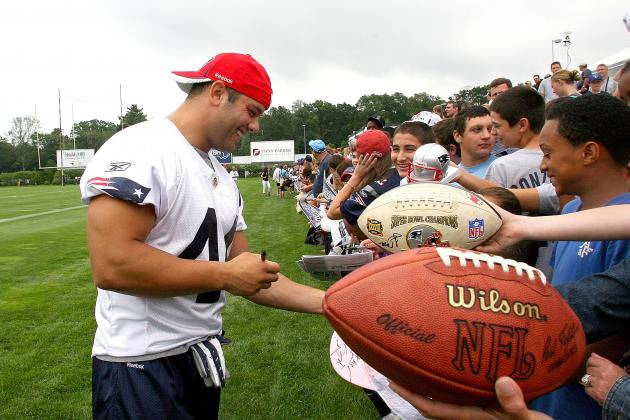 Jim Rogash/Getty Images
Eric Kettani, FB
It shouldn't go unnoticed that New England has signed three fullbacks since the Super Bowl. But in the tilt-a-whirl universe of the NFL offseason, we ought not read too much into any given signing that doesn't include multiple years or much guaranteed cash. The Patriots did not carry a fullback for much of 2011, utilizing the popular two tight end set.
But the influence of Josh McDaniels may have moved the Patriots to diversify their offense by adding a big body to the backfield for run-blocking, pass protection and as a sledgehammer during short yardage situations.
The presence of a strong fullback stabilizes the ground game and goes a long way toward preserving the health of Tom Brady, because defenses can't double down on the pass rush so easily. And any fullback they sign will undoubtedly fill a role on special teams as well.
It's impossible that the Patriots would keep three fullbacks on the season roster, and pretty unlikely they even retained two on a team with a third tight end (more on this later). But the Patriots may have tipped their hand of keeping a fullback plan in their offensive schemes, in which case it's virtually impossible they also keep five true running backs.
Spencer Larsen spent his first two seasons in Denver primarily as a blocker, but also as a linebacker in certain packages, and as a special teamer. His length (6'2") as a receiver as well his versatility bodes well for his chances.
Tony Fiammetta, in his third year out of Syracuse, was considered by many to be the best fullback in 2009 draft class.
But my money is on UDFA Eric Kettani, the Navy product who spent most of the last three years on active duty. Kettani was given an early release this spring, and will have the opportunity to make a mark during summer workouts. Kettani reportedly ran a 4.5 40-yard dash before the draft in 2009 as a 235-pounder.
All reports on him indicate a fierce competitor and outstanding teammate. Given how desperately he wanted to play last year before being recalled to active duty, it's a safe bet he'll have something to prove.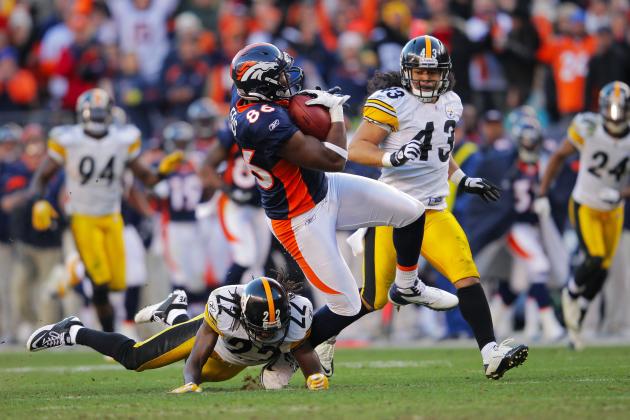 Doug Pensinger/Getty Images
Daniel Fells, TE
The Patriots flexed their muscles last year with the dynamic duo at tight end in Rob Gronkowski and Aaron Hernandez. They also showed their weaknesses when Rob Gronkowski couldn't push himself 100 percent in the Super Bowl after an ankle injury in the AFC Championship game. New England intermittently kept Gronk's blocking tight end brother Dan Gronkowski on the roster in 2011, but Dan didn't factor much in the offense, getting signed and then cut (twice) by season's end.
After the Super Bowl loss, the Patriots fairly quickly brought Daniel Fells into the fold, signing him to a three-year deal worth $5.25 million ($2 million guaranteed). The journeyman Fells comes to New England after one year in Denver, and by his own admission according to Boston.com, he was looking for a calm, team-first environment after the Tebow Circus.
Fells is a big body at 6'4", 270 pounds. He describes himself as a chameleon tight end, having shouldered significant receiving and blocking duties in his career.
A 4.8 40-yard dash time at his combine six years ago suggests he won't be the streaking pass catcher Hernandez is, but he will allow the Pats to split Aaron out wide in some formations. He also comes with a pedigree of being a sure-handed, rock solid blocker.
Immediately after the draft, the Pats also signed UDFA Brad Herman out of Iowa. Herman is an enigma to even studied football fans, having had little game action and attention with the Hawkeyes. He's described as a "move" tight end by scouts, meaning he fits the skill set of an Aaron Hernandez.
He's very athletic, posting a surprising 4.63 40-yard and 36" vertical at his workout, in a frame measured at 6'4", 252 pounds. Fells's deal would almost guarantee Herman doesn't make the 53-man roster, but Brad adds some intrigue to camp, and might make the practice squad as a project.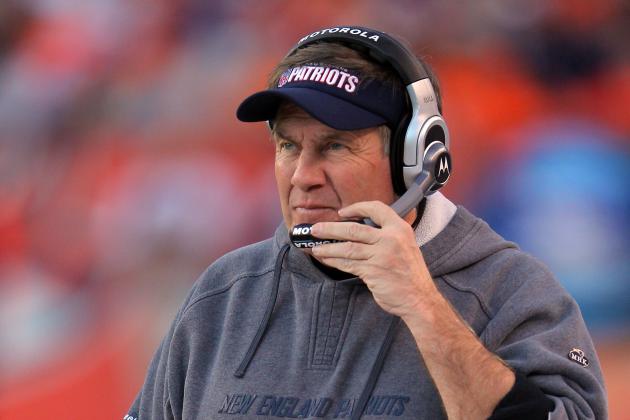 Doug Pensinger/Getty Images
The Hoodie
Projecting how roster decisions go down for multiple positions this far out before camp is pure folly. But the Patriots have made enough of their intentions clear this offseason that some speculation is inevitable.
It's worth noting the status of the tight ends and fullbacks on New England's roster bubble, and how that will affect the status of the current running backs.
With the likes of Spencer Larsen and Eric Kettani in the mix at fullback and Daniel Fells seemingly entrenched as the third tight end, then one of the five pure running backs is likely to fall. I see Ridley, Vereen and Woodhead as locks on the roster. It's conceivable that Brandon Bolden gets some snaps in preseason action, but I can't see him outstripping Addai's value and versatility as a veteran, which is something Belichick has historically given precedence over raw ability.
Bolden will have the chance to keep himself in the conversation on the practice squad, along with TE Brad Herman and WR Jeremy Ebert.
Injuries to running backs are as common as dirt, and if Bolden has the commitment, he'll get his chance.
That said, I really see Stevan Ridley as the guy who could be the main chain-mover on the ground for the Patriots in 2012 and beyond. In the modern NFL, he certainly won't have to carry the whole load, with a tandem approach working well for so many teams in recent years. But his size, strength and running ferocity means he can change the game in a single play, so here's hoping New England gives him that shot.