2012 NFL Draft: Grading the Dallas Cowboys Draft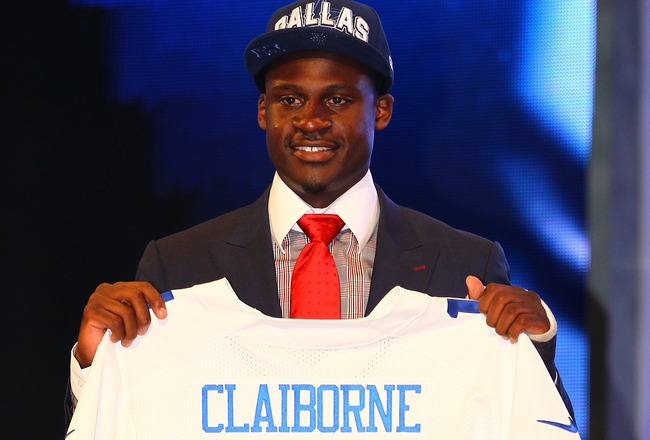 Al Bello/Getty Images
The Cowboys turned eight draft picks into seven players including the best defensive player on their board. There is no doubt the Cowboys were winners after day one, but drafted huge question marks on days two and three.
Five years down the road the Cowboys will look back at this draft and either praise the draft as the building blocks to a terrific defense or look at this draft as one of the reasons Jason Garrett was fired. The Cowboys filled a lot of needs but questions remain. Are these players actually capable of filling the needs they were drafted to fill?
No one really knows right now. Five years from now all these questions will be answered. For now, here are my grades for the 2012 NFL Draft.
Round 1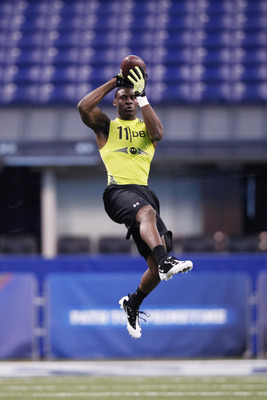 Joe Robbins/Getty Images
Morris Claiborne CB LSU
"Yes! Yes! Yes!" in the words of Daniel Bryan. There is no doubt that this draft will be known as the "Claiborne Draft" for Cowboys' fans. The Cowboys traded up to select the second best player on their draft board at a position of need for the Cowboys.
Claiborne was the best corner in the draft and the Cowboys will hope he has a similar impact that Patrick Peterson had for the Cardinals in 2011. Claiborne excels when he can make plays on the ball in the air but he could also be dangerous in the return game when called upon.
Claiborne should be the best corner on the Cowboys roster before the year is over and that includes the talented Brandon Carr who the Cowboys signed in the off-season.
Grade: A
Round 3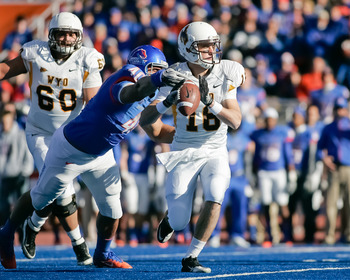 Otto Kitsinger III/Getty Images
Tyrone Crawford DE Boise State
Tyrone Crawford begins the run on questionable reaches for the Cowboys. Crawford was not viewed as a day two prospect by most of the experts when the Cowboys selected him in the third round. The Cowboys have a huge need at defensive end. They need to be younger, more athletic, and contribute more of a pass rush. Crawford could be that type of player.
The problem is, Crawford could have been selected later in the draft. The Cowboys could have found more value in this round instead of drafting a project-type player. Maybe Rob Ryan will develop Crawford into a premier pass rusher, but in 2012 his contributions seem limited.
Grade: C+
Round 4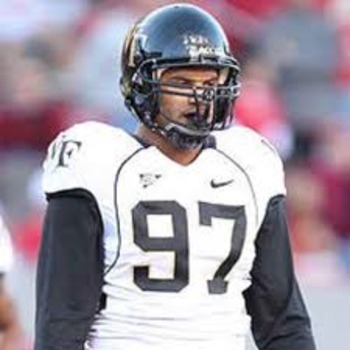 Kyle Wilber OLB Wake Forest
Kyle Wilber was another reach according to draft experts but once again he fills a need for the Cowboys. Anthony Spencer is great against the run but struggles to be a consistent pass rusher. Wilber can help spell Spencer in 2012 and hopefully deliver a pass rush opposite of DeMarcus Ware.
In the long-term, the Cowboys hope Rob Ryan can turn Wilber into a full-time outside linebacker who can replace Anthony Spencer in 2013. In my opinion, those are very lofty goals for Wilber. I have no idea how they decided on Wilber instead of Ronnell Lewis.
Grade: D
Round 4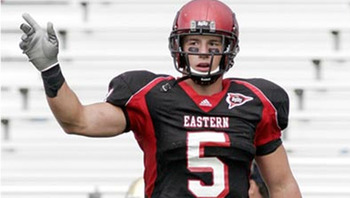 Matt Johnson S Eastern Washington
Johnson was the fourth straight defensive player selected by the Cowboys. Before the draft, I thought that if the Cowboys picked four straight defensive players, they would have a great draft. However, out of these first four picks, the Cowboys only have one starter for the 2012 season.
Matt Johnson was another reach at a position of need for the Cowboys. Johnson did not play Division I football in college which means he will face an even bigger jump in the level of competition than most college players. Johnson could develop into a playmaker down the road, but how long will it take for him get there?
Someday Johnson could play sideline to sideline and be the play-making safety the Cowboys have desperately needed for years.
Grade: B
Round 5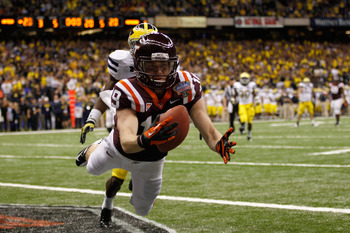 Chris Graythen/Getty Images
Danny Coale WR Virginia Tech
Danny Coale has been compared to Wes Welker a lot since the draft concluded. That comparison is borderline ridiculous, as Coale has alluded himself.
But could Coale eventually make solid contributions to the Cowboys in the slot? That answer is absolutely.
Laurent Robinson was cut in 2011 by the Chargers before he found his home in Dallas. There is no reason Coale cannot fill that role and be productive also. However, with Bryant, Austin and Witten already on the roster, Welker-type production is out of the question. Coale will battle in the preseason for reps on the offense. Hopefully he can find a niche in Garrett's offense.
Grade: B
Round 6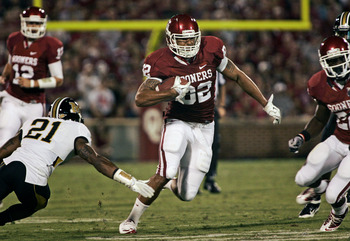 Brett Deering/Getty Images
James Hanna TE Oklahoma
James Hanna was a very interesting pick for the Cowboys. On the positive side, Hanna has tremendous upside and has Jimmy Graham type potential. Hanna is fast and moves well in the open field for a tight end but spent too much time sitting behind Jermaine Gresham at Oklahoma.
On the negative side, the Cowboys needed a blocking tight end to replace Martellus Bennett and Hanna does not block well. The Cowboys will now lean on John Phillips to replace Bennett and hopefully develop Hanna as Witten's successor.
Grade: B+
Round 7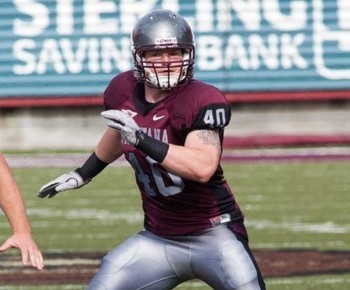 Caleb McSurdy ILB Montana
It's pretty difficult to be too upset over a seventh round pick but McSurdy has to be one of the worst selections. According to some draft experts, it was not certain McSurdy would be signed as an undrafted free agent. In addition, inside linebacker is not a position of need.
With Sean Lee, Dan Connor, and Bruce Carter, there is little hope McSurdy makes the roster or even survives the first round of cuts. Garrett does like the type of hard-nosed player McSurdy is, but every NFL player has to be talented too. Drafting another defensive back would have been a better decision.
Grade: F
Overall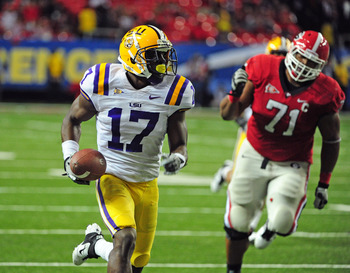 Scott Cunningham/Getty Images
Grading this draft really depends on your point of view. The Cowboys filled almost every one of their needs during the draft. They found a slot receiver, a pass rusher off the edge, a play-making safety, and a third tight end. The only question is whether or not these players can contribute in the NFL.
Without Claiborne, the Cowboys may not have any players drafted in 2012 on their roster in two seasons. All of their picks after the first round have huge question marks and bust potential. It will be interesting to see if the draft experts are right about these players or if the Cowboys scouts and coaches knew what they were drafting.
In the end, the Cowboys draft will be graded based on Claiborne. If he develops into a shutdown corner for the next decade, the rest of the draft will be forgotten either way. If Claiborne becomes a bust, this draft will be placed on the list of one of the worst drafts in Cowboys' history.
Grade: B+
Keep Reading

Dallas Cowboys: Like this team?