What to Expect from Miami Dolphins 2012 Second-Round Pick OT Jonathan Martin
May 3, 2012

Ezra Shaw/Getty Images
Jonathan Martin won't have the weight of the world on his shoulders, but he'll have a pretty big responsibility protecting the franchise quarterback in Ryan Tannehill.
But whether Tannehill is the starting quarterback Week 1 or not, Martin will likely be the starting right tackle. That is, if history is any indication.
Martin had the distinct pleasure of protecting Andrew Luck's blind side when the two were together at Stanford, but it's not likely he'll have that duty with the Dolphins; they already have a pretty good left tackle in Jake Long.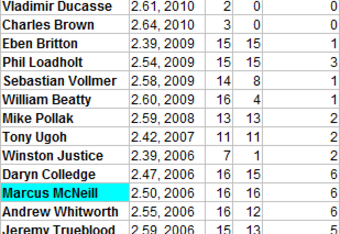 Still, the Dolphins could use better pass protection, specifically at tackle, where the stop-gap 2011 free-agent signing of Marc Colombo proved to be more of a gap than they expected, as Colombo gave up 11 sacks on Dolphins QBs in 2011.
While we can't track the amount of sacks each of the tackles has let up, we can get a realistic feel for what to expect from Martin in his first season and going forward by looking at all the offensive tackles drafted in the second round since 2003.
The sample size is 22, which we feel is large enough to draw some conclusions from.
A few notes about the group:
11.5 games and 8.8 starts is the average throughout the group.
13 of the 22 tackles started at least 10 games, and two more played in at least 10 games. In total, 15 of the 22 tackles were major contributors to the team in their first year.
Other than Adam Terry and Jason Rogers, every offensive tackle taken in the second round since 2005 is still in the league.
By my estimation, 14 of them should be starting in 2012.
Only three Pro Bowl tackles have been drafted in the second round since 2003.
Thus, the baseline for an "average" season from Martin would have him involved in 11 or 12 games and starting eight or nine of them.
Going forward, we'll expect him to be a starter for the Dolphins for the foreseeable future. 
While not many of the tackles have been Pro Bowl caliber, plenty of them are consistent and viable starters for their team, specifically Patriots tackle Sebastian Vollmer, Vikings tackle Phil Loadholt, Broncos tackle Orlando Franklin, Raiders tackle Khalif Barnes, Bengals tackle Andrew Whitworth and others.
Tony Ugoh was drafted to be the Colts left tackle of the future, but he never panned out as expected and the team recently drafted Anthony Castonzo to replace him in that LT of the future role. 
It's worth mentioning, too, that a few of the tackles who didn't start at any given point were forced out due to injury, not taken out due to ineffective play. Vollmer and Giants tackle William Beatty are just the two most notable examples.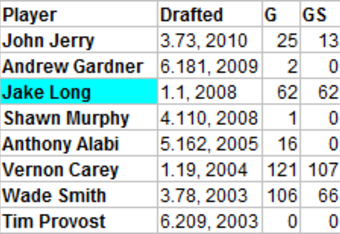 Looking at the tackles the Dolphins have drafted since 2003, it's not hard to see why they're in the market for more depth. They haven't hit on the position all too often, although first-round pick Vernon Carey has been a starter for them since 2005 and Long has the left side locked down.
Carey slid over to guard last season, though, and could play there going forward. That, combined with Colombo's sub-par performance last season, proves that the Dolphins were wise to grab a talented tackle.
And if the past is any indication, the future could be bright for Martin.