Saints Bounty Suspensions: 4 Players Receive Punishment for Bounty Program
May 2, 2012

Chris Graythen/Getty Images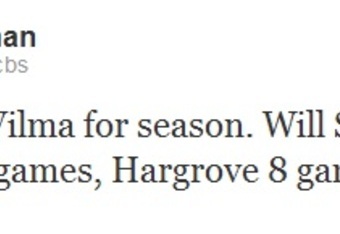 For weeks it was anticipated that the NFL would levy punishment upon some current and former New Orleans Saints defensive players who were involved in the team's bounty scandal, and that has finally come to fruition, according to the NFL.
Mike Freeman of CBS Sports offered more specifics, reporting that the league has suspended current Saints linebacker Jonathan Vilma for the entire 2012 season, current Saints defensive end Will Smith for four games, current Cleveland Browns and former Saints linebacker Scott Fujita for three games and current Green Bay Packers and former Saints defensive lineman Anthony Hargrove for eight games.
Peter King of Sports Illustrated added that Vilma offered $10,000 to any player on the defense who could take out Minnesota Vikings quarterback Brett Favre during the NFC Championship Game in 2010.
That accounts for Vilma's more severe suspension, while Hargrove also received a more stringent punishment likely because of his vicious hit on Favre in that game, which ultimately hobbled the usually-durable quarterback. Smith administered several questionable hits in his own right, and Fujita had been accused of putting money into the bounty fund.  
The Saints are already without their head coach for the entire season and their head coach in waiting for six games. Now they will have to deal with the loss of perhaps their best defensive player in Vilma for a whole year, as well as Smith, who may be their best pass-rusher, for the first month of the season.
This isn't just an issue with the Saints anymore either, as the St. Louis Rams will indefinitely be without Williams, who they signed to be their defensive coordinator. Also, the Browns will have to deal with the loss of a team leader on defense in Fujita, while the Packers were counting on Hargrove to provide a much-needed boost to their beleaguered defense.
It's fair to say that this saga may not be over yet, though, as the NFLPA has released a statement requesting more evidence. NFL Players Association Executive DeMaurice Smith said that "punishment without evidence is not fair."
After seeing the NFL's decision letters, the NFLPA has still not received any detailed or specific evidence from the league of these specific players' involvement in an alleged pay-to-injure program. We have made it clear that punishment without evidence is not fair. We have spoken with our players and their representatives and we will vigorously protect and pursue all options on their behalf.