NFL Draft 2012: What to Expect from Andre Branch's Rookie Year
May 2, 2012

Scott Halleran/Getty Images
After months of media hype, the draft is over and fans finally have new members of their team to welcome to town. Expectations for draft picks are high, but are they too high?
Over the course of the next few weeks, "What to Expect" will examine every draft pick from the AFC South in its historical context. Using past performances from similarly drafted players and by examining the way in which each team develops certain positions, I will create a realistic baseline by which to judge the performance of each pick.
Readers should be aware that rookies historically perform much, much worse than fan expectations. Also keep in mind that I am not saying the player will perform to these expectations, but rather anything better than the results should be considered a successful rookie year and anything worse would be a disappointment.
The Jaguars followed up their selection of Justin Blackmon by taking defensive end Andre Branch in Round 2. He was brought in to bolster the pass rush, but how much can the Jaguars expect to get out of him in 2012?
Since 2003, there have been roughly 20 defensive ends taken between the 20th and 50th pick of the draft. It's difficult to pinpoint the exact number because of scheme changes and position changes. There may be a few players missing from the list, but it's designed to get a baseline.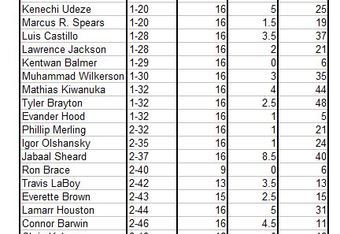 These 20 averaged roughly three sacks and 24 tackles apiece. The best seasons belonged to Tamba Hali and Jabaal Sheard who had eight and 8.5 sacks respectively. Only four of these ends got at least five sacks in their rookie year. Many of them played sparingly. It's unlikely for ends in this slot to be dominant as rookies, though a few have had good production.
The Jaguars have drafted quite a few linemen in the past few years. Since 2000, they've taken 19 defensive linemen. The best season any of them had was John Henderson's 6.5-sack, 46-tackle effort in 2002. Henderson was the ninth-overall pick that year.
Perhaps a better comp for Branch in his first year would be Derrick Harvey. He picked up 3.5 sacks and 15 tackles. I'm not saying that Branch is Harvey or will turn out like Harvey. Had Harvey improved upon those numbers, he'd still be in Jacksonville.
Summary
Branch may well be an excellent selection who will go on to have big years in the NFL, but fans should be cautious not to expect too much, too soon. Four sacks and 30 tackles would be an excellent rookie year for Branch. Anything in the range of three sacks and 20 tackles would be fairly standard for his draft position.
Long term, there aren't many huge stars that are picked in this range. The bust potential is certainly high, and the ceiling is probably someone like Mathias Kiwanuka. Ultimately, the projection for Branch's career is very similar to that of Whitney Mercilus.
The real impact of Branch will likely not be known or felt for a couple of years.