NFL Draft 2012: What to Expect from Whitney Mercilus's Rookie Year
May 2, 2012
Jonathan Daniel/Getty Images
After months of media hype, the draft is over and fans finally have new members of their team to welcome to town. Expectations for draft picks are high, but are they too high?
Over the course of the next few weeks, "What to Expect" will examine every draft pick from the AFC South in its historical context. Using past performance from similarly drafted players and by examining the way in which each team develops certain positions, I will create a realistic baseline by which to judge the performance of each pick.
Readers should be aware that rookies historically perform much, much worse than fan expectations. Also keep in mind that I am not saying the player will perform to these expectations, but rather anything better than the results should be considered a successful rookie year, and anything worse would be a disappointment.
The Houston Texans took Whitney Mercilus with their first-round selection to bolster an already fearsome pass rush and in part to help offset the loss of the dynamic Mario Williams to the Buffalo Bills. Besides having an epic name, the 6'3", 261-pound Mercilus was an intensely productive pass-rusher for the Illinois Fighting Illini. In the Texans' scheme, he'll be playing a linebacker position (as much as the word applies, anyway).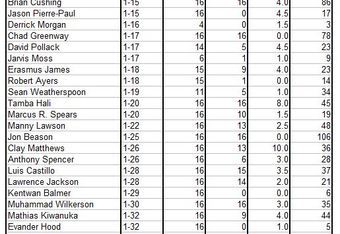 To get a historic baseline on Mercilus, first I compared him to the last 24 defensive ends and outside linebackers taken between picks 15 and 35 of the draft dating back to 2005.
Here are some things to note:
Half the players started at least 10 games their rookie year.
They averaged around three sacks and 40 tackles.
Only two of them had more than five sacks in their rookie year.
Roughly 25 percent went on to have a Pro Bowl or All-Pro season at some point of their career.
Let's also examine all outside linebackers and ends taken by the Texans since 2005, regardless of round.
The Texans have taken four outside linebackers/defensive ends in the first two rounds since 2005. All four had between 4.0 and 5.5 sacks their rookie years. All four played in all 16 games, and three of the four were day-one starters. While there have been defensive scheme shifts since then, it's clear that the Texans intend for rookie pass-rushers to play heavily.
Note as well that the chart and this article originally omitted Brooks Reed, second-round pick in 2011. He was incorrectly labeled as a 'defensive lineman' in the draft charts, but played linebacker, and should have been included originally. He played in 16 games, started 11 and had six sacks and 36 tackles in 2011. I apologize for the omission.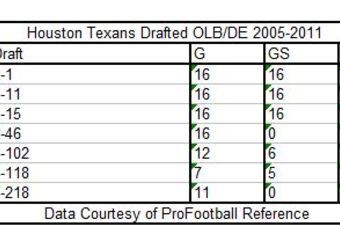 Summary
So what can we expect for Mercilus' rookie year? It seems safe to say that the rookie baseline is a good place to start in terms of sacks. Three to four sacks would seem to be right in the wheelhouse.
Tackle numbers are harder to judge because they are largely a function of scheme. Most of the Texans' true pass-rushers posted tackle numbers in the mid-30s. Anything higher than 25 would be an accomplishment.
Fans can expect roughly 25-30 tackles, 16 games played, and 3.5 sacks next year. Anything less than that could be considered disappointing, where as anything better would be an excellent rookie year.
Moving forward, a generous projection for Mercilus' career would send him to a couple of Pro Bowls based on solid sack numbers. His best-case projection would be someone like Clay Matthews or Tamba Hali. Most likely, he settles in as the next Mathias Kiwanuka.