Charles Johnson's Mega Contract Highlights Ridiculous Nature of NFL Salaries
May 1, 2012
The NFL is a weird and wacky place.
It's a league where a guy like Matt Forte can lead his team in rushing and receiving yards (prior to season-ending injury) while making well under a million dollars, only to watch his team sign a free agent that will be taking away a chunk of his touches in a contract year.
On the other end of the spectrum, there is Charles Johnson.
The Carolina Panthers' defensive end registered 40 tackles, nine sacks and one forced fumble in 2011, and received a ridiculous $34 million salary for his efforts.
According to the ESPN The Magazine's "Money Issue," Johnson is the highest-paid athlete in the entire sport. He signed a six-year, $76 million deal before the 2011 season and also raked in an eye-popping $30 million signing bonus. Even NBA players are shaking their heads at this one.
In his five-year career, he has a grand total of 30.5 sacks and 154 tackles in 63 games played. Certainly solid numbers, but $34 million good?
To put this outrageous total into perspective, the NBA's top money-maker, Kobe Bryant, a player with five championships, made $25.244 million in 2011. In baseball, it's Alex Rodriguez and his seemingly endless $30 million annual payday.
None of them compare to Johnson—a player even hardcore football fans couldn't pick out of a lineup. The Panthers ranked 24th against the pass (246.8 yards per game) and 25th against the run (130.8 yards per game) in 2011. Was this money well spent?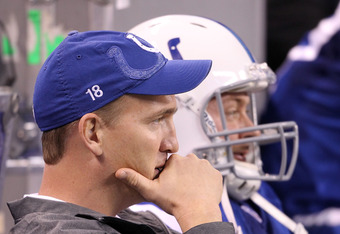 Andy Lyons/Getty Images
It certainly was when compared to the second-highest-paid player in 2011. The Indianapolis Colts paid Peyton Manning $23 million to hold a clipboard for an entire year, as he recovered from multiple neck surgeries. Johnson's 9.5 sacks sound like a steal compared to what the Colts got from Manning.
Third on the list is Sam Bradford, who cashed $18.4 million worth of paychecks last year. Blame the old rookie-wage scale on the fact that St. Louis was forced to dole out $9.2 million per win for Bradford in 2011.
On the extreme other side, Arian Foster, Mike Wallace, LeSean McCoy and Rob Gronkowski made under $800,000 in 2011. All of these players had strong 2010 campaigns as well, so essentially, they were paid chump change in exchange for above-average performances for the second year in a row.   
The NFL needs to address a problem that the lockout clearly couldn't. There shouldn't be so much wasted money. The league should be rewarding players like Wallace and "Gronk" for their success sooner. It's a matter of timing and the luck of the draw, and that's not right.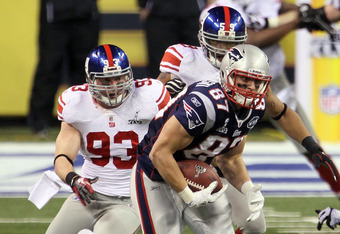 Jeff Gross/Getty Images
What if they create an incentive-based system where you are guaranteed a certain amount of money when you hit a specific threshold?
Gronk just broke the single-season record for touchdowns by a tight end, with 17. That should automatically place him in the top-five highest-paid players at the position. This is a great solution for younger players that grossly outplay the value of their rookie deals.
Considering Johnson's nine sacks (tied for 21st in 2011), it makes sense that his salary should be reduced to a rate comparable to other players at his position with similar stats. Obviously, veterans aren't going to go for this, so maybe he should just get a portion of his mega-deal chopped off. He can still be overpaid, but not that overpaid.
Right now, the salary scale is completely out of whack, resulting in far too many contract holdouts by players that feel disrespected, along with players that have become complacent and lost the edge that made them successful in the first place. 
The NFL has to do something about this.