Tracking New York Jets' 2012 NFL Undrafted Free-Agent Signings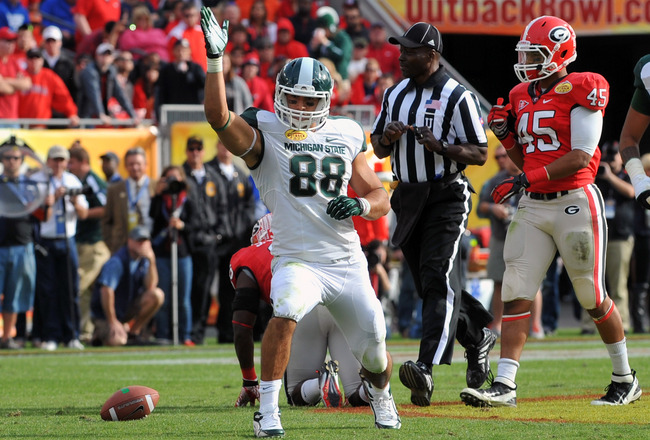 We won't flag Brian Linthicum for excessive celebration. He has, after all, finally realized his dream of being on an NFL roster.
Al Messerschmidt/Getty Images
With depth like a kiddie pool, the New York Jets need to find as much quality talent to back up their starters as they can.
Lord knows it was a contributing factor behind the team's inability to make the playoffs in 2011.
And while the Jets have gotten a start on that process with the 2012 NFL draft, the work is far from over. Now, the team and the NFL turn to undrafted free agency as they try to find guys who can fight for roster spots and push the current roster to give their best at training camp.
In the coming slides, we'll look at a scouting report for each player (if available), his biggest competition for a roster spot (if there is any), his chances of making the roster (on a scale of 1-10) and some overall thoughts on each prospect. Let's have a look.
Undrafted free-agent list provided by NEPatriotsDraft.com.
Damon Harrison, DT, William Penn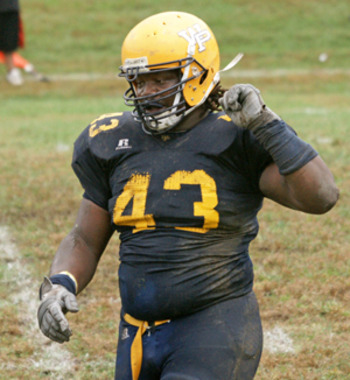 Photo via oskynews.org
Scouting Report via Wes Bunting of National Football Post:
The kind of physically put together kid who can develop as a nose in either a 34 or 43 front. In a weaker senior class at DT I would rather roll the dice on this higher upside kid than most of the average senior later guys at bigger schools.
Biggest Competition: Martin Tevaseu
Chances of Making the Roster: 4/10
Harrison has some scheme versatility, as pointed out by Bunting. His physicality will be a favorite of Rex Ryan, and his versatility will give him a shot to crack the roster. The Jets could use some talented depth behind Sione Pouha to take some of the workload off of their big man.
Ryan Steed, CB, Furman
Scouting Report via Wes Bunting:
Displays natural change of directions skills and can play the football, but looks more like a cover two guy only early on, who must play with his back to the sideline because of his struggles to stay coordinated/low in his drop and out of his transition.

Biggest Competition: Julian Posey/D'Anton Lynn/Donnie Fletcher
Chances of Making the Roster: 7/10
Steed was a starter for Furman and has the size and instincts you like at the position, but he's not fast enough to run with top-end receivers. The Jets have a lot of depth at cornerback, and it may be hard for him to find a spot if he can't keep up. He's talented, though, and was expected to be drafted, so the talent is there for him to compete.
Brett Roy, DE, Nevada
Scouting Report via Wes Bunting:
Has played all over with his hand on the ground, but might be most effective as a 34 linebacker. Reminds me some of former Miami DL Allen Bailey. He's powerful, uses his hands well to shed and could play either inside or outside linebacker spots in a 34 scheme

Biggest Competition: Jay Richardson/Tanner Vurdum
Chances of Making the Roster: 3/10
Brett Roy is a little big for the outside linebacker spot in the 3-4, but cutting down about 10 pounds should fix that, as long as he doesn't sacrifice his signature power moves. He led the WAC in 2011 when he recorded 16.5 tackles for loss and 10 sacks, and showed a natural ability to get after the quarterback.
What's more, he's a team leader both on the field and in the locker room. The Jets could use some high character guys like that, even if they are UDFAs.
He may be little more than a sub-package specialist, but there's room for a player like that on the roster—granted he's good enough at what he does.
GJ Kinne, QB, Tulsa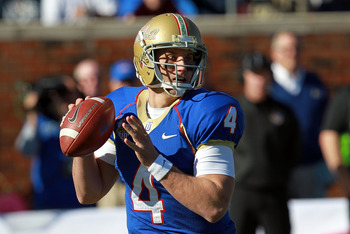 Ronald Martinez/Getty Images
Scouting Report via Wes Bunting:
Kinne has a little Jeff Garcia/Bruce Gradkowski to his game. He will fall on draft day because of his size, but is your typical gritty QB prospect who is the son of a coach and in my view will find a way to make a roster and potentially fight for playing time down the line.

Biggest Competition: Greg McElroy
Chances of Making the Roster: 5/10
He played 25 games for Tulsa (all starts) and logged 6,382 passing yards and 53 touchdowns in those games, and was named Conference USA Offensive Player of the Year in 2010. The third quarterback roster spot, if it's available, could be had by Kinne if the team would rather move on from McElroy.
Brian Linthicum, TE, Michigan State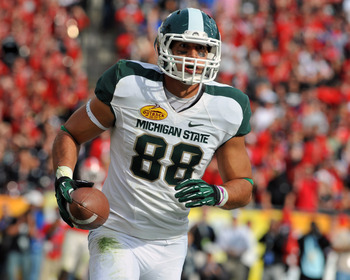 Al Messerschmidt/Getty Images
Scouting Report from Wes Bunting:
A limited blocker, but has some savvy as a pass catcher and adjusts well to get the football. Isn't a dynamic athlete and his limitations in the run game will hurt him. Looks more like a late round type/reserve only who could potentially make a team because of his ability to work the middle and move the chains.

Biggest Competition: Jeff Cumberland/Hayden Smith/Dedrick Epps
Chances of Making the Roster: 4/10
Linthicum was a solid target in the passing game for Michigan State quarterback Kirk Cousins, even though his primary role was as a blocker. Dustin Keller dominates the pass-catching role at tight end, but the Jets could definitely use a solid blocker like Linthicum as a complement. Playing in 52 games and starting 31, he did enough to earn a second-team All-Big Ten selection.
Donavan Robinson, DE, Jackson State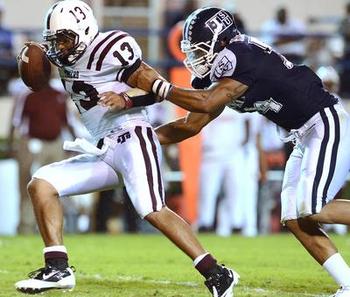 Photo via clarionledger.com
Scouting Report from Wes Bunting:
An athletic pass rusher who runs in the 4.6 range and when you add in his physical stature, his production and ability to run, it makes him one of the more attractive free agents with the upside to grow into his frame and mature as a potential 3-4 guy.

Biggest Competition: Matthias Berning
Chances of Making the Roster: 2/10
National Football Post lists him at 6'2" and just 229 pounds. Needless to say, he'll need to add a bunch of weight if he wants to be any match for NFL offensive tackles. As it is, though, he has burst off the line that could help him get after the quarterback. That is, if he makes the roster.
He'll be competing with Matthias Berning, an undrafted free agent who made his way onto the practice squad in 2011.
Brody McKnight, K, Montana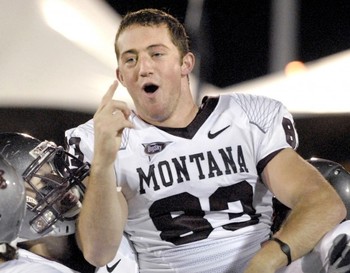 Photo via missoulian.com
Scouting Report: N/A
Biggest Competition: Nick Folk
Chances of Making the Roster: 5/10
Perhaps the Jets need a backup kicker, or perhaps they've finally found a replacement for the inconsistent Folk. We'll just have to wait and see.
John Cullen, OT, Utah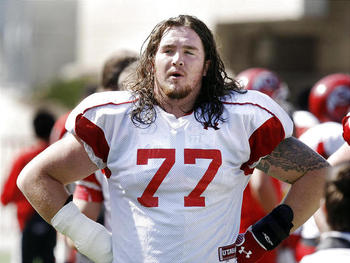 This guy looks a lot like Robert Gallery, and a lot like a guy I wouldn't want to mess with. (Photo via deseretnews.com)
Scouting Report via Wes Bunting:
Is far from a finished product, but there is some real natural athleticism there. Needs to get stronger and develop as a puncher. Looks better suited to play as a guard. He can bend and move his feet, but is going to need time to learn a new position. Has still set to eventually make an NFL roster.

Biggest Competition: Austin Howard/Dennis Landolt/Anthony Parker
Chances of Making the Roster: 7/10
Finally, some depth at offensive tackle. Cullen was a starter at left tackle for the Utes, but played guard as well. No one is expecting him to beat out Wayne Hunter as the starting right tackle (though many would not be surprised), but his ability in the running game will be a great tool for the Jets off the bench.
His versatility between the line spots will definitely help him in his journey for a roster spot, specifically at a position where the Jets lack quality depth.
D'Anton Lynn, CB, Penn State
Scouting Report from Wes Bunting:
A tall, long corner who can be physical off the line and displays a good feel in zone coverage. Looks like a cover two guy only who will struggle when asked to turn and run vs. faster NFL receivers. But he has the size to tackle, plays the ball well and looks like a reserve type corner who needs to play on the outside in order to be effective.

Biggest Competition: Julian Posey/Ryan Steed/Donnie Fletcher
Chances of Making the Roster: 1/10
As the son of Jets running backs coach Anthony Lynn, it's not hard to see why he got picked up by the team.
Otherwise, it's curious why they would add a cornerback who clearly can't play man, as they frequently ask their corners to do. His ability to press off the line could help his chances, and his ability in zone and his tackling might have him tried out at safety.
Marcus Dowtin, LB, Northern Alabama
Scouting Report via Pro Football Weekly:
A legit SEC athlete, Dowtin stuffed the stat sheet in his only season at North Alabama. Has intriguing physical ability and versatility to play multiple spots in a fast-flowing, 4-3 front, as well as handle nickel linebacker duties and excel on special teams if he falls in line.

Biggest Competition: Josh Mauga/Eddie Jones/Garrett McIntyre
Chances of Making the Roster: 6/10
The Jets take a chance on another player who's had trouble with the law—Dowtin was charged with second-degree assault and lost his scholarship at Georgia. It sounds to me like he could compete for time as a weak inside linebacker or possibly a pass-coverage linebacker, and in that sense could rotate with Bart Scott, as they currently lack depth at inside linebacker behind him.
Donnie Fletcher, CB, Boston College
Scouting Report via Wes Bunting:
Possesses good size, ball skills and has a natural feel in coverage. Gets a bit leggy, but can sink his hips and get out of his breaks. Looks like an ideal cover two type corner at the next level with some man-to-man upside.

Biggest Competition: Julian Posey/D'Anton Lynn/Ryan Steed
Chances of Making the Roster: 6/10
Fletcher was projected to be drafted between the fourth and sixth rounds, but didn't get selected. He has the talent to contribute to an NFL defense as a zone corner, and his 6'1" 195-pound frame indicates some potential in man, and that potential could be enough to earn him a roster spot.
Anthony Parker, OT Western Michigan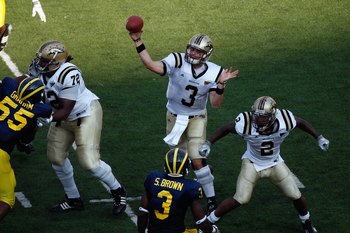 Gregory Shamus/Getty Images
Scouting Report via FFToolbox.com:
Parker has been used at right guard and left guard. Paving the way for an extremely successful rushing attack in Knoxville last year, Parker was name a consensus First-Team All-SEC performer by both the coaches and the media.

Biggest Competition: Austin Howard/Dennis Landolt/John Cullen
Chances of Making the Roster: 3/10
There are some injury and character concerns on Parker, but as is the case with Cullen, Parker's versatility between the offensive line spots should help him earn a roster spot. If he doesn't stay out of trouble, the team can part ways without having lost much besides a placeholder roster spot.
Matt Simms, QB Tennessee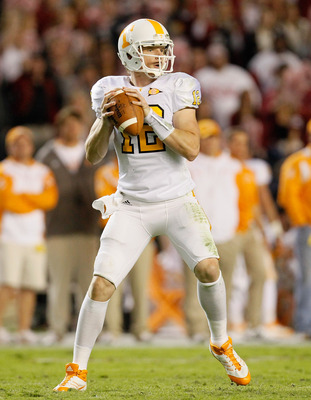 Kevin C. Cox/Getty Images
Scouting Report: N/A
Biggest Competition: Greg McElroy
Chances of Making the Roster: 2/10
The Jets already have three quarterbacks in Mark Sanchez, Tim Tebow and Greg McElroy. Simms' best bet will be to beat out his old SEC nemesis.
Keep Reading