2012 NFL Draft: Ranking the 7 Biggest Surprise Picks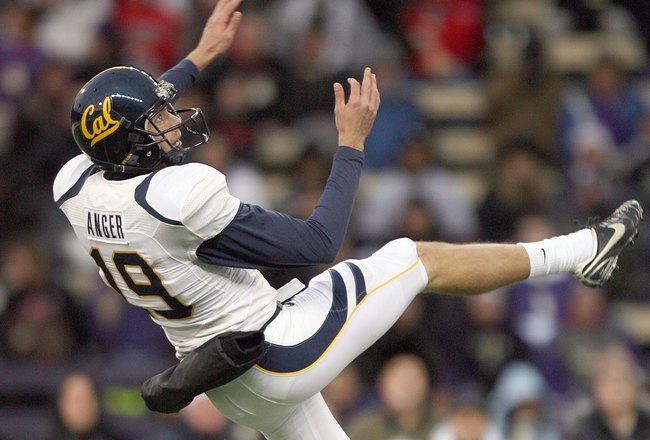 Bryan Anger has a lot to live up to after being selected in the 3rd round.
Otto Greule Jr/Getty Images
After a long and crazy weekend it is time to look at the surprises of the 2012 NFL Draft.
Everyone knew that Andrew Luck and Robert Griffin III would be the first two picks of the first round, but after that things became a little unclear. With the rookie pay scale in its second year, teams were more willing to move into the Top-10 than ever before. We saw a magnitude of trades in the first round and mock drafts could not keep up once things got going.
Now that all the smoke has cleared and we have digested what turned out to be a hectic few days, I have compiled a list of the ten biggest surprise picks of the 2012 NFL Draft.
No. 1 - Seattle Seahawks selecting Bruce Irvin, OLB, West Virginia No. 15
Bruce Irvin has a lot of potential, but that is all he has right now. Irvin transferred to West Virginia from junior college and had a spectacular first season with 14 sacks. He followed that up with a good senior season and was a potential late first round pick entering the draft.
Irvin can certainly rush the passer and that is invaluable in the NFL, but he may be nothing more than a third down player as a pro and you don't draft that type of player with a high first round pick. If Seattle wanted to draft him, they should have traded down and taken him later in the first round.
Between the need to improve on the field and the abundance of off-field issues surrounding Irvin, this was one of the biggest "what are you thinking?" moments of the entire draft.
No. 2 - New England Patriots select Tavon Wilson, S, Illinois in 2nd Round
I preface this by saying we could all be wrong and Bill Belichick could have drafted another gem. A few years ago Belichick made a similar move when he drafted OT Sebastian Vollmer and he turned out to be a second team all-pro selection.
However, Wilson was not even invited to the combine and projections had him going at the end of the draft or being signed as an undrafted free agent.
Wilson is a good player that has positional versatility. He can play any position in the secondary, but is primarily a safety. He won't wow you with playmaking ability, but he is a solid player. Wilson may turn into a solid backup, but he will never live up to being drafted in the 2nd round.
No. 3 - Washington Redskins draft Kirk Cousins, QB, Michigan State
The Redskins confused a lot of people by drafting two quarterbacks in the draft. Robert Griffin III was taken with the second overall pick and three rounds later the Redskins drafted their backup plan in Kirk Cousins.
This pick is strange on many levels, but if they wanted to get a backup they could have waited until later in the draft. However, RG3 would be better off with a veteran that he can learn from rather than another rookie to compete with.
Cousins is a really good quarterback and has the potential to start in the NFL, but when you are investing so much in RG3, the Redskins needed to surround him with as many pieces as possible rather than having a backup plan in place in case he somehow turns out to be the next JaMarcus Russell.
No. 4: Seattle Seahawks Select Russell Wilson, QB, Wisconsin
The Seahawks made their second surprise of the draft by drafting Russell Wilson in the third round. Wilson had four good years in college and ended with a great year as a senior at Wisconsin.
He had a good combine where he ran a fast, 4.55 40 yard dash, but he is undersized at 5'11" and the Seahawks already signed Matt Flynn to be the man for them.
With other holes to fill, I am surprised that Pete Carroll took a quarterback this high in the draft. If Wilson was taller I could understand the interest in developing him for the future, but he doesn't have the size or the arm needed to have success in the NFL.
No. 5 - Jacksonville Jaguars select Bryan Anger, P, California
The Jaguars drafted a punter in the third round. For most people that is enough explanation, but this was such a bad pick I need to elaborate.
Bryan Anger could be a solid punter in the NFL, but unless he turns out to be the next Shane Lechler this was one of the worst picks of the entire draft. This is the highest a punter has been drafted since 1995 and even if Anger turns out to be as good as Lechler the Jaguars have too many holes to fill to waste a third round pick on a punter.
As good as Lechler is, the Raiders haven't made the playoffs in nine years. A great punter is not a need, it is a luxury. Great teams win with good punters, sometimes even bad ones. However, with players like Brandon Taylor, Mohamed Sanu, and Brandon Thompson still available, the Jaguars could have made more significant upgrades.
No. 6 - Dontari Poe, DT, Memphis doesn't go in the Top-10
I was shocked that Dontari Poe didn't get drafted higher than No. 11 to the Kansas City Chiefs.
After dominating the combine and wowing scouts with his rare combination of size and speed, Poe looked like a lock to go in the top 10. However, there were concerns that he was 2012's workout warrior. He never dominated in college and didn't excel as either a pass-rusher or a run-stopper, but he was the typical prospect that teams reach for.
Yet, despite all the buzz surrounding Poe, teams were smart and didn't reach for a player that will most likely disappoint at the next level. The Chiefs may have gotten the nose tackle they needed, but even they are taking a gamble drafting Poe at number 11.
No. 7: Courtney Upshaw, OLB, Alabama Sliding into the 2nd Round
This was not a reach or a bad pick, but rather confusion over why he was passed up by so many teams. The Baltimore Ravens got one of the biggest steals of the draft by selecting Courtney Upshaw with the No. 35 pick. Upshaw has first round talent and excelled in Nick Saban's defense.
Teams may have been concerned about where Upshaw fits in the NFL, but he is an obvious talent and Ozzie Newsome took advantage of other teams trying to figure out where to play him and got an impact player to add to an aging linebacker group.
Upshaw is versatile and has the ability to rush the passer opposite of Terrell Suggs and create havoc on opposing quarterbacks.
Keep Reading