Pittsburgh Steelers 2012 NFL Draft: Ranking the Team's Top 5 Value Picks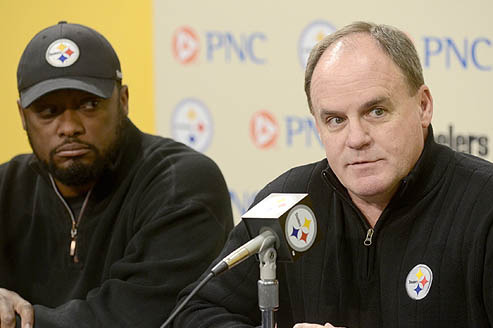 Image courtesy of KDKA-Pittsburgh
After months of speculation and postulation, the Pittsburgh Steelers have put an end to all of the guesswork with a sensational performance at the 2012 NFL Draft.
While the team's moves in free agency had seen a logical (and predictable) stagnation, the Black and Gold were "Back and Bold" with their rookie selections.
With a staggering number of draft steals, the Steelers, along with their interstate brethren in Philadelphia, are widely considered to have secured one of the top draft classes in the NFL.
In fact, the pedigree of their picks was so substantial, even against all odds, that history may someday recall this year's draft among the team's greatest ever.
Selections addressed team needs (nose tackle and offensive line, namely), invested in the future at traditionally strong positions (linebacker) and added some spark and sizzle into their selection mix with a firecracker, spark-plug running back from the Florida Gators.
With so many seemingly strong picks, fans in the Steel City hope the new faces live up to expectations. Likewise, here's hoping that team brass had the keen film room eyes that will help lead the squad toward a seventh Lombardi Trophy.
After an exciting and fruitful seven rounds, which picks had the most value, considering both the round and selection? Here are the top five Steelers selections from the 2012 NFL Draft.
Begin Slideshow

»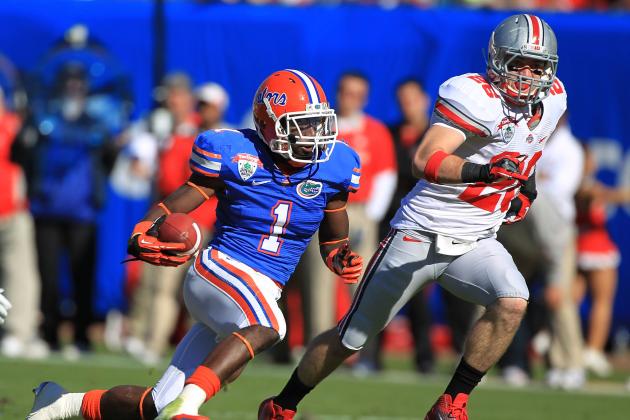 Scott Halleran/Getty Images

With the announcement of the Steelers fifth-round draft selection, Baron Batch and Jonathan Dwyer surely swallowed that lump in their throat more than once.
On a team needing solid depth an the running back position, considering the devastating knee injury Rashard Mendenhall suffered in the regular season finale at Cleveland, Chris Rainey will test the incumbent backup runners through training camp and—I predict—earn a roster spot in 2012.
Many fans looked forward to the sizzle that Baron Batch was going to provide the running corps last season. Now, they'll have a pair of lightning legs to watch in action.
Rainey compared himself to Darren Sproles at the combine, and if he can showcase that type of talent wearing Black and Gold, the Steelers may have their offensive answer to Ray Rice in the AFC North. He should be a dual-threat back capable of making game-breaking plays at any given moment.
If he proves to be that productive, his "hindsight" ranking on this list could soar right to the top.
Props have to be given to the Steelers for taking a chance on an amazing athlete, and where better to dip into the pure athleticism pool than the SEC? This former Florida Gator carries a resume that includes a better than six yards average per collegiate carry, great hands and playmaking ability in the passing game, skills as a special teams returner, and—if that weren't enough—six blocked punts.
The only potential negative, which likely caused his drop from a fourth-round projection to fifth-round pick, was an arrest for stalking. Thankfully, Maurkice Pouncey was a high school and college peer of Rainey, and he should help to reign in the stud runner—if he indeed needs any watching after at all.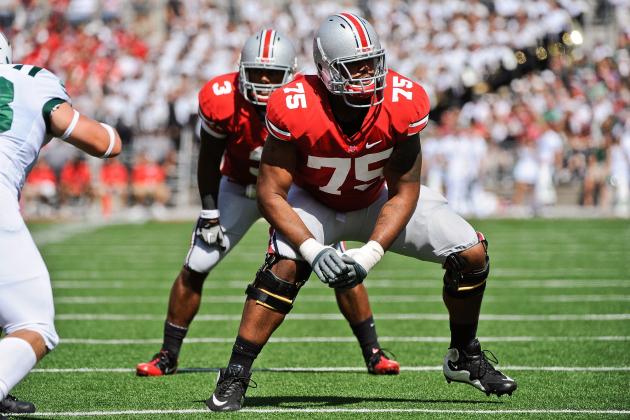 Jamie Sabau/Getty Images

In terms of talent, he would rank second on the list. Adams only ranks fourth with respect to value because of the immaculate day the Steelers enjoyed getting great prospects a round or more later than expected.
Offensive line coach Sean Kugler believed the Buckeyes offensive tackle to be of first-round caliber because of his size and agility before a couple of bad decisions dropped him until the latter stages of the second round.
In fact, he was almost erased from Pittsburgh's draft board altogether. However, Adams called the Steelers back after an initial interview, asking to be heard with regards to his remorse and for reconsideration.
Now, in combination with recent selection Maurkice Pouncey and 2012 first-rounder David DeCastro, the Steelers finally seem on the precipice of securing the type of solid offensive line to match offensive talents in the backfield.
Additionally, the team has supreme flexibility up front. Marcus Gilbert is slated to move to left tackle, protecting Ben's blind side, and Willie Colon was regarded as the incumbent right tackle. However, there is no longer certainty in regard to the offensive line, except that the five best men for the job will fulfill those roles come opening night in Colorado.
It is not remotely unfeasible that Gilbert and Adams could command opposite ends of an improving group of hogs when the regular season begins.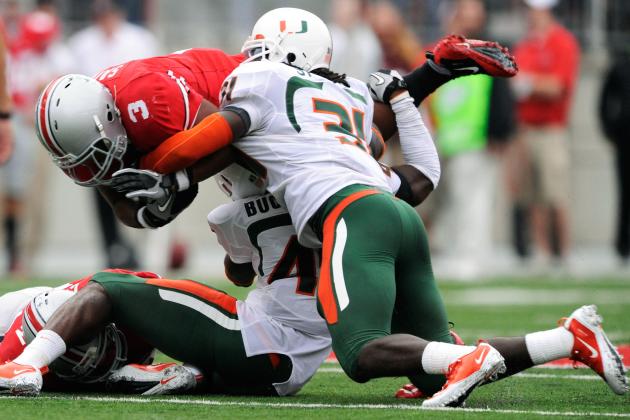 Jamie Sabau/Getty Images

Miami linebackers coach Michael Barrow gave a glowing review of his leader and linebacker:
"He's special. Not only is he Peyton Manning-smart, but he also has the instincts to match, which is very rare for a guy to be both super-smart and instinctive."
Regarded as undersized in his early collegiate career, and even to a degree entering the draft, Sean Spence showed a lot with his frame.
Twice, he finished a collegiate season with 100 tackles or more, the first Hurricane to do so in consecutive seasons since Jonathan Vilma. Likewise, he is a ball-hawking 'backer, leading his team in tackles for losses in both 2010 and 2011, ranking second in the nation with 14 stops for negative yardage.
While some has speculated that his size, speed and savvy make him adaptable to a safety slot, that may be over thinking things. It seems clear that the team intends to move him from his outside linebacker spot to an inside position, eventually replacing the loss of James Farrior.
Obviously, this transition will not happen overnight, though Spence will see playing time early due to the team's regular rotations and assignments. The linebacker position typically requires grooming, as was seen with Lawrence Timmons and Stevenson Sylvester.
Welcome to Linebacker Central, Mr. Spence. I think I speak on behalf of all Steelers fans when I say, "Have a lucrative stay!"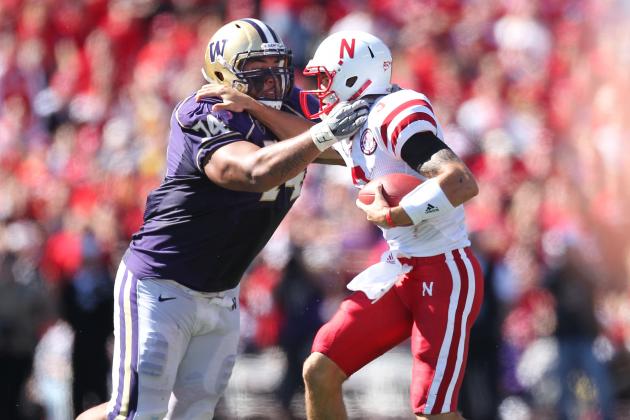 Otto Greule Jr/Getty Images

Alright, confession time:
I was a huge advocate of the Steelers taking a nose tackle early in the 2012 NFL Draft. The 3-4 defense depends on massive, physical nose tackle to anchor the defensive front. Consider Haloti Ngata in Baltimore and, for the last decade, Casey Hampton in the home colors.
Did I strongly advocate for Dontari Poe, believing his "small school detractors" and fixable (it's called coaching, jack!) flaws were superseded by his supreme strength, balance, and upside? You bet.
(And, for those folks saying, "I told you so!" who didn't put together 50-plus mock drafts of an event that happens only once. Which of you are ready to stand up and account for their own faulty predictions?)
Then, Poe put those hopes to rest with an immaculate performance at the combine, leaving me to wonder what approach the team should take? To be sure, I was still hopeful for an early selection of a dominant tackle.
Had I foreseen the Black and Gold's good fortune, or frankly, luck, would I have felt the same way? Hell no. In fact, I can't ever remember a draft falling so into place for my hometown team, at least not recently.
Seriously, folks, "we" got Alameda Ta'amu in the fourth round, after drafting Mike Adams, Sean Spence and David DeCastro! How can any fan not be giddy?
Consider the comments and responses made by our own fans with regard to Ta'amu just after the opening round of the draft, to no fault of their own. By all decent analysis, it would have seemed they were right:
Oh, before I forget, the one lesson I learned this year and so far it's holding true. In most cases, if a player is being mocked at a certain spot, most likely they'll really go at least 16 spots later. For example, I've seen Ta'amu as a late second, don't be surprised he's still available going into the 3rd. —Mike Popovich

personally I've always thought that taamu would go early- to mid-second round but thats just me so if they can get him at the end of the 2nd or like you say at the end of the 3rd that would be great. —Joseph Bruno

"I'll be really surprised if Ta'amu goes in the 2nd round after all of those players that fell out of the 1st last night. This is why I'm hoping the Steelers trade out of the 2nd so they can pick up an early 3rd." —Ahmad Rashad.
Frankly, whether or not we secured the position in the first round or fourth, a solid nose tackle will prove to be the most important investment of the coming decade if things pan out well for this husky "Husky."
Hampton's health and declining performance has been causing questions about his status for the upcoming season. Likewise, there are concerns about the inexperience and, let's be honest, lack of general faith, regarding the long-term (full season) ability of Steve McClendon to start at the cornerstone position of an acclaimed defensive front.
Fans and team brass hope that Alameda Ta'amu is the future of the middle of the modern day "Steel Curtain."
While most teams likely passed on Ta'amu due to his lack of pass rush ability, Casey Hampton surely wasn't renowned for the pressure he placed on the quarterback. Ta'amu's strength, in the same mold as the man he will look to replace in Pittsburgh, is taking up space, blockers and stuffing the run.
Any real fan of the 3-4 defense realizes that the job of the defensive front, particularly the tackle, is run containment and taking up blockers. This allows the linebackers and remainder of the defensive unit to wreak havoc as an unpredictable wrecking ball.
Most expect Ta'amu to be a two-down player that fulfills this exact role.
When asked by Ryan Divish of "Huskies Insider" about his thoughts on Hampton following his acquisition by Pittsburgh, he responded:
"He's up the middle, he holds his ground. It takes more than one blocker to play him, and I'm going to try and do the same thing when I get there."
Sounds like a man who knows his responsibilities coming into town. No pressure, right?
The team, which surely felt the pressure to invest in a nose tackle for the future, obviously has high expectations for another draft selection that miraculously fell into their laps, having traded up with the Redskins to draft him in the fourth round at 109th overall.
If that isn't evidence of perceived value, what is?
Putting into perspective the beauteous nature of this year's team draft is the fact that Alamedu, despite being drafted by Pittsburgh against all odds, was amazingly not the top pick in terms of value.
He fell to 24th overall like a gift from God, and the news became official from the almighty voice of Roger "God-dell."
Let's just call them the Pittsburgh "Stealers." After all, pick after pick, the potential for a dream draft continued to unfold, and it started right off the bat for the 'Burgh.
To be drafted first overall and still be ranked as the top value draftee, two things must both be true:
1) The team investing in your talents has to have a serious need at the applicable position.
2) You have to be an absolute standout at the position with the obvious potential to make Pro Bowls.
The Pittsburgh Steelers desperately needed to shore up their offensive line, particularly at the guard position.
And, could a better player have been available? Absolutely not!
Value. Value. Value.
It was the theme of the day in the 'Burgh. From April 26-28, 2012. One "V" was bearing hope for another, as fans witnessed value that will hopefully lead to victories.
And, it all started with that fateful 24th overall selection when the Steelers drafted—David DeCastro?
His existence on the draft board so late into the first round still excites me days later, much in the same way that the acquisition of Ben Roethlisberger stunned me in 2004.

Most fans figured DeCastro would be well gone by the draft's 24th selection. Athletes such as Poe and DeCastro were only going to be wearing a Pittsburgh jersey if the team opted to trade up, right?
As it turns out, good things truly do come to those who wait.
After eight first-round trades and a slew of unexpected picks (which is always the case in the NFL's late April event), it was Pittsburgh's turn.
It didn't take long for Roger Goodell to approach the podium, stating, "With the 24th pick in the 2012 NFL Draft, the Pittsburgh Steelers select ... David DeCastro, guard, Stanford."
A night of potential "steals" was underway.
So many things fell perfectly into place and the Steelers drafted an immediate starter late in the first round.
The Dallas Cowboys traded up to take Morris Claiborne. From their original draft position, it was likely that they would have taken DeCastro, given their own interior needs. The Kansas City Chiefs went for stud nose tackle Dontari Poe. Other teams followed suit, and suddenly, Steelers fans jaws could officially drop.
The Stanford guard, after all, was an All-American. He was the consensus top-rated guard available. And, he was never supposed to be available at No. 24.
After all, why would the man many describe as the "second coming of Alan Faneca" drop so low?