2012 NFL Draft Recap: Claiborne, Kirkpatrick, Adams and Burfict Get Jobs
April 29, 2012

Tyler Barrick/Getty Images
Sports is an industry unlike the industries you and I work in. The NFL just completed its annual job fair in the form of the NFL draft and once again, there were a lot of questionable hires.
I've been a hiring manager and would never take a chance on a candidate that presented with issues like the following have. I know that drafting players isn't exactly like hiring employees, but where do we draw the line? When do you know that it's okay to take a chance or that you should stay away?
Many times, my concern isn't as much with the actual indiscretion as the lack of judgement and apathetic attitude. LSU cornerback Morris Claiborne reportedly scored a 4 on the Wonderlic test administered at the NFL combine. I'm pretty sure that entails nothing more than Claiborne putting his name on the test. He now admits that he didn't see any questions about football so pretty much just blew it off.
I've administered tests to candidates. Red flags always proved to be a problem. I'm not hiring anyone that blows a test off. It shows me a complete lack of maturity and I worry that it will be a sign of his future attitude and poor work ethic.
When is an indiscretion a simple mistake and when is it a pattern? Ohio State offensive lineman Mike Adams tested positive for marijuana at the combine. The combine was the biggest job interview of his life, one where he knows he will be drug tested.
So how does he explain this? Does he not give a damn? Is he completely stupid? Simple mistake? Pattern?
Well, Adams was suspended for the first five games of this past season at Ohio State for illegal benefits. He was also suspended for the first two games of the 2009 season and cited for possession of marijuana paraphernalia that same season.
Yeah, that's an impressive resume to bring to a job interview. And yet the Steelers, an organization that prides itself on having good people, hired him for a multimillion-dollar job.
Joe Robbins/Getty Images
Another impressive resume brought to the table was by cornerback Janoris Jenkins. Past employment history is always an important discussion during an interview. Specifically, reasons for leaving previous jobs. I'm not sure how Jenkins explained his being thrown out of Florida and finishing his career at Northern Alabama.
Jenkins' record shows arrests for fighting and resisting arrest in both May and June of 2009 and arrests for marijuana possession in both January and April of 2011. Gators coach Will Muschamp had enough at that point and dismissed Jenkins.
No matter to the Rams. They took Jenkins with the 39th pick of the draft. It's a good thing for him because it costs a lot to pay child support to three different women for his four kids. (I'm assuming he's paying.) Old hat to Rams' coach Jeff Fisher, who used the sixth pick of the 2005 draft on Adam "Pacman" Jones.
You didn't really think we'd get through this conversation without the Bengals did you? After all, Cincinnati is currently the home of the aforementioned Pacman Jones. The Bengals had two questionable picks this year and one very risky free-agent signing.
They selected Alabama cornerback Dre Kirkpatrick with the 17th pick Thursday night. Kirkpatrick was recently arrested for marijuana possession. That seems to be the only blemish on his record, but if I'm Cincinnati I don't need any further off-the-field problems.
As the draft continued, it became abundantly clear that I am not Cincinnati. They used a sixth-round pick on Ohio State running back Dan Herron, who was suspended for the first five games of this past season for receiving illegal benefits.
The most questionable move came after the draft. The Bengals signed Arizona State linebacker Vontaze Burfict to a free-agent contract. Burfict was projected as a first-round pick at the beginning of the season. That status dropped during the season as he continued his reckless play, finishing his career with 17 personal foul penalties in 37 games.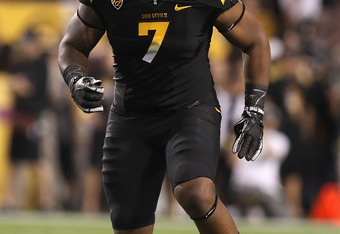 Christian Petersen/Getty Images
Burfict was horrible at his job interview, showing up to the combine out of shape. He ran a horrific 5.09-second 40-yard dash and reportedly spent his team interviews blaming the Arizona State coaching staff for his poor season.
To top it off, Burfict also reportedly failed a drug test at the combine. Way to impress.
I do realize that you can't win in the NFL with nothing but choir boys. It's not the mistakes that bother me as much as the timing of them and, in many cases, the lack of owning up to them.
Believe it or not, a team made positive news this past week and it came as a surprise.
The skull-and-crossbone Oakland Raiders have announced that they will donate 10 percent of the revenue from season tickets bought and paid for between May 1st and June 30th to the Oakland City Schools. Oakland schools have undergone massive budget cuts leading to substantial program cuts. Kudos to the Raiders for stepping up and doing something so right.
There, I'm better now.