NFL Draft: Top Rookie Questions Heading into 2012 Season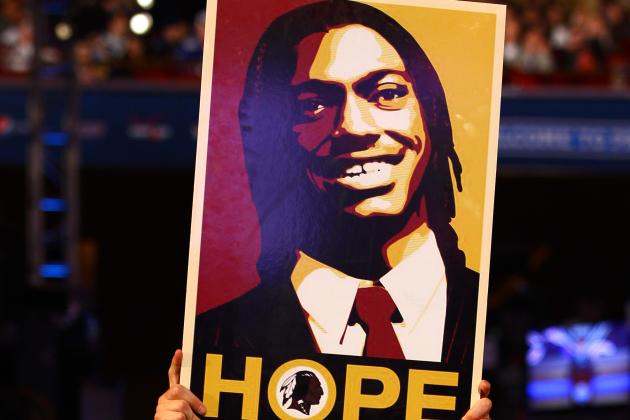 Al Bello/Getty Images

Now that the 2012 NFL Draft has come to a close, all that's left until the start of the new season is speculation. From now until September, we will speculate wins, losses and player performances.
But how about some of the 253 gentlemen that were selected by NFL teams? Of course we must speculate about the league's incoming rookies.
So, let's start now.
Let's take a look at the top-10 most intriguing rookie questions and storylines going into the 2012 NFL season.
Begin Slideshow

»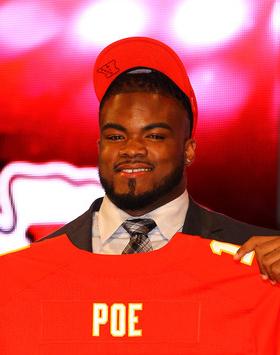 Photo credit: Al Bello/Getty Images
Despite all the hoopla surrounding Baylor's Robert Griffin at this year's combine, the true standout from the annual proceedings was Dontari Poe.
The 6'4", 346-pounder pushed out an astonishing 44 reps, the combine's top total, and ran his 40-yard-dash in an impressive 4.96 seconds. Before that performance, Poe was slated as a late first-round to early second-round talent. But after it, the Memphis product assured himself of a first-round spot in April.
And luckily for Poe, he got exactly that. The Kansas City Chiefs snatched up Poe with the 11th overall selection in the draft.
Kansas City passed up more sure-fire talents in guys like David DeCastro, Fletcher Cox and even Michael Brockers en route to taking Poe.
But as his combine performance had heads turning, the same cannot be said for Poe's 2011 production in collegiate ball.
In 2011, Poe recorded just 22 tackles and one sack along with zero forced fumbles. Those numbers aren't exactly great and are even worse when you consider he played in Conference USA. What is more unsettling is that Poe didn't exactly show much promise on tape as well.
Hopefully for the Chiefs, the coaching staff will be able to hone in Poe's freakish ability and prevent him from being yet another first-round bust.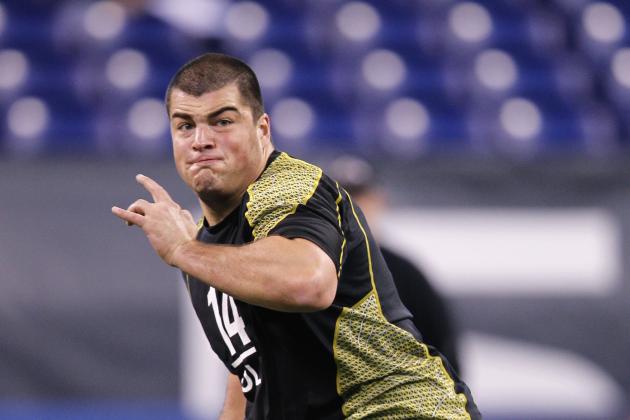 Joe Robbins/Getty Images

After watching their offensive line relinquish 135 sacks over the last three seasons, I'm sure the Pittsburgh Steelers were salivating over the prospect of grabbing Stanford's David DeCastro.
DeCastro, 6'4" and 316 pounds, was far and away the best guard of the 2012 draft class. In fact, DeCastro was the highest rated guard since Steve Hutchinson entered the NFL in 2001.
He plays with a consistent mean streak and never takes a play off. He is also very athletic, exhibits nice footwork and is quite intelligent at his position. Numerous scouts and draft sites had DeCastro slated as a top-15, perhaps even a top-10 talent.
But as teams passed up on the Stanford product and opted for other talent, DeCastro conveniently landed right into the lap of the Pittsburgh Steelers.
Pittsburgh's offensive line has ranked amongst the bottom nine of the NFL over the past three years, allowing an average of 45 sacks per season.
With perhaps the biggest steal of the entire first round, Pittsburgh may have found another cornerstone to place on their line next to last year's draft pick, Maurkice Pouncey.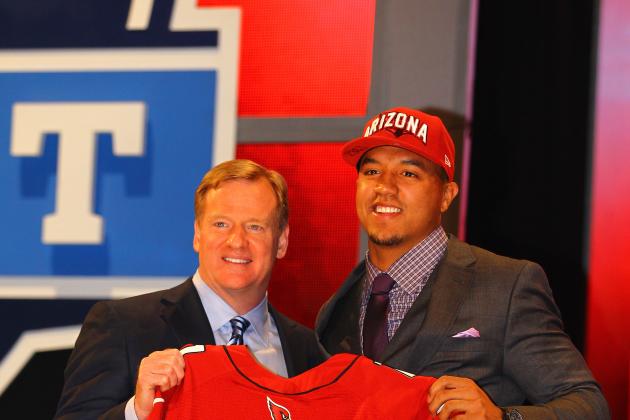 Al Bello/Getty Images

Much of the 2007-2008 success of the Arizona Cardinals came as a result of having two of the league's top wide receivers at their quarterback's disposal. With Larry Fitzgerald and Anquan Boldin lining up across from each other, gunslinger Kurt Warner was able to resurrect his career and help lead Arizona to the Super Bowl.
But since then, the situation has become rather bleak for the Cardinals. Warner has retired, Boldin is gone and there isn't much to write home about when speaking of the team's current offense. Their passing game went from fifth in the NFL in 2007 to just 17th this past season.
Michael Floyd, however, could bring about some change and improvement.
The 6'3" receiver has done nothing but dazzle during his collegiate years. In his four seasons at South Bend, Floyd never failed to put up less than 700 yards receiving and record at least seven touchdowns. He raked in a bulky 95 passes this season—eight of them in the end zone.
Whether the man behind center for the Cards is Kevin Kolb or John Skelton, he'll surely have a shiny new weapon alongside Fitzgerald in Floyd.
And if he does, in fact, play to his talent and upside in his first season with the Cards, perhaps the team will have an updated version of Boldin.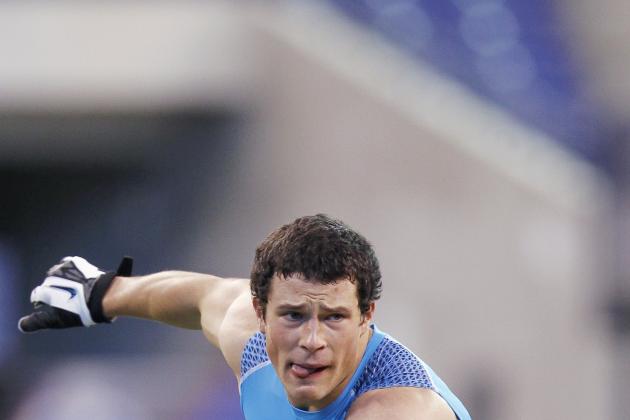 Joe Robbins/Getty Images

From the pre-draft build-up as well as the rapid reaction from the Carolina Panthers community, you either love this pick or you don't. Either way, Boston College standout Luke Kuechly will be heading to Charlotte this upcoming season.
Those who are against the pick cite the team's current crop of linebackers. In addition to having an All-Pro talent in Jon Beason, the Panthers also boast other very capable players in James Anderson and a returning Thomas Davis.
The Kuechly advocates, however, love how the Panthers opted for the best available talent over immediate need. Although the roster did need depth at the linebacker spot, Carolina's more glaring needs sat at the defensive tackle and cornerback positions.
But regardless of the fan reaction, Kuechly will give the Panthers a significant defensive presence from day one. His pure instincts and playmaking ability will help the team in their pursuit of opposing ball carriers, a task that has become more than trivial in Carolina.
Will this pick have the potential to squeeze the team into playoff contention? Well with an explosive offense lead by Cam "Superman" Newton, perhaps the Clark Kent look-alike Kuechly could transform their defense into a force to be reckoned with.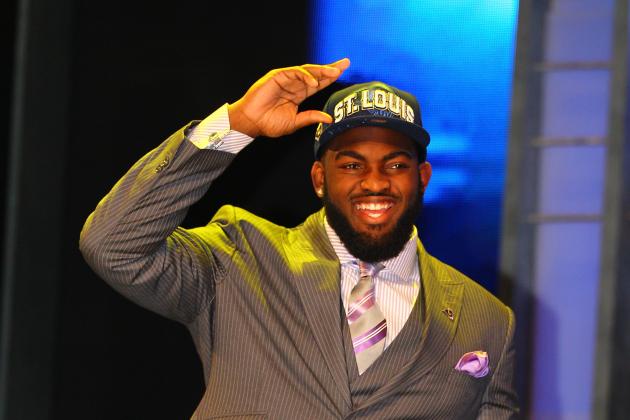 Al Bello/Getty Images

If you don't understand the pun in the headline, then I suggest you verse yourself on some Nelly. (I'm sure you'll get it after you click this link for Nelly's 2000 track, St. Louie.)
Anyway, you have to love what the Rams did in the first round. After trading the draft's second overall pick to Washington back in March for a boatload of promising selections, St. Louis once again shipped away their first-rounder.
This time, they swapped the sixth overall selection they received from the Redskins to the Dallas Cowboys in exchange for the Dallas' first and second-rounders.
Dallas used their updated first-rounder on LSU's Morris Claiborne as St. Louis used their new first-rounder on another LSU product, Michael Brockers.
The 6'6", 306-pound defensive tackle just screams "upside." He displays great quickness, has very powerful legs and is an overall freakish athlete. Hopefully for the Rams, they'll be able to mold Brockers into one of the game's most intimidating interior forces.
The team also spent one of their acquired second-rounders on cornerback Janoris Jenkins. Although Jenkins' off-field questions may raise some red flags, his overall talent certainly doesn't.
Jenkins has incredible quickness, great body control and is aggressive in coverage. He is a very gifted athlete and has the potential to be an elite corner in the NFL.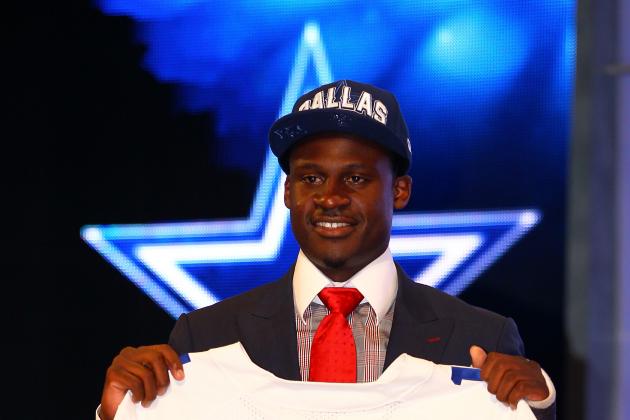 Al Bello/Getty Images

Here's what the other side of the deal brought in.
As I just mentioned, the Dallas Cowboys were able to move all the way up to No. 6 in a deal with St. Louis. And with that pick, the Cowboys selected the draft's top defensive talent, Morris Claiborne.
At 6'0" and 185 lbs., Claiborne has been one of college football's best cornerbacks over the last two seasons. He has good hands, exceptional speed and the ability to be an elite cover corner in the NFL.
So what does that do for their defense? Well for a team that has been ridiculed for their flaky secondary, this addition may prove extremely frightening for the rest of the NFC East. Claiborne and the newly signed Brandon Carr should give the Cowboys one of the top cornerback tandems in the league.
In fact, if Jason Garrett and Rob Ryan had two talents like Claiborne and Carr last season, the Cowboys may have been the team to come out of the East.
Regardless, the addition of the draft's top defensive player instantly improved the team's defense. And if they are able to extract some sort of pass rushing force to help out Demarcus Ware, we could be looking at a legitimate Super Bowl contender.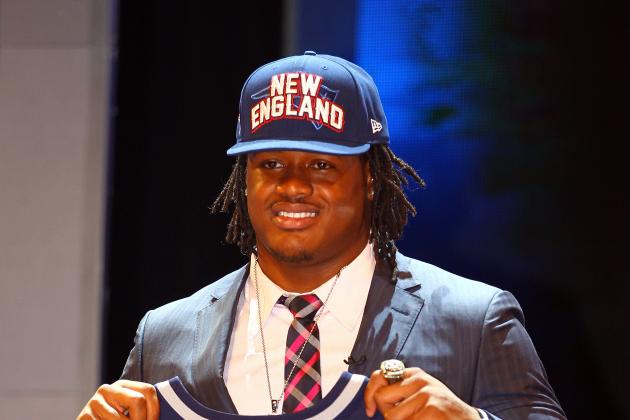 Al Bello/Getty Images

Despite turning in a 13-win season and a Super Bowl appearance, New England's 2011-2012 campaign was ultimately a disappointment.
Sure, they were AFC Champions and had an offense that looked nearly as dominant as their 2007 squad. But another eerie and rather unfortunate similarity they shared with that 18-1 squad was their upending by the New York Giants in the Super Bowl.
And although their defense wasn't completely at blame for that 21-17 loss, it was a major question mark throughout the entire season.
New England's defense ranked 31st in total defense, allowing a staggering 411.1 yards per game in 2011. From that alone, it was pretty evident the team was in need of a more solid secondary and a more effective pass rush.
Luckily for the Patriots, they were able to grab two of the draft's top defensive talents in this year's first round. With the 21st and 25th overall picks, New England selected Syracuse's Chandler Jones and Alabama's Dont'a Hightower.
Jones is a great hustle player that often exhibits nice vision, good upper strength and pure athleticism. He racked up 38 total tackles, 7.5 for a loss, and 4.5 sacks in 2011. The redshirt junior also added two forced fumbles and an interception.
And as for Hightower, it seemed as if New England nabbed quite a steal. He has great size and speed, is very effective against the run and was the anchor of the great Crimson Tide defense.
Hopefully for Bill Belichick, these two will be able provide some much needed resistance against opposing offenses.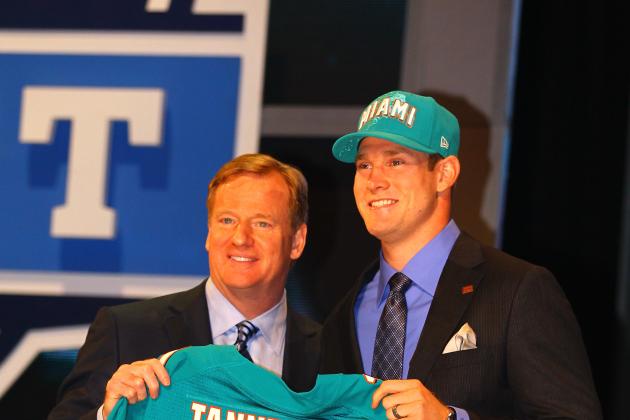 Al Bello/Getty Images

Quite frankly, you either love this pick or you don't. Either way, the development of Ryan Tannehill as Miami's potential franchise guy will warrant a boatload of attention.
Tannehill, a four-year player at Texas A&M, started just 20 games at quarterback for the Aggies. So naturally, his inexperience poses quite a concern for a guy who was taken with the eighth overall selection.
He does, however, possess an interesting amount of upside. In 2011, Tannehill threw for 3,744 yards along with 29 touchdowns and 15 interceptions. He displayed a quick release, exhibits solid accuracy and is an exceptional athlete.
But the question still rests in his rawness and limited exposure to the position. Will Tannehill prove to be a top-10 talent despite all of that?
Well the Miami Dolphins sure hope so. For a team that hasn't had a legitimate quarterback since the great Dan Marino, many are hoping Tannehill can bring some stability under center for this struggling franchise.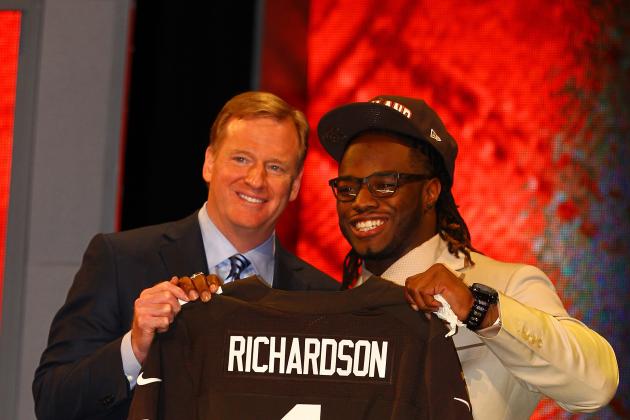 Al Bello/Getty Images

After trading away last year's sixth overall pick to the Atlanta Falcons, the Cleveland Browns walked into the draft with two first-rounders. And right before their first 2012 selection came along, the Browns were able to jump to the third overall slot in a trade with Minnesota.
Those two trades left Cleveland with the third and 22nd overall selections which they used on Alabama's Trent Richardson and Oklahoma State's Brandon Weeden.
As far as the Richardson pick goes, the team made a clear slam dunk choice. The 2011 Heisman candidate has nice vision, great speed and the hands to take some passes out of the backfield. He is the undisputed champion of running backs in this draft class and should give the Browns a whole new dimension on offense.
But for the Weeden pick, eh. I do apologize for my bleak response there, but can you blame me?
For a team who could have used that pick on the best player available given their overwhelming lack of talent, why would they opt for a 28-year-old quarterback that's probably past his prime?
According to numerous reports, Kendall Wright would have been the selection had Tennessee not grabbed him two picks earlier. Wright wasn't there for Cleveland, but others were.
Instead of throwing the pick at Weeden, Mike Holmgren and crew could have went for Riley Reiff, David DeCastro or Stephen Hill.
But regardless of my opinion, Weeden's presence has already brought about an interesting quarterback battle with Colt McCoy.
It will be intriguing to see what the 29th ranked offense will do with their two new weapons.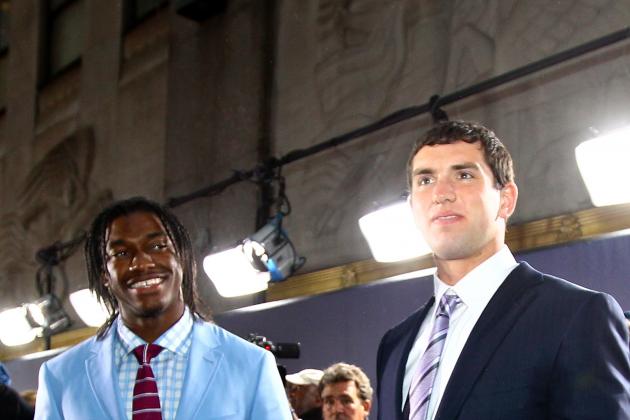 Al Bello/Getty Images

No fancy wording for this headline
Of course the biggest rookie question heading into the 2012 season is that of Luck vs. Griffin. And why not?
For the past two years, Stanford's Andrew Luck has been the undisputed No. 1 player in college football. Had he not passed on the 2011 NFL Draft, Luck would have been the first overall selection to the Carolina Panthers. So after turning in an embarrassing 2011 campaign and throwing Peyton Manning aside, it was almost a sure thing that the Indianapolis Colts were gearing up for Luck.
That is until the Baylor's Robert Griffin busted onto the scene.
After capturing the 2011 Heisman Trophy, Griffin continued to turn heads through his NFL proceedings. RGIII turned in a rather impressive combine performance and carried that success over to his workouts and pro day. This late surge to become the draft's top pick may have had Colts owner Jim Irsay rethinking his options.
Personally, I never believed the speculation that the Colts' No. 1 overall pick was in the air. They had their sights set on Luck for quite a while and even dumped their franchise's most famed player to make room for him.
Regardless, this should be a nice head-to-head comparison going into September.