2012 NFL Free Agents: Where Top Free Agents Fit After Three Rounds of NFL Draft
April 28, 2012

Dilip Vishwanat/Getty Images
With the 2012 NFL draft winding down, it's time to re-evaluate the free-agent market after the first three rounds of draft madness.
Players like Cedric Benson, Plaxico Burress and Dallas Clark are all still without 2012 jobs, but that unemployment may not last for very long.
All of the following players will be coveted after the draft is over, but this is where they are looking to head after three rounds.
Cedric Benson
With a perennial 1,000-yard rusher like Cedric Benson still sitting on the open market, the 2012 NFL draft has cleared up which teams will be making a run at the veteran before the season begins.
While the most likely landing spot has always been back with the Cincinnati Bengals, other teams have needs at running back that they can't fill through the draft.
The problem for Benson will be accepting a dual-back concept where he will not be primary back. Teams like Philadelphia, Kansas City and others need backup running backs that can pound the rock, but Benson would have to take less money to be a backup.
Plaxico Burress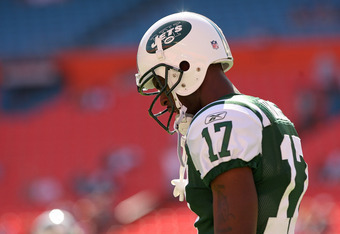 Mike Ehrmann/Getty Images
With a plethora of wide receivers taken through the first three rounds, the next few days will expose the market for the aging wide receiver Plaxico Burress.
There is no question that the veteran proved he still has the stamina and hands to be a red zone target, but he adds little else to a team. If he is willing to take the veteran league minimum, there will be several teams looking for his services.
The Philadelphia Eagles are still missing that big target near the end zone and the Patriots are never scared to test the waters. As the draft continues, Plaxico's fate will be settled by which remaining receivers land where.
Dallas Clark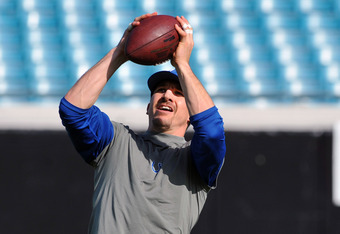 Al Messerschmidt/Getty Images
The position of tight end in the NFL has evolved from an extended offensive lineman to a glorified wide receiver. Dallas Clark is a great mixture of both and arguably the best free agent left on the board.
With plenty of time still remaining, the draft process will determine which teams are interested in Clark's services. As likely as the calls will be, his interest in the Denver Broncos will be his strongest urge.
If the feeling is reciprocated, Clark could join an already impressive receiving and tight end crew in Denver with his old friend Peyton Manning in charge. That would be the best fit.
Check back for more on the National Football League as it comes and check out Bleacher Report's NFL Page to get your fill of all things football.