Matt Kalil's Mom: Vikings' Newest Star Takes Backseat to Mom at NFL Draft
April 27, 2012

The NFL draft is the first opportunity to see the freshest faces in the NFL, especially on the offensive line.
Millions of Americans were able to see No. 4 overall pick Matt Kalil for the first time on Thursday night after four years as an anonymous linemen at USC.
Unfortunately for the Minnesota Vikings left tackle, when they showed him reacting to getting drafted, all of the focus turned to the lovely ladies around him.
One of the lovely ladies, who looked young enough to be his girlfriend, was actually his mom. Wearing a red dress, Mrs. Kalil was looking absolutely stunning on Thursday night and the Internet was set ablaze.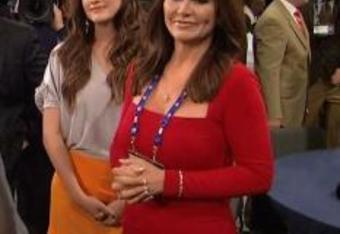 I'll spare you with some of the comments, but a quick Twitter search of "Matt Kalil Mom" should suffice.
The story became such a big deal that Dan Patrick felt the need to ask Matt about it in an interview on the Dan Patrick Show Friday morning. Executive producer Paul Pabst tweeted this priceless quote from Matt when asked about his mom's good looks:
Matt Kalil talking to DP about his internet sensation mom...."I try to look at her a little bit differently."

—Paulie Pabst (@PaulPabst) April 27, 2012
Patrick joked after the interview that he was afraid the 6'6'' and 306 pounder would beat him up after asking a question about his mom, but Kalil took it all in stride.
Not only is Kalil's mom incredibly attractive, but his girlfriend was Miss California runner-up last year.  Unfortunately for fans, she didn't make an appearance last night.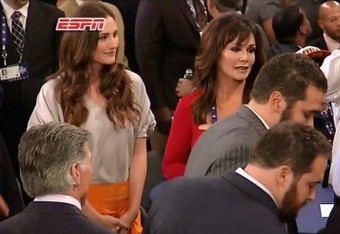 To top off the incredibly attractive people in Matt's life, his sister is gorgeous as well. She is the one with the gray blouse and the orange dress in the picture next to Kalil's mom.
So to recap, a heavily bearded 300-pound man that will be knocking down other men of similar size for a living is surrendering by three incredible hot women.
That my friends, is the real story of the NFL draft.