Washington Redskins: Thank You Bruce Allen, Mike Shanahan for Trading Up
April 27, 2012

Al Bello/Getty Images
In the cavernous backroom of Rocket Bar, throngs of Redskins fans ranging in age from the early 20s to veterans of the Great War came together to bear witness to a new beginning in Redskins history.
Aside from the bozo in a Cowboys jersey with "JONES" across the back (Felix or Julius?), the crowd was brimming with excitement that was not booze-fueled. It was fueled by hope—the hope that RG3 brings.It was refreshing to be among so many Burgundy and Gold fans and not be commiserating over another failed draft (e.g. the Cerrato era). Last night was a new chapter in a new book. 
Bruce Allen and Mike Shanahan are owed a big thanks from Redskins fans. If you see them out, buy them a round. Maybe two.
When the Redskins traded with the Rams for the No. 2 pick, there were skeptics. Even I believed that three first-round picks and a second-round pick was a tall order. But building a franchise from ruins is an even taller order.
It took balls to make that trade. Bronze balls. But it was the right trade. Franchise quarterbacks do not come a dime a dozen. Redskins fans know this. So do Cowboys (Romo is not a franchise quarterback, sorry), Dolphins (Tannehill was a reach, admit it), Browns, Raiders, Lions, Bills (Too early to tell about Fitzpatrick), and Jaguars fans.
These are all teams that in the last decade have fruitlessly searched for a franchise quarterback. 
Winning teams know that it begins with the quarterback. Winning teams have franchise quarterbacks.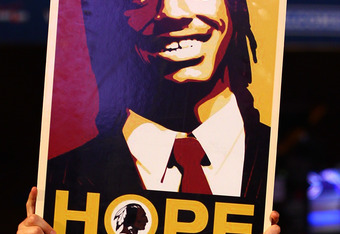 Al Bello/Getty Images
Need proof? Look at New England (Brady), Pittsburgh (Roethlisberger), Green Bay (Rodgers), Giants (Lil' Manning—his rap name?), Saints (Brees), and Colts/Broncos (Big Manning). These teams have won 10 of the past 11 Super Bowls.
That's science, from a law student.
Shanahan knew that from his tenure in Denver (Remember Elway?). Shanahan won just one playoff game with the Broncos after Elway retired. Shanahan knew what he needed to win. He saw that in RG3, and he made the bold move to go after him. Well played, sir, well played.
During Allen's nine seasons with Oakland, the Raiders won three AFC West Championships and earned a trip to the Super Bowl.
In Oakland, Allen signed Rich Gannon, who as a Raider made four trips to the Pro Bowl, won three AFC Player of the Year awards and won the league's MVP award in 2002. He was a franchise quarterback before injuries in 2003 and 2004 effectively ended his career.
Oakland has since floundered in finding a franchise quarterback (insert JaMarcus Russell jokes here) to return them to the promised land. Since Gannon went down in 2003, the Raiders have yet to finish over .500. 
As the crowd at Rocket Bar cheered "RG3!" in unison, with smiles plastered from ear to ear, the consensus was that the Redskins have finally found "their guy." With a franchise quarterback dearth dating back to Joe Theismann, the Redskins' trade with the Rams doesn't seem like just the right move, but the only move.
To Bruce Allen and Mike Shanahan, a collective "Thank you" is bestowed from Redskins fans everywhere. Hail!