Nick Perry Will Provide Some Pop to the Pack's Pass Rush
April 27, 2012
Al Bello/Getty Images
Some of us speculated that the Green Bay Packers were targeting DE/OLB Shea McClellin in the 1st round last night of the 2012 NFL draft. But the Packers never got that chance, as the arch rival Chicago Bears selected McClellin with the 19th selection of the 1st round.
The Packers patiently waited until it was their time to make a selection at pick number 28. The Packers ended up choosing DE/Nick Perry out of USC. I was happy to see that selection.
I've had my eye on Perry for a long time. Perry was the player I had the Packers selecting in the 1st round in my very first mock draft over three months ago. I also had the Packers taking Perry again in the 1st round in another mock draft I did last month.
The Packers seem quite pleased with his selection. "Tremendous physical specimen," general manager Ted Thompson said. "He's 270 pounds and runs 4.5. At the end of the day, we felt this would be a very good addition. He's a physical guy, can set the edge and can rush the passer."
Defensive coordinator Dom Capers knows that the Packers have to improve their pass rush. "In our Super Bowl year we rushed the quarterback as well as anybody in the league," Capers said, "Last year we weren't pleased really with either area [rush or coverage].
"We're looking to get back to work and get back to pressuring the quarterback like we did a couple years ago."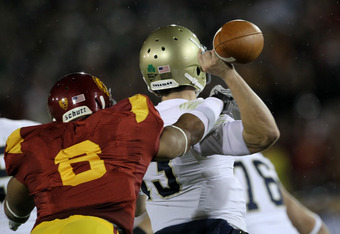 Stephen Dunn/Getty Images
Capers likes Perry's speed and power. "We think he has the speed to come off the corner," said Capers. "We think he can convert speed to power and rush the passer.
"We've seen him be very physical on linemen and tight ends with his hand down. He's got good hip flexibility. "
Bottom line, the Packers struck gold in the first round in the 2009 NFL draft when they selected Clay Matthews out of USC (along with B.J. Raji), so it looks like Thompson is trying to repeat history by drafting another USC Trojan.
Perry declared for the draft in December after a nice junior season at USC. Perry had 9.5 sacks for the season, plus was a 2011 All-Pac-12 Conference first team member at DE. Besides the sacks, Perry had 54 total tackles, which included 13 tackles for losses, plus forced three fumbles. 
Overall in his career at USC, Perry had 21.5 sacks, 29.5 tackles for loss and five forced fumbles.
Perry also looked great at the NFL Scouting Combine as he looked very quick and strong in his workouts.
It looks like the Packers have their ROLB of the future. Now the Packers have to focus on adding other talent to the squad in the 2nd and 3rd round tonight. The focus will probably be on adding more quality depth to the defensive line and also some help in the secondary, most notably the safety position.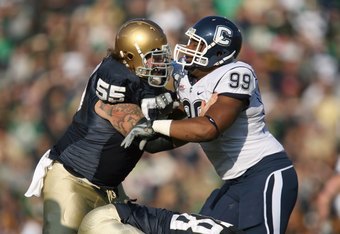 Jonathan Daniel/Getty Images
There is still some very good talent on the board in terms of getting defensive line help. This would include players like Devon Still from Penn State, Jerel Worthy from Michigan State, Kendall Reyes from Connecticut and Derek Wolfe from Cincinnati. Will the Packers try and trade up to get one of these players, or will they just sit back and let the player they like fall into their lap like Perry did in the 1st round?
My hope is that the Packers can somehow select Reyes. I've had my eyes on him for a long time too.
The Packers also might be looking at players like CB/S Trumaine Johnson from Montana or S Brandon Taylor from LSU.
The Packers could always surprise some folks and add to their offensive line depth tonight. Thompson has always liked C Peter Konz from Wisconsin, while Milwaukee native OG Brandon Brooks from Miami (OH) is a intriguing possibility.
We will find out what happens in a few hours.