NFL Draft 2012 Results: 6 Players Who Will Be in Over Their Heads
April 27, 2012

Al Bello/Getty Images
The 2012 NFL draft is nowhere near finished—just the opening round—but the results from that round are in and certainly worth looking at.
With no surprises in Andrew Luck or Robert Griffin III's selections, every pick after that involved some sort of controversy and discussion.
Some of them were great picks, like the Dallas Cowboys moving up to get Morris Claiborne; others not so much because they heaped far too much pressure on just one player.
And just from the first round, here's six players who will definitely be over their heads in 2012.
1. Dontari Poe (Kansas City Chiefs)
By the very nature of their pick, the Kansas City Chiefs made it clear that they think Dontari Poe is going to be better than David DeCastro. They could have had the Stanford guard, but went for the Memphis nose tackle.
The potential is certainly there for Poe, but he needs plenty of coaching before he is going to be anywhere near as game-ready as DeCastro is.
Poe was tipped by many to go higher than 11th in the draft, but in the days leading up to the big day, those numbers started to fall significantly—tipped to go around 16th to 20th in the draft.
Why is he in over his head?
My biggest issue is that he's got to prove himself to be worth more to the Chiefs than DeCastro—a tough ask for a player coming in to a team ranked in the bottom 10 for overall offensive production last year.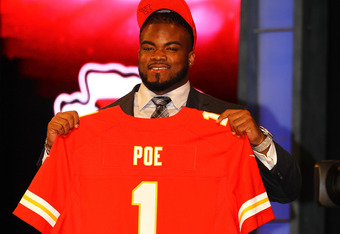 Al Bello/Getty Images
Throw in to that mix the 95 quarterback pressures the Chiefs allowed and the fact that Matt Cassel isn't a very good quarterback, and Poe will have a huge ask trying to make the Chiefs offense look good. He'll be in over his head simply because of the expectations that are on him.
2. Mark Barron (Tampa Bay Buccaneers)
Yes, the Bucs do have a need at safety, but this pick to me feels like a reaction at them not getting Morris Claiborne. They desperately needed help at corner—which Claiborne would have filled—but after the Dallas Cowboys went up to six and nabbed him, they were left in dire need of some secondary assistance.
The reason why Barron is in over his head in 2012 is because he's not Morris Claiborne. He's not the defensive player that Tampa Bay was hoping to get from the LSU corner; he's solid player but he's not Ed Reed.
Mark Barron is a solid player, but a week before the first round, he wasn't even considered a top-20 draft prospect. Suddenly, Tampa were using its No. 7 pick to draft him? Seems like a little too big of a reach for me, and whilst he might be good, he's in well over his head for being picked straight after Claiborne.
The NFC South does feature lots of passing yards and high-octane attacks, and Barron will certainly be made to look good at times by his speed and coverage skills. But will he be made to look like the No. 7 overall pick in the NFL draft?
Probably not.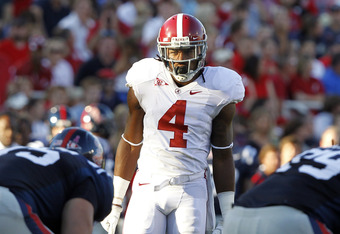 Butch Dill/Getty Images
3. Quinton Coples (New York Jets)
I could not understand the Coples pick by the New York Jets—especially considering the talent that was still on the board at the time. They received a lifeline from the Seahawks at No. 15, which we'll get to in a minute, and they used it on Quinton Coples?
He does have incredible potential, but as many have pointed out, his focus simply isn't there—which really isn't a good thing for a team that already struggles with all-around footballing smarts.
Similar to Dontari Poe—yes, he fills a need—Coples perhaps does not have the consistency to compete in the division, let alone across the league.
With Courtney Upshaw and Melvin Ingram still available, the Jets taking Coples shows that they think he will be more valuable than both of those players, which, to me, is far too much pressure to be placing on a man who frankly doesn't deal with pressure at all.
To me, this is a worse option than the pick mentioned below.
4. Bruce Irvin (Seattle Seahawks)
For many, the Seahawks' choice to draft Bruce Irvin was the shock of the draft and I'll agree; it was a poor choice, but not as poor as the Jets' choice in Coples.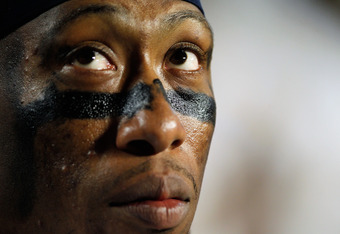 Mike Ehrmann/Getty Images
At least with Irvin, you know what you're getting. He is no doubt a very explosive player with enormous potential and speed. However, whilst you don't want to judge someone on it, Irvin's past is not at all something you want at pick No. 15 in the NFL draft.
Selling drugs, robbery, jail time, dropping out of school—Irvin has to be some spectacular player to even come close to living up to the hype that the Seahawks have placed him under.
The worst part is that there is a real chance Seattle could have grabbed him in the second round if they really wanted him—they could have taken Melvin Ingram and used a pick later to grab Irvin.
Far too much pressure to be placing on a man that's best quality is potential. Well in over his head if you ask me.
5. Ryan Tannehill (Miami Dolphins)
We knew they would do it; we knew Miami would take Ryan Tannehill and we knew it would be the wrong option for them.
Why will Tannehill be in over his head? Well, let me say that I don't think it's because he isn't good enough. His skills and ability that he showed for a little while at Texas A&M are good enough to compete in the National Football League, if that's what he churns out every game for the Dolphins.
He is a great athlete and a tremendously gifted football player; he's just not a top-10 quarterback in any book written by anyone who knows anything about football.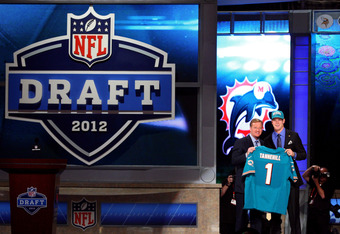 Chris Chambers/Getty Images
The other big problem for me is that Tannehill doesn't fix any of the other needs that Miami should have gone with the No. 8 pick in the draft. They need a wide receiver, a defensive end, a right tackle—and they chose a quarterback who isn't even going to be game-ready in his first year.
The game of musical quarterbacks begins in Miami with Tannehill and David Garrard set to do battle as to who gets the title of backup quarterback. And when he does play, Tannehill will be expected to be the savior for the Dolphins, like Tim Tebow was for the Denver Broncos.
He won't succeed because the team simply isn't good enough. It's nothing on Tannehill; it's on the entire Miami Dolphins franchise. Jeff Ireland will live or die by this pick, which, to me, isn't really much of a decision at all.
This is far too much expectation to be placing on a quarterback who is not Aaron Rodgers and not Tom Brady. He's barely even Carson Palmer.
6. A.J. Jenkins (San Francisco 49ers)
San Francisco drafting A.J. Jenkins is a really weird pick, and it's a pick that the more I think about it, the less I like it.
The Niners had hinted they wanted a receiver at some point in the draft—key words there being some point and not with their first-round pick.
This is a team that already features Michael Crabtree, Mario Manningham, Ted Ginn, Kyle Williams and a big name in Randy Moss, and they use their first-round pick to add another wide receiver to that list? Doesn't make much sense to me.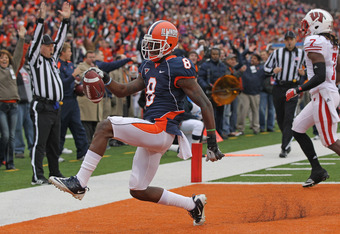 Jonathan Daniel/Getty Images
That fact is compounded by the fact that at the time, Jenkins wasn't even the best receiver on the boards. Alshon Jeffery and Stephen Hill were both available for the Niners. Whilst they did have some success with their draft choices from last year, I can't see Jenkins living up to anywhere near the hype that he's been placed under.
That is, if he even gets to start.
From the minute preseason training camp starts, Jenkins will be in a battle with several other receivers just to win the third-and-long spot on the team. It seems a little extreme to draft a player in the first round that's just going to play special teams for you all year, but that's what the Niners did here.
Jenkins is well out of his depth and definitely out of his league. He, like the five other players on this list, are in well above their heads and will show that 2012, simply wasn't their year.
Read more articles by Dan here — or  Follow @dantalintyre