Trent Richardson Would Make NY Jets Legit Super Bowl Contenders
April 26, 2012

Kevin C. Cox/Getty Images
Trent Richardson is easily the best and most complete running back in the 2012 NFL draft. An expected top five overall selection, Richardson compiled over 1,800 yards and scored 18 touchdowns between 2009 and 2010 with Alabama.
Performing at Heisman level in 2011, Richardson capped over 2,000 total yards and accounted for 24 touchdowns. The New York Jets last season however, failed to pound the rock consistently, although Shonn Greene did hit a single season high with 1,054 rushing yards and 211 receiving yards.
Still, the Jets didn't have a two-back system to change the pace and keep defenses off balance. In short, Gang Green finished ranked No. 22 in rushing and the play-action pass never became a threat.
Well, the addition of Richardson easily makes the Jets Super Bowl contenders, because the offense would control the game tempo a lot more to help the defense. And, according to Rich Cimini of ESPN New York, Richardson was contacted by the Jets:
Richardson said Wednesday he received a call from the Jets soon after arriving in New York for pre-draft festivities.

"They wanted to know my information as far as whether that's the right number to reach me in case something does happen, with them trading up," he said Wednesday at an NFL community event in Manhattan.
So, despite the running back position not being Gang Green's most important area to address, here are a few reasons why Richardson makes the Jets Super Bowl contenders.
More Consistent Ground Game
As mentioned, Shonn Green hit a career-high with 1,054 yards in 2011. Unfortunately, Green only topped over 100 yards twice and eight times he failed to reach 70 yards.
A big reason for this inconsistency resides in Green not being a threatening enough of a ball carrier to take over games. Green is however, more effective when part of a two-back set that allows him face more favorable situations.
The addition of Richardson would simply enhance New York's ground attack. The man is a fierce Brahma Bull that gets impressive yards after first contact and possesses the top speed to outrun any defender.
Richardson's combo of size, speed and power will force defenses to put more in the box and draw up the safeties as well. In short; setting up play-action.
Set Up to Play-Action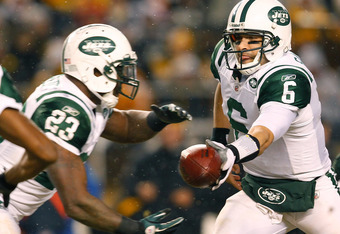 Jared Wickerham/Getty Images
The play-action pass is the most manipulative an offense can be to a defense. And whether it's Mark Sanchez or Tim Tebow under center or in shotgun, defenses aren't going to respect the pass too often.
With a guy like Richardson in the backfield though, defenses now must load the box and use linebacker spies to read the developing play. That however, also forces a 'backer to freeze and it makes the intermediate level more vulnerable to the play-action.
Provided that the Jets select a sound route-runner in the middle rounds, the quarterback will see a single coverage mismatch on most occasions. So, taking a few shots downfield then backs off a defense, but also opens up the playbook to an array of calls from the two-back set.
Two-Back System Dynamics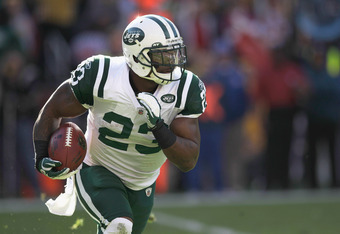 Rob Carr/Getty Images
As we saw with the New York Giants and Green Bay Packers the past two seasons, running an effective two-back set really helps the offense make a playoff run.
The Jets had theirs with Green and LaDainian Tomlinson for a little while, but Green and Richardson hits another level. Now although Green is mainly a rushing threat, Richardson is a dual-threat that will derive attention from Green.
Both will be effective in short-yard situations, because between the tackle is where they're most effective. Running more formations with two backs however, creates double-screen passes, extra pocket protection, and the luxury of running a quick toss to either side.
Regardless of whether the quarterback is under center or in shotgun, two backs makes counter-traps and fake tosses more difficult to defend. Quarterback bootleg becomes more effective and receivers see more single coverage.
The Jets must stick to their strengths and remain a ground-and-pound offense. Plus, with the dynamics of Tim Tebow, there's no telling how much creativity Tony Sparano can implement into Gang Green presenting a more balanced attack.
John Rozum on Twitter.