2012 NFL Draft Rumors: Tracking Latest Updates Around the League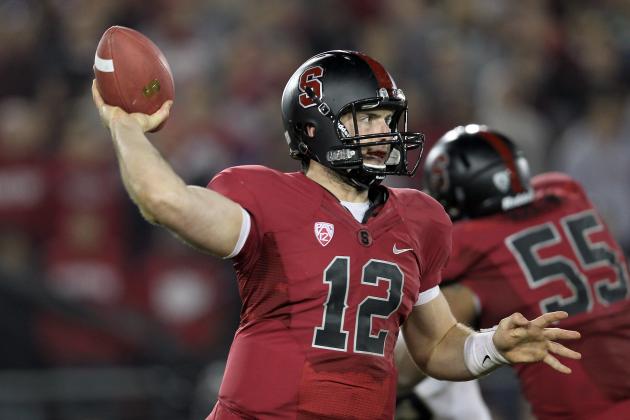 Ezra Shaw/Getty Images

The 2012 NFL draft is shaping up to be either the most predictable draft in history, or the wildest draft in NFL history.
Names are surging up the boards, and teams that were once in play for these dynamic prospects may have fallen so deep in love that they cannot bear to part with them.
The good news is that there are plenty of teams willing to deal.
Here is a sampling of some of the players to watch, potential deals and general rumors swirling around Thursday night.
Begin Slideshow

»
Hannah Foslien/Getty Images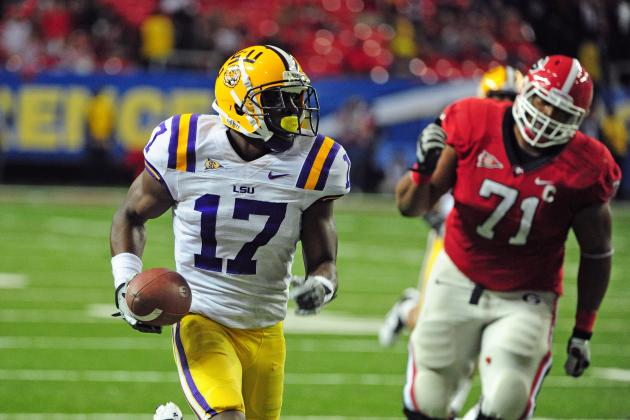 Scott Cunningham/Getty Images

According to many mock drafts, including this recent mock from NFL Network analyst Charles Davis, the Vikings will not be taking Matt Kalil and will instead select cornerback Morris Claiborne from LSU.
Kalil has been the name at third overall ever since the draft took shape following the Redskins' trade up to second. Now it seems that the Vikings are prepared to pass on Kalil and solidify their defensive backfield.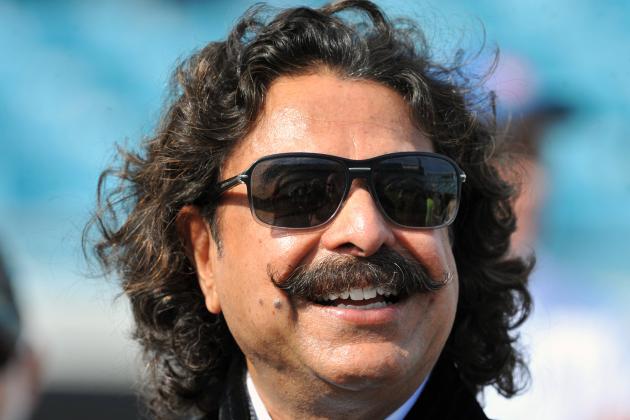 Al Messerschmidt/Getty Images

If you believe in the prognosticating ability of NFL Network analyst Mike Mayock, you must assume there will not be a trade into the top 10 of Thursday night's draft.
But if there were, who else would it be?
Beyond the Vikings, it could be the Jacksonville Jaguars, another team that might be looking to deal. As Mayock explains, they are the team that could have some flexibility as it is clear who the team behind them (the Miami Dolphins) is coveting at the eight spot.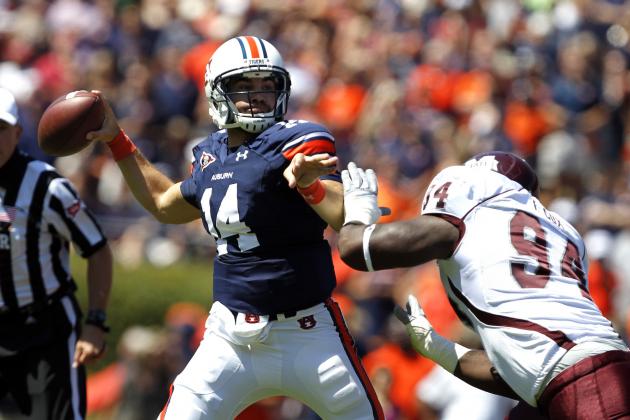 Butch Dill/Getty Images

Mississippi State's Fletcher Cox is a name that has skyrocketed from the bottom of the first round to a potential fifth or sixth overall pick.
NFL Network Insider Jason La Canfora is reporting that the Rams could pluck Cox with the sixth pick in the draft, but there are teams interested in making a deal with the Buccaneers to acquire Cox at five.
Who are the suitors?
Well, his name has been linked to teams as low as Denver (25th overall) and as high as Carolina (ninth overall), making it possible that either of those teams, and possibly more, are in the running.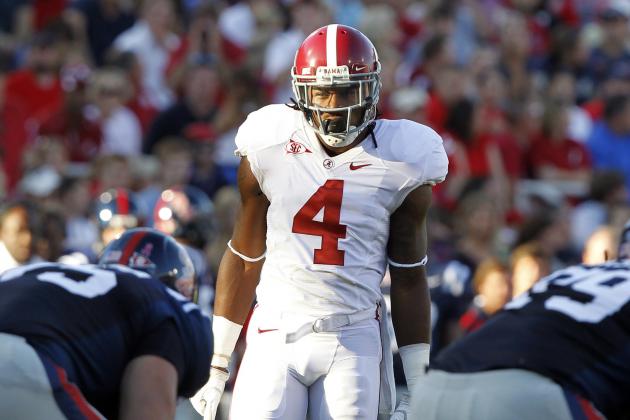 Butch Dill/Getty Images

Another name that has quickly risen up the boards is Mark Barron of Alabama. Longtime GM Charley Casserly believes Barron is easily a top-10 pick and rated above some other historical impact safeties.
Barron might not be a name that will garner much attention in terms of a team trading up for his services, but he could still be a very surprising pick in the top 10.
Surprising, because only a month ago the Patriots thought they had a shot at Barron at 31st overall. Looks like the Pats will need to move up if he is still on their wish list, which he is, according to Tom Curran of CSN New England.
Even if the Patriots put a package together, they will have to beat out the Buffalo Bills, another team interested in the former national champion.
Darren Carroll/Getty Images

The general consensus is that the Dolphins will draft the buzzed-about quarterback prospect out of Texas A&M, Ryan Tannehill.
However, ESPN's John Clayton isn't so sure.
The Dolphins cannot afford to misfire on their pick, and with a new regime at head coach they can ill afford to short-circuit the reign of Joe Philbin before it even begins. If they passed on Tannehill, there is a feeling out there that Quinton Coples may be the talent they take a gamble on.
However, the decision could be taken out the team's hands completely if Cleveland takes Tannehill or another team jumps up.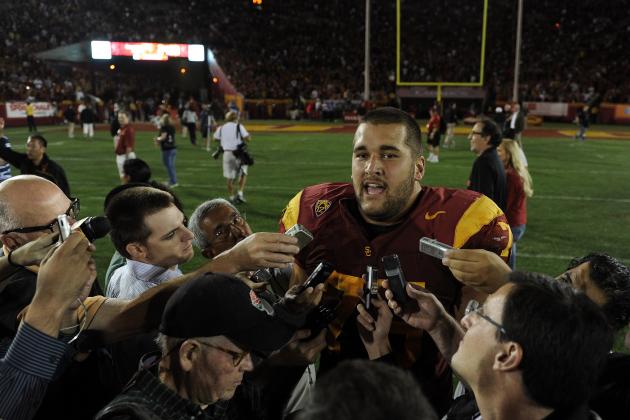 Harry How/Getty Images

If the Vikings trade out of the third spot, or decide not take top ranked tackle Matt Kalil, how far could the former Trojan fall?
Well, according to Peter King of Sports Illustrated: "The Vikings are still a Matt Kalil team, but if he slips out of three, he could fall and be in play for Buffalo at 10."
Meaning that Kalil is not going to suffer the same draft-day embarrassment that Brady Quinn did when he tumbled down the draft order and almost fell out of the first round.
Not that he will be lonely with record 26 players attending the first round of the draft this year.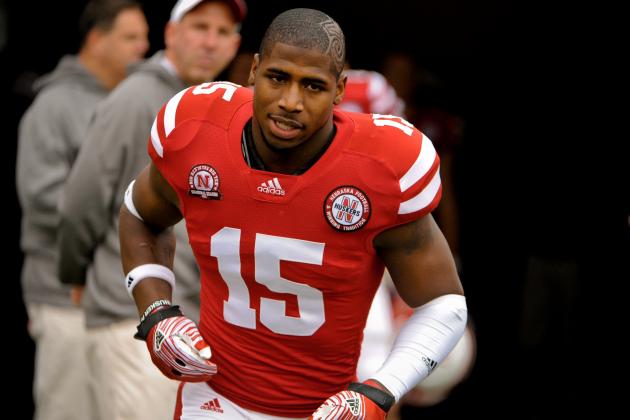 Eric Francis/Getty Images

Former Nebraska Cornhusker cornerback Alfonzo Dennard was slowly beginning to rehab his image after coming to blows with Alshon Jeffery of South Carolina in a game back in January.
However, news that the prospect was arrested for assault may have put the nail in the coffin of Dennard's high draft hopes.
Here's hoping Dennard can turn it around and make the most of an opportunity in the NFL—if he still gets one, that is.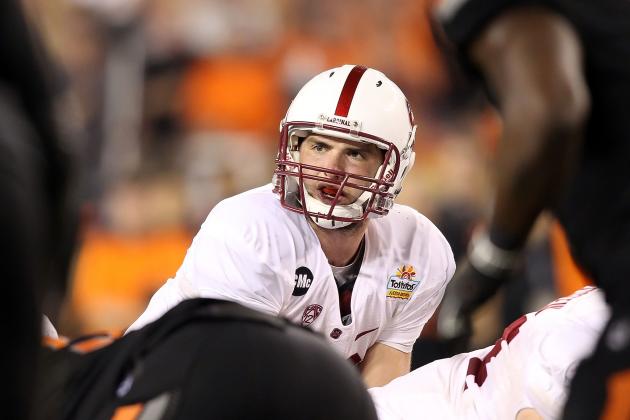 Christian Petersen/Getty Images

Not like anybody really suspected any differently, but the Colts have made the official announcement that Andrew Luck will be the next quarterback of the Indianapolis Colts, ending any speculation that Robert Griffin III would actually go first.
However, the door isn't completely closed on RGIII. The Associated Press reported that the "choice would be Luck barring an unforeseen accident."
I suppose we can assume that the accident they are referring to is Roger Goodell reading the wrong name on draft night?
Or perhaps, Jim Irsay could accidentally trip, hit his head and decide to trade the first pick to Denver in order to get Peyton Manning back?
Any speculation that the Colts were picking anyone other than Luck was laughable, but at least it is "official" now.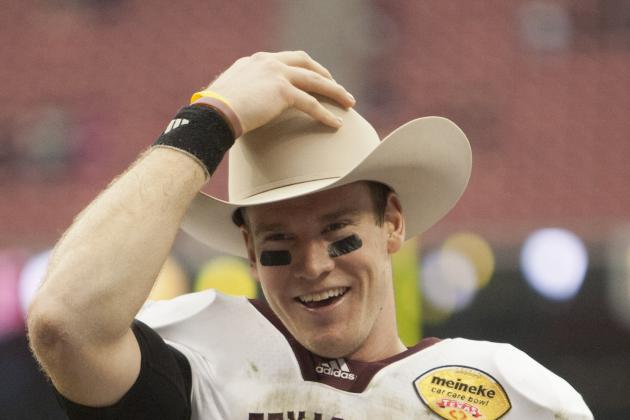 Bob Levey/Getty Images

Actually, the better statement may be "the desire to draft Tannehill controls the draft."
Most of the teams early in the draft have made their intentions known about who they are interested in and who they are comfortable letting fall to them.
However, the Minnesota Vikings need help creating a real urgency that Tannehill could be gone in order to make the deal happen for their third overall pick.
No matter how it happens, no teams are going to make any moves unless they feel like there is pressure from behind. If Tannehill lands in Miami's lap at No. 8, then the draft may proceed as many mock drafts around the country have had it for months.
But if Tannehill goes earlier, it's a whole new draft. War rooms better be prepared for madness.