NFL Rumors: Latest Chatter Surrounding Ryan Tannehill and More
April 24, 2012

Bob Levey/Getty Images
Rumors and speculation are what fuel many writers and sports fans alike. It's always interesting to see who's saying what about whom and trying to see what the game will be like if or when a given rumor comes true. 
These speculations and rumors are always buzzing around NFL draft day and conveniently enough, we're not far off from that day. So, as expected, there are plenty of pre-draft rumors buzzing around the NFL and its top prospects. 
Ryan Tannehill, QB, Texas A&M
It's been going around for a while now that Tannehill will be taken by the Miami Dolphins, who hold the No. 8 pick overall in this year's draft. Recent rumors have surfaced that may force the hand of Dolphin shot-callers to make the speculation a reality and bring Tannehill to South Beach. 
Hall of Fame Dolphins QB Dan Marino, has openly endorsed Tannehill as the 17th installment in his line of successors. Per NFL.com's Gregg Rosenthal:
"If they feel good about Tannehill and he's there at eight, it's worth taking a little bit of a stretch to take a quarterback," Marino said. "If it's a guy that you think can be your future quarterback for a long time, then you got to take him. If not, you have to preach to the fans that you have to be patient."
With an endorsement from the best quarterback the franchise has ever seen, the Dolphins would be foolish to go elsewhere with their first pick in the draft. It's not often that a former player as great as Marino makes suggestions like this and on top of that, what do the Dolphins have to lose?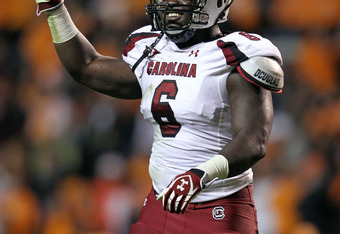 Andy Lyons/Getty Images
Obviously, whoever has been making the draft picks so far hasn't been doing the best job, so why not listen to Marino?
Nonetheless, Dolphins GM Jeff Ireland feels differently. Even though Tannehill is on Miami's draft board, Ireland expressed that he will not go out of his way to pick up the emergent Texas A&M star. Ireland said (via Sporting News), "There are times you should go after a first-round QB, but you shouldn't be pressured into it."
So what will the Dolphins do? Go with the advice given by the face of their franchise or with the front office? I guess we'll have to find out in a few days.
Melvin Ingram, DE/OLB, South Carolina
NFL.com has a rather odd assessment of Ingram's physique that could cause him to slip down draft boards. His weaknesses from the combine read: "His short arms and size make it tough for him to eliminate double teams playing inside, and there are uncertainties about his effectiveness there at the next level.
Hearing that stubby arms might cause Ingram to lose several spots in the draft is very odd indeed. Watching him play, his "short arms" don't seem to affect his ability to streak from all angles and make numerous big plays on the ball as either a defensive end or outside linebacker.
It will be interesting to see how his criticism plays into his selection come draft day.
Joe Robbins/Getty Images
Quinton Coples, DL, North Carolina
As more and more negative remarks surround Coples, his draft stock continues to slip further and further. Rumors surrounding his lack of effort are the most damaging, as they point out his loss of production between his last two years at Chapel Hill. 
NFL.com's Mike Mayock seems to be at the forefront of the Coples bashing:
"If I'm a general manager I'm not taking him in the first round, and I might not take him in the second round...To me, the bust potential is high, and the earlier you take him the more risk there is inherent in that," Mayock said. "So, for me, Quinton Coples is not even a draftable player."
Those are harsh words about a prospect who was at one point projected to be in the top 10 or 15 picks of the draft. It's not only Mayock bashing him though, as Sports Illustrated's Peter King stated, "I'm talking anywhere from seventh to the second round for Coples."
Judging by what others are saying, seventh isn't going to happen for Coples either. With the draft being on Thursday, Coples finds himself in a free fall with no way of aiding his stock. It's all going to be up to the NFL franchises to determine it he's worthy of a first-round selection or not.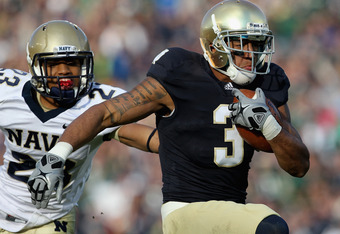 Jonathan Daniel/Getty Images
Michael Floyd, WR, Notre Dame
The Notre Dame standout finds himself in a Ryan Tannehill-like situation, as he has recently received a recommendation from Arizona Cardinals wide receiver Larry Fitzgerald. Peter King reported, "I talked to Larry Fitzgerald over the weekend. Let's just say he wants fellow Minnesotan Michael Floyd with that 13th pick. Badly ..."
The recommendation probably came about since Fitz has been lacking a complementary receiver since Anquan Boldin went to the Baltimore Ravens two seasons ago. 
With the 13th overall pick, the Cardinals might have to do some swapping in order to snag Floyd from the clutches of teams such as the Buffalo Bills, the Miami Dolphins or even the Tampa Bay Buccaneers. 
Andrew Luck, QB, Stanford/Robert Griffin III, QB, Baylor
The Los Angeles Times' Chuck Schilken points to history in this startling rumor pertaining to the top two projected picks of this year's draft:
Stanford's Andrew Luck and Baylor's Robert Griffin III appear poised to be only the fourth pair of quarterbacks to go 1-2 in the NFL draft in the last 20 years. Both have had stellar college careers, but only one seems destined to have the same kind of success in the NFL ... if history repeats itself.

In all three cases during the last two decades, one member of the quarterback duo selected in the top two of the draft has gone on to enjoy a lengthy and successful pro career; the other has been more or less a bust.
The 1993 draft saw New England Patriots great Drew Bledsoe taken No. 1 overall while Seattle selected Rick Mirer with the second pick. Bledsoe has two Super Bowl appearances and four Pro Bowl selections, while Mirer played four years in Seattle with no fanfare before being swapped around the league and leaving the game. 
In 1998, the Indianapolis Colts selected QB Peyton Manning No. 1 overall and the San Diego Chargers picked legendary draft bust Ryan Leaf second overall. Manning went on to play 14 years with the Colts and won a Super Bowl. Leaf is looking at a maximum of 20 years in prison for various drug and burglary charges, as reported by the Associated Press (via ESPN). 
Will history strike again? Are the careers of RG3 and Luck hanging by fate's thread? Guess we'll have to wait and see.