Could Miami Dolphins, Stephen Ross Be Making a Mistake Drafting Ryan Tannehill?
April 23, 2012

Darren Carroll/Getty Images
Stephen Ross has been the owner of the Miami Dolphins since 2008, in which time the Dolphins have known only four starting quarterbacks: Chad Pennington, Chad Henne, Tyler Thigpen (who started one game) and Matt Moore.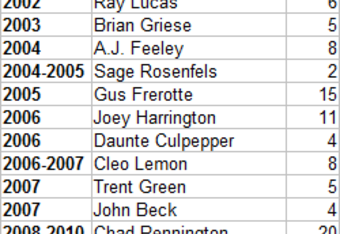 He's only had a taste of the anguish Dolphins fans have known since 2000, when Hall of Fame quarterback Dan Marino retired. The franchise has seen 16 starting quarterbacks come in and out of the lineup since that day.
But apparently, Ross has seen enough.
Mike Florio of NBC's Pro Football Talk reported on Sunday night that Ross is pushing for the team to draft Texas A&M quarterback Ryan Tannehill, likely with the team's first-round pick, the eighth overall selection.
Of course, it wouldn't be the pre-draft run-up unless there were conflicting reports, and respected Dolphins writer Armando Salguero of The Miami Herald delivered with a report from "a very, very, very highly placed source within the Dolphins organization" that the owner is not, in fact, pushing for Tannehill or anyone else.
Tiebreaker: Peter King of Sports Illustrated and his critically acclaimed Monday Morning Quarterback. Advantage: Florio.
"[T]his morning, I got a call from someone saying Florio was right on," writes King. "Ross wants the quarterback."
What does this mean?
It means that if anyone was hoping the Texas A&M gunslinger would fall past the Dolphins at No. 8, they're probably going to have to trade up past Miami to get him. 
It also means that the Dolphins search for their quarterback of the future is likely about to come to an end, for better or worse. There may not be a single draft pundit who thinks Tannehill is NFL ready, even some of his staunch supporters (such as Todd McShay of ESPN) have said that whoever drafts him, "better be prepared to sit him for at least the majority of the season."
And that was just some of the nicer commentary.
Former GM and current ESPN analyst Bill Polian said, "He needs one year, maybe two, behind an experienced guy."
Mike Mayock of NFL Network said Tannehill is "very raw" and said he could get "eaten alive" by NFL defenses in 2012.
B/R NFL Draft lead blogger Sigmund Bloom shares similar sentiments.
The Dolphins would surely be going into the season planning for 2012 to be a redshirt year for Tannehill. Matt Moore showed he can be winning QB with this team last year, and David Garrard will also get a chance to beat him out, or take over if Moore falters like he did in 2010 for the Panthers. The Dolphins have the defense to stay competitive and at least hang in the wild card race long enough to keep Tannehill on ice. However, if new head coach Joe Philbin gets off on the wrong foot and the Dolphins are out of the playoffs early, the team could be tempted to see how Tannehill learns on the job. He was basically thrown into the fire at Texas A&M as a junior and responded very well, winning his first five starts. It's not impossible that we would see Tannehill this season, but it would mean the Dolphins had probably given up on making the playoffs in 2012.
And of course, it wouldn't be a draft round table without ESPN's Mel Kiper, who said, "If he plays this year, he will be a bust."
With all that in mind, could the Dolphins be making a big mistake?
Heck, even Tannehill's former head coach Mike Sherman, now the offensive coordinator for the Dolphins, isn't pushing as hard for Tannehill as some might expect. 
According to King, "[Sherman] likes his former A&M quarterback...but isn't standing on the table for him."
Of course, a first-year first-time NFL offensive coordinator may not have the sway to make a difference in the draft room, but you have to figure he'd at least be lobbying for his guy. Apparently not.
Ross may be anxious to get his quarterback, but judging by the advice of most draft pundits, he better not be too anxious to get him on the field. The path to SunLife Stadium is littered with caution tape and potholes.
It could be a long ride, but if the Dolphins are willing to be patient, they could get where they're headed.