Green Bay Packers 2012 Draft: Profiling Courtney Upshaw, OLB, Alabama
April 21, 2012

After taking a look yesterday at the Packers' potential interest in another standout collegiate pass-rusher, Shea McClellin, today the focus shifts to Courtney Upshaw.
Prior to the Senior Bowl, and before the NFL Scouting Combine, there was no doubt as to who the top 3-4 outside linebacker prospects were in the 2012 NFL draft—South Carolina's Melvin Ingram and Alabama's Courtney Upshaw.
Both players were considered to be locks to be selected in the first half of Round 1.
Ingram has maintained his status as a likely early first-round pick, with both 3-4 teams and 4-3 teams looking at him as a safe bet to be an impact player.
Courtney Upshaw has been on the opposite end of the spectrum.
Upshaw's stock has plummeted to late first-round status, and some now wonder if he's nimble enough to play in space as a 3-4 outside linebacker. Although he excelled at outside linebacker in Alabama's 3-4 scheme while playing against the always-tough SEC, there are several concerns surrounding Upshaw's potential at the professional level.
After weighing in at 273 pounds at the combine, which is heavy for an outside linebacker, several weeks later at Alabama's pro day, Upshaw tipped the scales at 279 pounds.
For a defensive end in a 4-3 scheme, playing at 279 pounds is common; however, in the eyes of teams utilizing a 3-4 scheme, Upshaw's fluctuating weight may become a huge issue. No pun intended.
Upshaw's build has been compared to that of Steelers outside linebacker LaMarr Woodley. Upshaw (6'1.5", 272 lbs) and Woodley (6'1.5", 266 lbs) measured very similarly at their respective NFL Scouting Combine, and Woodley is now considered among the league's elite at the position.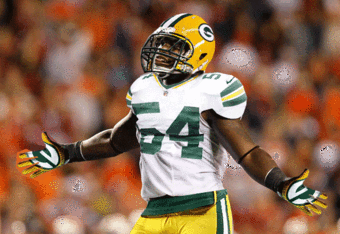 Despite clear concerns about his weight and athletic ability, Upshaw excelled at the college level against stiff competition. He was named the MVP of last year's BCS National Championship, and became a YouTube sensation for his brilliant postgame exchange with John Saunders.
No, that's not sarcasm—I loved it. It was truly awesome.
Upshaw was perhaps the most recognizable face on Alabama's dominant defense in 2011. Along with fellow standout teammates Mark Barron, Dont'a Hightower and Dre Kirkpatrick, four Crimson Tide defenders figure to be selected in the first round of Thursday's NFL draft.
While once considered to be a possible top-10 pick, Upshaw may now be the last to come off the board among Alabama's first-round defenders.
If Upshaw falls on draft day, he'll certainly be on the radar of teams picking late in the first round—especially teams looking for an improved pass rush, like Green Bay and New England.
With a hole at the outside linebacker position opposite Clay Matthews, neither Frank Zombo, Erik Walden nor Brad Jones have taken advantage of the opportunity to be a full-time starter. If there's a player available at No. 28 who Ted Thompson thinks is capable of winning that starting spot, Thompson won't hesitate to take him.
One such player who could be of interest to Thompson and the Packers is Upshaw.
It's my honest opinion that given the choice between Shea McClellin and Courtney Upshaw, Green Bay would lean towards McClellin due to his prototypical size for the position and his versatility.
However, I think Upshaw is one of the best 15-to-20 football players in this draft, and even though the combine sometimes causes us to lose track of the fact, playing football is what teams draft players to do.
In my last mock-draft projection, I had Upshaw being selected by the Cincinnati Bengals with the 21st pick. Some things are sure to shuffle around in my final projection the morning of the draft, but I'm nearly certain that if Upshaw moves at all, it won't be up.
When referring to the draft, Ted Thompson often uses phrases such as "best player available" and "good football player" to describe what he wants to add on draft day. Provided he's available when the Packers are on the clock at No. 28, Upshaw fits both labels.