Green Bay Packers 2012 Draft: Profiling Shea McClellin, OLB, Boise State
April 20, 2012

In the six days leading up to the 2012 NFL draft, I'll be previewing one possibility per day for the Packers with the 28th pick.
Between the six listed players, we'll see if one of them in fact becomes a Packer next Thursday.
As of right now, the most popular projection for Green Bay seems to be Shea McClellin of Boise State.
Not only would selecting McClellin give the Packers a "Shea & Clay Connection"—reminiscent of the infamous "Rock & Sock Connection" from the WWF's glory days—it would go a long way in improving an anemic pass rush from a year ago.
Being the self-described draft nerd that I am, my draft research begins immediately following the end of the Packers season. It didn't take long to pick out Shea McClellin as being a potential fit in Green Bay.
The Packers tend to err on the side of caution when it comes to adding players to their roster, and McClellin has no character concerns to speak of. He grew up on his grandparents' farm in Idaho, and a strong work ethic was instilled in him at a very young age.
In that aspect, some parallels can be drawn between Matthews and McClellin.
Although Matthews came from a family full of both current and former NFL players, there were never any questions about his work ethic. Matthews went from being a 165-pound high school junior to being a 250-pound stud at football-powerhouse USC before being selected in the first round of the 2009 NFL draft.
Early on in the draft process, McClellin was the man in the center of my Packer radar for Round 2 of this year's draft. After hearing various more recent opinions on McClellin, I'm drawn to believe he'll be selected late in the first round, or very early in Round 2.
From an impressive showing at the Senior Bowl to a brilliant display of athleticism at the combine, McClellin has seen his stock soar in the time leading up to the draft. The Sideline View tweeted on Thursday night, "It's been a while since I've seen a guy jump up this quickly from Sr. Bowl to draft day, but Shea McClellin probably won't make it past 20."
If that's the case, the Packers would need to use several of their 12 selections this year to move up and get in position to take McClellin. However, it's far from a given that he'll be a mid-first-round pick, seeing as he was just considered a late second-, or early third-round guy by most just about a month ago.
If McClellin ends up being taken in Round 1, the two most likely scenarios in my opinion would be Green Bay or New England, who holds picks 27 and 31 in the first round.
Despite the Saints not having a first-round pick of their own, they still may indirectly hurt the Packers' first-round draft possibilities. Late in the first round of last year's draft, New Orleans sent the 56th pick last year and its first-round pick this year to New England for the rights to select Alabama RB Mark Ingram.
As a result, the Patriots hold the pick right before the Packers. If there was pass defense that struggled more than Green Bay's in 2011, it was New England's, so in the case of Shea McClellin, the Packers may need to trade up if they truly covet McClellin.
If Green Bay feels so strongly about McClellin that they want to move in front of the Patriots at 27, one possible trading partner would be the Houston Texans. It's been speculated that Houston will look for a wide receiver to pair with Andre Johnson early in the draft, and a move down to 28 likely wouldn't take them out of contention for a first-round talent like Stephen Hill.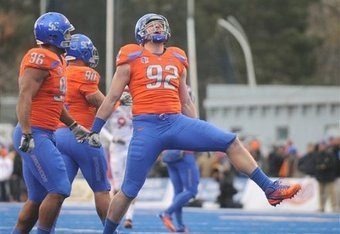 Ironically enough, a first-round swap with Houston would leave the Packers with the 26th pick—the same selection Green Bay used to acquire Clay Matthews in 2009.
Of course, it's no guarantee that McClellin will end up in the first round, and the possibility remains for Green Bay to pick at 28 and still acquire McClellin via a trade up in Round 2.
Mock drafts can only tell you so much, but one thing is certain: If McClellin joins Matthews in Green Bay, "Shea and Clay" will be a phrase used ad nauseum during the 2012 season. As much media attention as the dynamic duo would get for their similar nomenclature, an improved pass rush would certainly outweigh the pair's catchy tag team-like label.
For the Packers, an improved defense behind McClellin and Matthews would be a dream. For opposing quarterbacks, it would be a nightmare.