2012 NFL Draft: What Do the New England Patriots Look for in Wide Receivers?
April 18, 2012

Elsa/Getty Images
If there's one area where the New England Patriots have generally struggled in recent years, it's in drafting and developing wide receivers.
Since 2006, the Patriots have used a second-round pick and two third-round picks on wide receivers. Unfortunately, none of those three—Chad Jackson, Brandon Tate and Taylor Price—managed to make it through their rookie deals.
In fact, the only receivers currently on the roster that were drafted by the Patriots are veteran Deion Branch (who spent a few years suffering in Seattle) and QB conversion project Julian Edelman.
Four of the six receivers on the Patriots' roster this season could be on the wrong side of 30 (Wes Welker, Deion Branch, Chad Ochocinco, Brandon Lloyd, Donté Stallworth), and the other two could be primarily special teams players (Matt Slater, Julian Edelman). Given that, it's at least plausible that they will bring in at least one rookie wide receiver—through a draft pick or not—to compete for a roster slot.
So what do the Patriots look for, and what don't they seem to care much about?
Size
If anything, size seems to be one thing that doesn't concern the Patriots, even in the early rounds. The tallest receiver they've drafted under Bill Belichick was the forgettable P.K. Sam in 2003, at 6'3". Nearly every other receiver they've taken, including Price and Tate, has come in at 6' or under.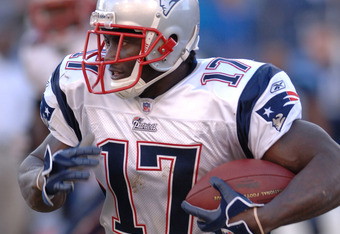 Joe Murphy/Getty Images
In fact, even in their free-agency binge of 2007, the only tall receiver New England brought in was Randy Moss. (In the interest of full disclosure, I should point out they also brought in 6'3" Kelley Washington—and then used him exclusively on special teams!)
That doesn't mean New England has crossed potential rookies like Georgia's Stephen Hill or Miami's Tommy Streeter off their draft board for being too tall. They're certainly OK, though, with a receiver corps that consists of Rob Gronkowski and the Seven Smurfs.
Production
In the past, New England has shown a willingness to overlook a lack of on-the-field production. In particular, they drafted Taylor Price, who played in a run-first offense at Ohio; his 149 receptions were a school record.
That said, Price's apparent inability to be integrated into the offense might spell problems for Hill, who had only 49 receptions in his career.
Speed
The Patriots do care about speed—both straight-line and lateral. Taylor Price boasted the second-best 40 time at the 2010 NFL Scouting Combine; 2003 pick Bethel Johnson had the fastest 40 time at the combine, at just 4.3 seconds. Neither of them, though, saw much playing time at wide receiver.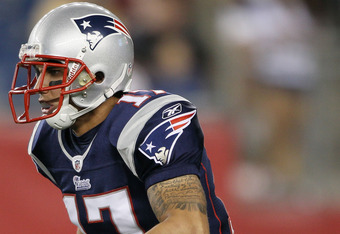 Elsa/Getty Images
This year's track stars, Chris Owusu of Stanford and the aforementioned Hill, should take some comfort in that fact.
The Patriots seem just as concerned with lateral speed, as indicated by the three-cone drill and short shuttle. At the combine, Deion Branch had a blistering speed in the three-cone drill, at just 6.71 seconds, and an even more impressive 3.76 in the short shuttle, the second-fastest time in combine history.
(Not surprisingly, the fastest player ever in the short shuttle, Kevin Kasper, also found his way to New England.)
Julian Edelman, who wasn't invited to the combine, turned in a 3.92 in the short shuttle (faster than any player at the combine that year), and managed to best Branch's three-cone time, at just 6.62 seconds.
Players demonstrating lateral agility include Danny Coale of Virginia Tech, Devon Wylie of Fresno State and Junior Hemingway of Michigan; it wouldn't be a shocker to hear any of their names called late in the draft.
Right now, the Patriots probably need more straight-line speed from their receivers than they do lateral speed, but both help. 
Intelligence
The Patriots' offense is notoriously complex, as much of it relies on receivers reading the defense and adapting correctly. Many receivers (e.g., Price) never pick it up at all, while some take to it like a duck in water (e.g., Branch, Welker).
While the Wonderlic test, a 50-question intelligence test, is often the source of humor when low scores are revealed, it does seem that the Patriots put at least some stock in the results of that test for wide receivers, as this little tidbit from the New Haven Register reveals (emphasis mine):
Perhaps the players who helped themselves the most were Sacred Heart receiver/tight end Rich Rossi and University of New Haven linebacker Charlie Hatchett. . . .

Rossi ripped off 4.42 seconds in the 40-yard dash, had 27 reps in the bench press and was impressive enough that a New England scout escorted Rossi from the Yale practice field across the street to the Smilow Field Center so he could take the Wonderlic exam.
Given this, it should come as little surprise that the Patriots passed on Dez Bryant, who reportedly had difficulties learning Dallas' playbook.
Route Running
Given that the Patriots offense is so heavily based on timing, the ability to run precise routes is obviously important.
This is something that Deion Branch and David Givens both accomplished, and something that Taylor Price and Bethel Johnson struggled with (to quote a Patriots fan, about the only "route" that Johnson mastered was running in a straight line).
Versatility
Any player the Patriots bring in as a rookie, this year at least, would be entering as no better than the fifth option in the receiving game (after Welker, Brandon Lloyd, and the Patriots' tight end duo of Rob Gronkowski and Aaron Hernandez).
Thus, to justify a roster spot, such a rookie would almost certainly need to be able and willing to play on special teams, either as a kick returner (as in Arkansas' Joe Adams) or in some other capacity (as Matt Slater does).
Conclusions
New England doesn't have any unique criteria: it's clearly not the only team that considers how fast a receiver can run.
What does make the Patriots unique, though, is the relative importance they place on the various factors—especially lateral agility and intelligence.
Trying to predict who the Patriots will draft is almost doomed to failure.
That said, one player associated with the Patriots that seems like a poor fit is Georgia's Stephen Hill. While he does have plenty of size and speed, his lack of on-the-field production, combined with the Patriots' experiences with Taylor Price, suggest that the Patriots won't give him a first-round grade. If that happens, it's unlikely he'll be donning a Flying Elvis this fall.