Miami Dolphins 2012 Draft Needs: Ranking the Possible Options at QB
April 18, 2012

Doug Pensinger/Getty Images
Unless you have been living under a rock with your eyes shut and ears covered while on Mars, you know the Dolphins have been searching for a franchise quarterback ever since Hall of Famer Dan Marino retired 13 years ago.
This year is no different. 
After missing out on Peyton Manning and Matt Flynn, Miami finds itself in a similar predicament. This time around, incumbent Matt Moore and free agent signee David Garrard are vying for the starting gig, but Miami must turn to the draft to look for their quarterback of the future. Hopefully, for Dolphins fans, Jeff Ireland and Joe Philbin will not repeat past blunders like John Beck or Pat White.
Below you will find this year's quarterback class and how they might figure into Miami's plans:
Note: Andrew Luck and Robert Griffin III are not included because that ship sailed for Miami once they won more than a couple of games last season.
Top Choices
Ryan Tannehill
The former Texas A&M quarterback is a popular pick for Miami in mock drafts these days. There is division in the ranks of Dolphins fans about whether Ireland should select Tannehill with the eighth pick in the draft—after all, there are many who say Tannehill is barely a first round prospect—but there is a strong chance this will happen.
Tannehill may need some work, but he has an underrated skill set that will translate well to the NFL. The question is whether or not his former coach and Dolphins offensive coordinator Mike Sherman feels the same way along with Ireland and Philbin.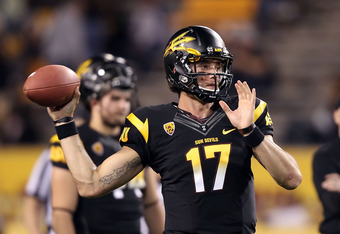 Christian Petersen/Getty Images
The chances Miami uses their first round pick on Tannehill are quite high, perhaps even trading down and still doing so.
Brandon Weeden
He is more of a fringe first rounder, but it is possible that Miami moves down from No. 8 or up from their second-round pick to snag him.
The Oklahoma State product is being dogged by ageism—he will turn 29 during the upcoming NFL season—otherwise he may well be a top-5 or -10 pick.
Weeden has the tools to succeed in the NFL, but his limited shelf life is scaring teams away. Though he will be ready to start from day one, it will be a muddled trio vying for the starting job should Miami draft him. Should they choose to let him develop while Moore pilots the offense, the clock will be ticking quickly for the 28-year-old to take the reins.
If Miami passes on Tannehill, they may risk waiting until the second round to see if Weeden falls, or take another quarterback they have brought in for questioning...
Nuclear Options
Brock Osweiler
Of all the scenarios regarding Miami drafting a quarterback, taking Osweiler with their second-round pick is by far my least favorite.
The mammoth quarterback may be too big at 6'7", but the real kicker here is that his mechanics have him releasing the ball much lower. Mechanics can be fixed, but just ask Tim Tebow how difficult it is to keep them fixed while under pressure. His footwork is also suspect.
It is difficult to overstate how important those two are to accuracy, a mark of a good quarterback.
Osweiler is a deceptive prospect—he is more of a project than a second-round pick. Given the history of second-round quarterbacks, and Miami's history in particular (see: John Beck, Chad Henne, Pat White), drafting the former Sun Devil here would be the ultimate nuclear option for Jeff Ireland, the straw that would hopefully break Stephen Ross' back.
The Arizona State product is clearly a raw prospect, and Miami has no business using a high second-rounder on him despite his upside. Considering Miami has spent significant time with Osweiler, this is unfortunately a strong possibility.
Nick Foles
Once considered a serious option for Miami, Foles has fallen off the radar since the Senior Bowl.
Perhaps one reason for this is his poor performance at the combine and his pro day. Come draft day, he may see a precipitous fall into the fifth or sixth round, which is right about where Miami should consider him.
Of course, drafting Foles here would mean Miami missed out on the top quarterbacks in the draft, and Foles would not make a good consolation prize.
Another quarterback with release and footwork issues, Foles has the look of a career backup. Size and short-to-intermediate accuracy are about the only things he has going for him. Considering Miami already has two backups vying to start, they would be better served using a fifth rounder on wide receiver or defense.
Whereas Osweiler's stock is rising and Foles' is dropping, it is more difficult to gauge where Cousins stands right now. He could fall anywhere between the second and fifth rounds. Whether Miami should take him at all is another story.
Cousins won a lot of games at Michigan State, but wins are not everything. He certainly brings positives to the table—he comes from a pro style offense, has good touch and accuracy, and he sells the fake well—but his negatives may undermine those in the NFL. Cousins locks on to receivers too often, a fatal flaw in the NFL, and he tends to throw off his back foot.
In reality, if Cousins falls into the fourth round and Miami has not chosen a quarterback, he would not be a bad choice. The reason I placed him in this section, however, is because I believe Miami will have to use a high third-round pick or better to snag him, and that may be too expensive.
The Projects
Russell Wilson
At 5'11", Wilson's odds of being drafted by Jeff Ireland are longer than Miami's odds of winning the Super Bowl, World Series, and NBA Championship within the next year. 
Even though he is behind the eight-ball because of his diminutive stature, however, the former NC State and Wisconsin quarterback has the tools to succeed at the next level. History is not on Wilson's side, but he is capable of beating those odds.
The trouble with drafting him is that his stock is on the rise—he could feasibly sneak into the third round at this rate. If the odds are long that Ireland will draft him, they must be near infinite that the Dolphins GM will use a third or fourth round pick on the former Badger.
B.J. Coleman
Coleman is a little-known prospect coming out of Tennessee-Chattanooga, but one with big aspirations.
The former Mocking Bird idolizes Peyton Manning, to the point where he copied the veteran's fundamentals. If you are going to emulate a professional quarterback, it is hard to argue choosing Peyton Manning.
Though he is little-known, you can bet NFL teams have Coleman on their radar. Teams like the Broncos might be taking a serious look at him in the late fourth or early fifth round, meaning the Dolphins would be wise to take him around there if he is a target.
Of course, whether Coleman can develop into an NFL starter is debatable—he is in the "Projects" section here—but I think he is worth picking over Nick Foles later in the draft.
Ryan Lindley
The San Diego State product did not help himself with a poor Senior Bowl showing, but he is well worth a look for the Dolphins if they eschew drafting a quarterback early.
The fact that NFL Films guru Greg Cosell put Lindley down as a diamond in the rough may alone be enough to take a flier on him with a late pick. He grades positively in many aspects of his game, making him an excellent project.
Undraftable
Kellen Moore
Indeed, Moore holds the NCAA/FBS record with 50 wins, put up huge numbers and is a great leader of men, but the quarterback out of Boise State simply does not have the tools to make it at the next level. 
Many point to Drew Brees as the gold standard for quarterbacks under 6'2", but just because Moore is the same height at 6'0" does not mean he will follow in Brees' footsteps. He lacks the arm strength and athleticism Brees has to overcome his size issues and make it in the NFL as a starter.
It is likely Moore will be drafted in the sixth or seventh round, perhaps earlier by a team who craves his locker room presence—however Miami would be better served letting another team draft the future NFL career backup.
Aaron Corp
The USC transfer out of Richmond is an intriguing prospect with a West Coast style that could suit Joe Philbin's offense. Miami could very well bring him in as an undrafted free agent (UDFA), where he will likely wind up, so there will be no need to spend a draft pick on the flier.
Darron Thomas
Thomas inexplicably declared for the draft despite poor draft prospects coming out of Oregon. Miami brought him in this offseason as part of their evaluation process, so he is certainly on their radar. He will likely go undrafted, so they may look at him as an UDFA. Spending anything more would be wasteful for the raw prospect.