Pittsburgh Steelers Need an 'Ugly' Draft If They Want to Have Future Success
April 17, 2012

Chris Graythen/Getty Images
Casual fans, bandwagon hoppers and fair-weather fanbases all look for the same thing out of free agency and the draft: Find a player whose jersey you can buy so that you look cool.
It happens all the time, and teams know this.
This is what is called a "pretty" draft. A draft where your team selects players that you will get to watch on ESPN. Players whose rookie cards may someday be worth money. Players that play the skill positions.
That isn't what Pittsburgh needs. The Steelers need to have an ugly draft.
Over the last few years, the Steelers have had some ugly drafts, selecting players like Ziggy Hood, Maurkice Pouncey and Cameron Heyward with their first-round picks in the last three years. They followed those players up with Marcus Gilbert and Jason Worilds.
None of those picks were for players that are likely to see themselves on ESPN very often, but all of them are important parts of building a successful team.
Hood, Pouncey and Gilbert will all enter the 2012 season as starters, while Heyward will share playing time with Brett Keisel, and Worilds will sub for two of the best OLBs in the game, James Harrison and LaMarr Woodley.
One of the biggest negatives about the Steelers over the last few years has been their age and ability in the trenches. And the Steelers could be a single draft away from having two amazing young lines.
Even though I know the Steelers draft the "best available player" when it comes their turn to pick, if the Steelers commit their first three picks in this draft to their lines, they could be set at these positions for the better part of the next decade.
Of their first three picks, if the Steelers could find a way to come away with two starting guards and a starting nose tackle to replace Casey Hampton, the trenches for the Steelers could be amazing.
Starting on the defensive side of the ball, look at what the Steelers are looking like today.
Ziggy Hood: fourth year, 25 years old
Cameron Heyward: second year, 22 years old
If you add a nose tackle to this group, like say, Alameda Ta'amu, who is 22, the Steelers starting defensive line could be set—if they play until the same age as last year's team did—for the next 12-15 years.
Now, going across to the offensive side of the ball, the Steelers need not only youth, but quality players that are capable of actually playing the positions.
In 2011, the offensive linemen for the Steelers, not counting Pouncey and Gilbert were:
Ramon Foster: undrafted free agent, 2009
Doug Legursky: undrafted free agent, 2007
Max Starks: fourth-round pick, 2004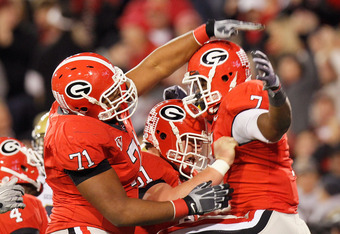 Kevin C. Cox/Getty Images
Jonathan Scott: fifth-round pick, 2006
Trai Essex: third-round pick, 2005
Chris Kemoeatu: sixth-round pick, 2005
It is painfully obvious that the main reason that the Steelers offensive line has had such issues over the last few years is because the team did not spend the appropriate draft picks to secure Ben Roethlisberger, the $100 million QB.
In 2012, the offensive line could look much different, and much better. It could look something like this:
LT Marcus Gilbert: second season, 24 years old, second-round pick
LG Cordy Glenn: rookie, 23 years old, first-round pick
C Maurkice Pouncey: third season (two Pro Bowl), 22 years old, first-round pick
RG Brandon Washington: rookie, 24 years old, third-round pick
RT Willie Colon: sixth season, 29 years old, fourth-round pick
Looks a lot better, doesn't it?
With all the talk of the Steelers drafting a linebacker or a safety—or even a receiver, for that matter—the Steelers have begun constructing two amazing units, and they are three picks from completion.
Yes, the Steelers have to eventually think about replacing Colon, especially if he cannot overcome the injury bug that has bitten him in the last two seasons. Even if he can, they could still upgrade him either later in this draft or in next year's draft.
And I understand that this is counting on three rookies for this upcoming season.
However, the reality is that Casey Hampton is recovering from an ACL injury, and neither of their guards from last year (who were RFAs) even had other teams offer them a contract. None of these rookies would make the Steelers worse off than they already are.
Getting them this experience will pay off in 2013 and beyond.
With the trenches set, the Steelers could then get pretty with their drafts, but for 2012, an ugly draft is exactly what the Pittsburgh Steelers need.