2012 NFL Draft: Why Ryan Tannehill Is Too Big a Risk for 1st Round
April 12, 2017
Sarah Glenn/Getty Images
Ryan Tannehill, of the Texas A&M Aggies, depicts the makings of a first-round bust.
The consensus No. 3 overall quarterback in the draft, Tannehill's name has been spotted throughout mock drafts as high as the fourth pick belonging to the Cleveland Browns.
It's cyclical: spring overtakes winter, batches of mock drafts blossom across the online sports community, the stock of average quarterbacks surges upward and the teams that foolishly select them return to the face the same scenario years later.
General managers scour the draft boards to find the second coming of Tom Brady—a quarterback with untapped potential, that has slipped through the cracks due to erroneous scouting reports.
That's the perilous million-dollar word: "Potential."
And Ryan Tannehill is oozing with it.
Transitioning
Tannehill is as raw as they come, which begs the question: Why is he a first-round favorite?
Virtually every NFL Draft analyst has pegged him to be the third quarterback to shake hands with Roger Goodell on April 26. Obviously, some quarterbacks drafted third overall at their position have panned out (Jay Cutler and Ben Roethlisberger), while a substantial amount of others have made a living wearing headsets (Kyle Boller, Patrick Ramsey and Jimmy Clausen).
What does every afore mentioned quarterback have in common? A more accomplished college career than Ryan Tannehill.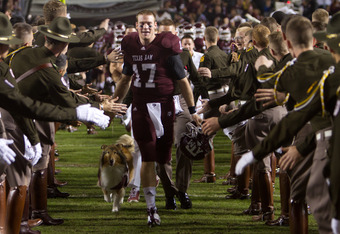 Darren Carroll/Getty Images
Making the conversion from wide receiver to quarterback, he amassed a total of 20 starts under center for the Aggies.
Tannehill stands 6'4" and a solid 224-pounds. He represents the prototypical new-era quarterback: A diverse, dual-threat athlete with a laser-rocket arm.
During a March 29 workout on A&M's campus, the senior's 40-time clocked in at 4.58 seconds.
On paper, Tannehill's numbers paint a picture of the quintessential do-it-all quarterback, capable of adapting like a chameleon to any situation that's presented. 
However, his in-game statistics reveal the preceding image to be a mirage.
Collegiate Comparisons
In 2011, Texas A&M finished 1-5 versus ranked teams.
Ryan Tannehill's completion percentage regressed from 65 percent in 2010 to 61.6 percent in 2011. His quarterback rating also plummeted from 137 to 132.2—that's not only behind front-runners Andrew Luck (169.7) and Robert Griffin III (189.5), it also trails late-round projections such as Kirk Cousins (145.1) and Brock Osweiler (140.5).
To emphasize his mediocre production, let's compare him to renowned media darling, Tim Tebow.
After two NFL seasons, Tebow was traded from the Denver Broncos to the New York Jets—this was partly because Denver acquired arguably the greatest regular-season quarterback in league history, Peyton Manning. However, the trade also corresponded to the fact that Tebow's passes have accounted for more indentations in the earth than gravediggers.
Taking snaps in the defensive powerhouse known as the SEC, Tebow's completion rate (67.8 percent) was 6.8 percent higher. Additionally, he only threw seven fewer touchdowns (21) on 217 less attempts.
If Tebow's game hasn't successfully transitioned into the NFL—spare the tired arguments of Skip Bayless—with more impressive passing statistics against the heavily fortified defenses of the SEC, why would Ryan Tannehill's?
Texas A&M, before jumping to the SEC itself, was a member of the Big 12—a league where offenses accumulate more mileage on the field than the cast of Green Acres.
However, the success of recent Big 12 passers has seemingly been dependent upon the systems, as opposed to the players themselves.
Here's a brief list of Big 12 quarterbacks to star in the NFL within the past decade: Vince Young, Chris Simms, Sage Rosenfels, Seneca Wallace and Brad Smith.
The jury is still out pertaining to recent picks, such as Blaine Gabbert, Colt McCoy and Sam Bradford.
No listed name, at any point in their respective careers, have ever been considered in the elite fraternity of quarterbacks standing atop the pinnacle of the National Football League.
The prevalence of spread offenses within the Big 12 has resulted in bamboozled pros that enter the league with a handicap. They're mentally behind the curve when attempting to operate within the constraints of a pro-style system.
If Big 12 quarterbacks have constructed an unsuccessful track record when transitioning to the NFL, then why would a quarterback that failed to succeed in the Big 12 fair any better in the pros?
Ryan Tannehill will not.