Chicago Bears' Past 5 Drafts: Daydreaming with Hindsight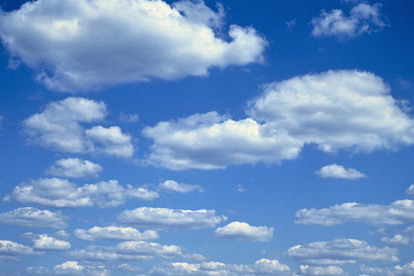 With draft week upon us, I thought it would be a good time to think about "what might have been." No General Manager can hit on 100-percent of his picks; in fact, the best organizations hit on barely 50-percent of their picks.
Everyone knows Jerry Angelo whiffed on too many picks during his tenure with the Bears, but I thought it would be fun (and likely excruciating) to go back and see who the Bears passed up in the drafts.
I don't think it's a good idea to look at every player drafted after the Bears' pick without being realistic. For example, in the second-round pick in 2006, the Bears should have taken Brandon Marshall (who was eventually taken in the 4th).
For the purpose of this article, I focused on the seven picks after the Bears (yes, it's a rather arbitrary number) for the first four rounds, and 10 picks after the Bears for rounds five through seven. I also made sure to take team needs into consideration.
Time to key the harp player and imagine what could have been......
Begin Slideshow

»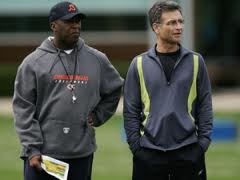 Team Needs Prior to Draft
Safety
Defensive Tackle
Tight End
Wide Receiver
Offensive Line
Pre-draft Trades
Bears trade Thomas Jones and 63 for pick 37
Bears trade sixth-round pick (205) for Adam Archuletta, who the Bears paid $8.1M for three years
Bears trade Lennie Friedman to Cleveland for seventh-round pick (221)
Picks at Start of Draft Day
1st - 31
2nd - 37
3rd - 94
4th - 130
5th - 168
7th - 221, 241
Round 1 - Pick 31
Who they took: Bears select Greg Olsen, TE. Solid, yet unspectacular pick. Olsen has yet to reach his full potential and later moved to Carolina for a third-round pick after not fitting into Mike Martz's philosophy.
Could have had: Eric Weddle, S. A two-time Pro Bowler would have solidified what has turned into a yearly revolving door. This pick becomes more painful in Round 2.
Round 2
Pick 37
Who they took: Bears traded 37th pick in the draft to San Diego for their second (62), third (93), fifth (167) and a 2008 third-pick (90). These picks eventually turned into Dan Bazuin, Garrett Wolfe, Kevin Payne and Marcus Harrison. San Diego used this pick to select……Eric Weddle.
Could have had: Weddle (obviously). Justin Blalock, a solid guard with Atlanta, was selected two players later.
Pick 62 (from SD)
Who they took: Dan Bazuin, DE. Quite possibly the worst pick in Chicago Bears history, as he never played a down.
Could have had: at least we didn't pass up any future stars for Bazuin. Of the next seven picks, the best player is likely Brandon Jackson or Usama Young. The rest of the busts consisted of Sabby Piscitelli, Quentin Moses, James Marten, Quincy Black and Buster Davis. Yuck.
Round 3 - Picks 93 & 94
Who they took: Garrett Wolfe, RB and Michael Okwo, LB. Wolfe turned into a decent special teams player; however; Okwo was a complete bust.
Could have had: Ray McDonald, DE and Michael Bush, RB. McDonald has turned into a very solid rotational defensive end for San Francisco and had career high 5.5 sacks in 2011. Bush has turned into a reliable RB and is now a member of the Bears. Interesting enough, another current Bear, Adam Podlesh, was selected right after Bush.
Round 4 - Pick 130
Who they took: Josh Beekman, G. Became starting LG in 2008, but eventually lost his roster spot to Frank Omiyale and J'Marcus Webb.
Could have had: Clint Session, LB. Session is a solid OLB who last year signed a 5 year/$30M contract with Jacksonville
Round 5 - Picks 167 & 168
Who they took: Kevin Payne, S and Corey Graham, CB. Payne started several games for the Bears until, like many recent Bear safeties, he had problems staying healthy. Graham was a great find and has turned into one of the better special teams players in the league.
Could have had: Nobody better than Graham, but William Gay, who has turned into a dependable CB, would have been a nice addition.
Round 7 - Picks 221 & 241
Who they took: Trumaine McBride, CB and Aaron Brant, OT. Any time your seventh round selection makes the team and plays, it's not terrible (McBride). Brant never made it out of camp.
Could have had: Michael Johnson, S—who was decent, but nothing special—just after McBride. A pair of RBs, Jason Snelling and Ahmad Bradshaw, were taken just after Brant.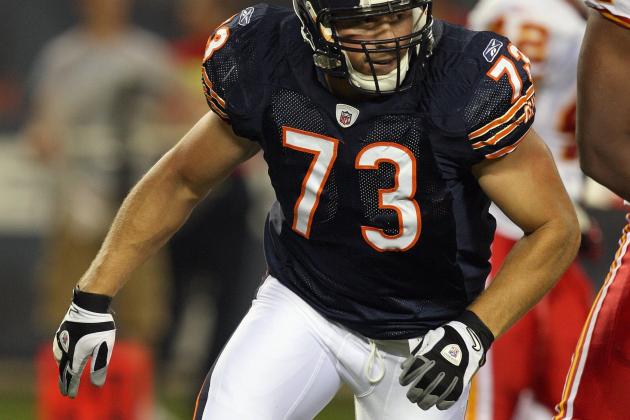 Jonathan Daniel/Getty Images

Considered an overall bust of a draft for Angelo, this could have looked a lot better had we taken Eric Weddle. Safety was absolutely a position of need and Angelo totally whiffed on the Pro Bowler out of Utah.
Angelo has always been brutalized by the Dan Bazuin pick, but seeing that the next 10 players were busts, chances are it didn't matter who he took; it wasn't going to work out well.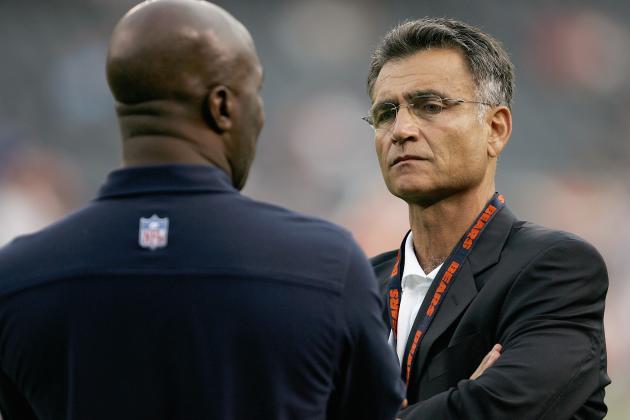 Jonathan Daniel/Getty Images

Team Needs Prior to Draft
Offensive Line
Wide Receiver
Running Back
Quarterback
Safety
Pre-draft Trades
Bears received SD third-round pick from 2007 draft
Bears swapped third-round picks (75 for 70) with SF due to 49ers tampering charges with Briggs
Bears traded their fifth-round pick for Darwin Walker
Bears traded Chris Harris for Carolina's fifth-round pick
Picks at Start of Draft Day
1st - 14
2nd - 44
3rd - 70, 90
4th - 120
5th - 142, 158
7th - 208, 222, 243, 247, 248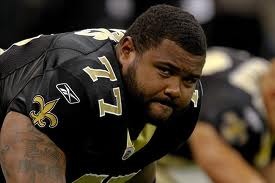 Round 1 - Pick 14
Who they took: Chris Williams, OT. There was no doubt the Bears needed an answer at LT, but Williams got off to an inauspicious start as he hurt his back in the Bears' second practice. He has turned into a solid guard, but injuries continue to plague him.
Could have had: Brendan Albert, OG/OT. Albert has improved every year and looks to be locked in as the Chiefs' starting LT going forward. A pair of OT drafted soon after, Gosder Cherilus and Jeff Otah have yet to live up to expectations.
Round 2 - Pick 44
Who they took: Matt Forte, RB. The Bears finally cut bait on Cedric Benson and needed a RB. Forte has proven to be one of the top RBs in football and, assuming they can come to terms on a new contract, should continue to be a key cog in the Bears offense.
Could have had: Ray Rice, RB. Although Rice was taken 10 spots later, he was the next RB taken and the Bears were said to be torn between the two. While Forte has been very good, Ray Rice has been better.
Round 3
Pick 70
Who they took: Earl Bennett, WR. The Bears clearly needed to upgrade WR, and Bennett has proven to be one of Jay Cutler's favorite targets in the slot.
Could have had: Reggie Smith, S. Yes, Jamaal Charles was there too, but after Forte, no need for a RB. Smith is a decent safety for the 49ers, but the Bears were still better off with Bennett.
Pick 90
Who they took: Marcus Harrison, DT. Never lived up to his potential and was a bust with the Bears.
Could have had: next two picks were Jermichael Finley, TE and Cliff Avril, DE. Gulp.....After taking Olsen the year before, TE wasn't a need. However, imagine if it was Weddle in 2007 and Finley in 2008. Cliff Avril has turned into a Pro-Bowl caliber defensive end. The Bears whiff on their pick and their two division rivals hit home runs. Ouch.
Round 4 - Pick 120
Who they took: Craig Steltz, S. The Bears found a good special teams player and backup safety.
Could have had: Red Bryant, DT. Turned himself into one of the better run-stuffers in the NFL.
Round 5
Pick 142
Who they took: Zack Bowman, CB. Started several games for the Bears, tended to get burned more often than not.
Could have had: Orlando Scandrick, CB. A solid nickel corner.
Pick 158
Who they took: Kellen Davis, TE. Lovie thinks he's going to be great, I'm not so sure. TE wasn't a need in this spot and they would have been better off going for more OL.
Could have had: Carl Nicks, OG. He was the next OL taken after Davis, and is now the highest paid OG in NFL history, and deservedly so. Another big "ouch".
Round 7
Picks 208, 222, 243, 247 and 248
Who they took: Ervin Baldwin, DE (208), Chester Adams, G (222), Joey LaRocque, LB (243), Kirk Barton, OT (247) and Marcus Monk, WR (248). With so many picks in one round, you'd think they would hit on at least one. They didn't.
Could have had: Matt Flynn, QB (209), Stevie Johnson, WR (224) and Peyton Hillis, RB (227) were just a few late round steals where the Bears missed out.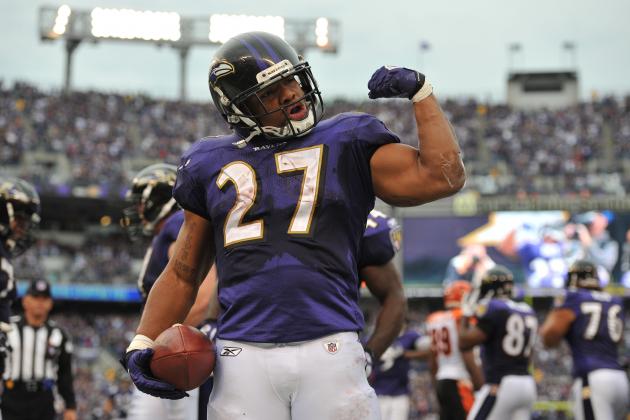 Larry French/Getty Images

What turned out to be a decent draft for the Bears certainly could have turned into a monster draft.
The Bears came away with Chris Williams, Matt Forte, Earl Bennett and Kellen Davis as contributors on offense, with Steltz the lone defensive player to have much value.
However, imagine having Brendan Albert, Ray Rice, Carl Nicks and either Jermichael Finley or Cliff Avril from this draft. Let's throw in Stevie Johnson for good measure. One final note, does 2011 end up differently if we take Matt Flynn in round seven instead of signing Caleb Hanie after the draft? Hmmmmm.......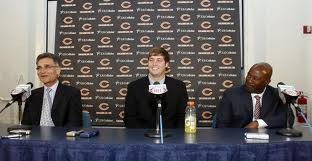 Team Needs Prior to Draft
Wide Receiver
Offensive Line
Linebacker
Defensive Line
Safety
Pre-draft Trades
Bears trade 2009 and 2010 first-round picks and 2009 third-round pick to Denver for Jay Cutler and 2009 fifth-round pick
Bears received sixth-round pick from Tampa Bay for Brian Griese
Bears trade sixth and seventh-round picks to Tampa Bay for Dan Buenning
Picks at Start of Draft Day
2nd - 49
3rd - 99
4th - 119
5th - 140, 154
7th - 246, 251
Note: Just wanted to call out the "great" Jerry Angelo free agent signings this year:
Frank Omiyale
Orlando Pace
Kevin Shaffer
Josh Bullocks
Glen Earl
Michael Gaines
Pisa Tinoisamoa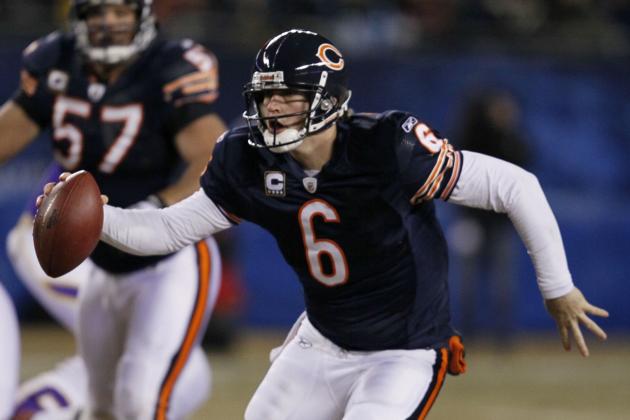 Jonathan Daniel/Getty Images

While I would do the Jay Cutler deal over again 100-percent of the time, it's worth noting the players the Bears could have had. With the first and third-round picks, Jeremy Maclin was selected one pick after Denver, and Mike Wallace was taken with what would have been Chicago's pick in round three.
Round 2 - Pick 49
Bears trade pick 48 to Seattle for picks 68 and 105. Seattle selects Max Unger, C.
Could have had: Phil Loadholt, OT. Loadholt, while not a dominant player, has started every game for which he has been active. Lesean McCoy also there, but RB not a need.
Round 3
Pick 68
Who they took: Jarron Gilbert, DT. Hey, he can jump out of a pool! Unfortunately he wasn't a very good football player and waived after one year and one tackle.
Could have had: Anyone else. Immediately following Gilbert, the following DL were selected: Michael Johnson, Matt Shaughnessy and Terrance Knighton. All three have proven to be quality and productive players.
Pick 99
Who they took: Juaquin Iglesias, WR. Was active for one game and never made it through the season. Angelo 2-for-2 on third-round busts in 2009.
Could have had: box of donuts would have been better...or any of the following who are at least in the league and playing: Donald Washington, CB, Darrell Scott, DT and Kaluka Maiava, LB.
Round 4 - Picks 105 & 119
Who they took: Henry Melton, DT (105) & D.J. Moore, CB (119). Melton has the potential to become a key contributor to the Bears pass-rush at the under-tackle position, and D.J. Moore has proven to be a ball-hawk and valuable nickel CB.
Could have had: Mike Thomas, WR and Lawrence Sidbury, DE. Angelo redeemed himself from the brutal third-round picks to come up with the best available options with Melton/Moore. Thomas is solid but Sidbury being the best option after Moore shows how weak those picks were.
Round 5 - Picks 140 & 154
Who they took: Johnny Knox, WR (140) & Marcus Freeman, LB (154). Knox was a great addition and has been the Bears' best WR the last several years. A brutal back injury has his future, at least for 2012, in question. Freeman never made it out of camp.
Could have had: Corpses and Garrett Reynolds, OT. Of the eight players drafted after Knox, only Punter Kevin Huber is still in the league. Reynolds has not played much but at least still holds his NFL Players Card.
Round 6 - Pick 190
Who they took: Al Afalava, S. A starter for 13 games shows just how poor the Bears safety situation was.
Could have had: Matt Slauson, G. A productive starter for the NY Jets.
Round 7 - Picks 246 & 251
Who they took: Lance Louis, G (246) & Derek Kinder, WR (251). Louis has turned out to be a great find this late in the draft. He played well at RG until he had to move to RT due to injuries (Carimi) and poor play (Omiyale). Kinder didn't last through training camp.
Could have had: Arian Foster, RB. Granted, he was signed as an unrestricted free agent, but there were very few drafted as late as Louis and Kinder, none of whom have been able to stick around outside of Rashad Jennings, RB and Ryan Succop, K.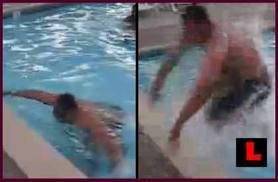 The Bears used the top end of 2009 and 2010 drafts to land their franchise QB, Jay Cutler.
Rather than trading down in Round 2, the Bears could have helped to solidify their OT with Phil Loadholt. Unfortunately, Round 3 was likely the worst drafting round in Angelo's career with Gilbert and Iglesias. A trio of productive players followed each of those picks, which has caused a lack of depth on the current Bear roster.
Knox, Moore, Louis and Melton were great finds and helped ease the pain of the third-round blunders.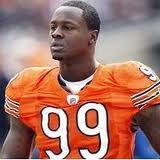 Team Needs Prior to Draft
Safety (still)
Wide Receiver (still)
Offensive Line (still)
Cornerback
Pre-draft Trades
Bears traded first-round pick in Jay Cutler deal
Bears trade second-round pick to Tampa Bay for Gaines Adams
Picks at Start of Draft Day
3rd - 75
4th - 109
5th - 141
6th - 181
7th - 218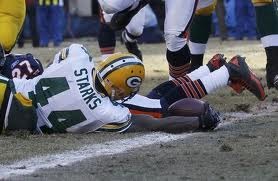 First of all, the death of Gaines Adams was tragic, as a young man lost his life way too early. As for football, I never liked the fact that the Bears traded away such a high draft pick for someone that had declined since his rookie year and was chided by his coaches for not playing physically enough. By the way, the person drafted in the spot that the Bears traded....Rob Gronkowski.
Round 3 - Pick 75
Who they took: Major Wright, S. The Bears went into the draft needing a safety (the Weddle pick strikes again) and the Bears were thrilled Wright fell to them. Major has had injury issues and has been plagued by inconsistent play in his first two seasons. He enters 2012 as a projected starter.
Could have had: Emmanuel Sanders, WR. The likely other option for the Bears was safety Chad Jones, taken one pick after Wright. Unfortunately, he has yet to see the field after a horrible auto accident soon after the draft. Sanders looks to be a solid number three WR.
Round 4 - Pick 109
Who they took: Corey Wooten, DE. The Bears continue to look for a pass-rusher opposite of Julius Peppers. Wooten has flashed promise but can't stay healthy, which was his knock coming out of college.
Could have had: Aaron Hernandez, TE. Maybe now that Martz is no longer with the Bears, they'll quit passing on Pro-Bowl caliber tight ends. Let's at least hope so.
Round 5 - Pick 141
Who they took: Joshua Moore, CB. Appeared in three games before being waived to make room for another failed experiment at safety, Brandon Meriweather.
Could have had: Cam Thomas, DT or Nolan Carroll, CB. Thomas has had a pair of productive seasons playing inside for San Diego and Nolan Carroll is highly thought of in Miami.
Round 6 - Pick 181
Who they took: Dan LeFevour, QB. Angelo wanted to draft a developmental QB, but by waiving LeFevour after training camp with the hopes of putting him on the practice squad, exposed him to the Bengals who signed him as their third QB.
Could have had: James Starks, RB. For those of you who don't know the story, Starks was all set to become a Chicago Bear. In fact, the Bears had called Starks and told him he was their pick. Jerry Angelo came in at the last minute and trumped the pick to select LeFevour. Starks went on to rush for 74 yards in a TD in the NFC Championship Game against the Bears.
Round 7 - Pick 218
Who they took: J'Marcus Webb, OT. Yes, we know Webb's struggles, but to find a player this late that can contribute is still a great find. Webb seems best suited to being a swing tackle, but still deserves a roster spot.
Could have had: Victor Cruz, WR. Another undrafted free agent, but sure would look good in blue and orange.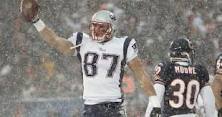 Once again, the WR position goes unaddressed. 2012 will be a big year in determining if Major Wright is a starting NFL safety or a major bust.
The James Starks pick was costly to the Bears for a number of reasons, and was another episode that turned Bear fans against Angelo.
The much maligned J'Marcus Webb was still a great pick in the seventh round, but I'm just wondering how nice it would be to have either Gronkowski or Hernandez.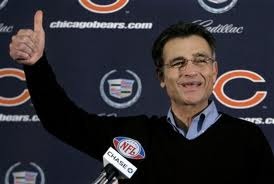 Team Needs Prior to Draft
Wide Receiver (still)
Offensive Line (still)
Safety (still)
Defensive Tackle
Linebacker
Cornerback
Pre-draft Moves
Bears forfeit seventh-round pick with selection of Harvey Unga, RB in supplemental draft
Picks at Start of Draft Day
1st - 29
2nd - 62
3rd - 93
4th - 127
5th - 160
6th - 195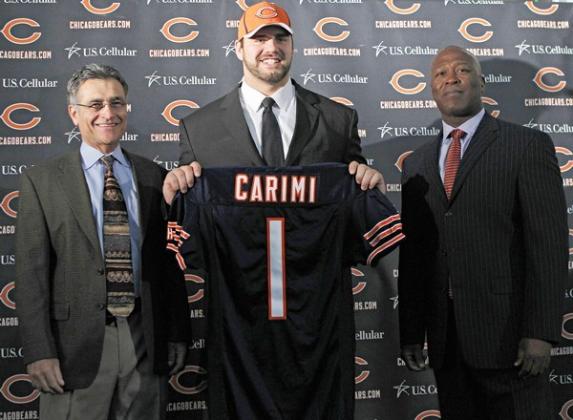 Round 1 - Pick 29
Who they took: Gabe Carimi, OT. The Bears, along with many fans (myself included) were thrilled that Carimi fell to the Bears at 29. Unfortunately, Carimi was knocked out in the second game of the year with an injury. This pick may also be remembered as the one where Angelo went back on a verbal agreement with the Baltimore Ravens to move up three spots in exchange for the Bears fourth-round pick. Baltimore let the clock run out thinking they had a deal with the Bears, but still got the man they wanted in Jimmy Smith.
Could have had: Muhammad Wilkerson, DE. Wilkerson had a solid first year with the Jets; however, with the Bears desperate need at OT, Carimi was almost a no-brainer.
Round 2 - Pick 62
Bears traded their second-round pick (62) and fourth-round pick (127) to the Redskins for pick 53.
Who they took: Stephen Paea, DT. The young DT showed a lot of promise, despite not playing for much of the year. The Bears are expecting big things out of Paea in 2012.
Could have had: Terrell McClain, DT. Had the Bears not moved up, there's a good chance McClain would have been their choice. He posted similar numbers to Paea.
Round 3 - Pick 93
Who they took: Chris Conte, S. It seemed like a reach at the time, but the Bears may have found their starting FS. Once again, not drafting Weddle costs the Bears another high draft pick.
Could have had: K.J. Wright, LB. Despite sharing time with Aaron Curry early in the year, Wright had a tremendous year with 65 tackles and a pair of sacks. He looks like a long-term fixture on the Seahawks' defense.
Round 5 - Pick 160
Who they took: Nathan Enderle, QB. Looks like another wasted pick on a developmental QB. What's confusing is when the Bears had a chance to see what they had in the young signal caller (Week 17 vs. Minnesota), they decided to stick with the veteran Josh McCown.
Could have had: Pernell McPhee, DE. For a part-time player, McPhee put up excellent numbers with 23 tackles and six sacks. Another big miss by Angelo.
Round 6 - Pick 195
Who they took: J.T. Thomas, LB. The Bears were very high on Thomas; unfortunately, "high" seems to be part of Thomas's vocabulary as well, as he was arrested earlier this year for possession of marijuana.
Could have had: Jacquian Williams, LB. Angelo selected Thomas over Williams, who was a key member of the Giants' special teams and started two games. Williams finished a very productive season with 78 tackles and a sack.
In many instances, it's still too early to tell. Carimi looked like he could be a long-term answer at RT, Paea showed promise and Conte has potential to stick at FS.
For the second year in a row, the Bears once again dropped the ball on their "developmental" QB and passed on productive players that could have helped the team.
Wide receiver still wasn't addressed, despite a glaring need for years.
The Bears appear to have whiffed on their last couple of picks and bypassed some very good players that have already been productive.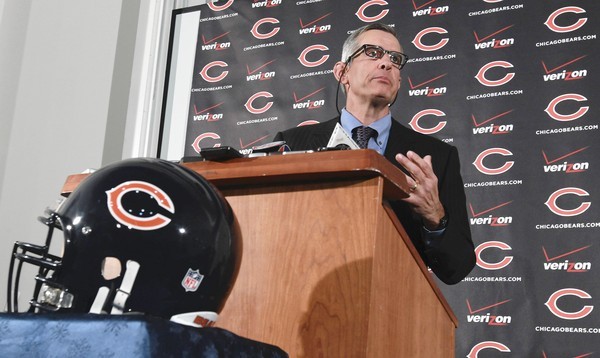 Looking back on the possibilities has been both enjoyable and excruciating at the same time.
On a yearly basis, the Bears have headed into the draft needing upgrades at wide receiver, offensive line and safety. Through poor drafting or neglect, the Bears are still not completely set at these positions.
Major Wright and Chris Conte look like they might be a solid combination, but would it really surprise anyone to see one of them injured or perform below expectations? It's almost expected at this point.
Looking back there are a couple draft misses that have caused a domino effect leading to today. Missing on Eric Weddle, not once, but twice, really set the organization back and forced multiple safety picks in future years that could have been spent elsewhere.
The 2008 Draft was specifically painful. With a glaring need at OL, the Bears went for a third tight end in Kellen Davis and passed on Carl Nicks. Here was a guy in Nicks, who was projected as a late first or early second-round pick, at a position of need, sitting there at the end of Round 5. Jerry...ugh.
Luckily, there is a new driver at the wheel in Phil Emery. While it may take a couple of years until we have a good feel for the success of his draft, the anticipation is very exciting to Bears fans. Finally getting a number one wide receiver in Brandon Marshall has given the fans hope. Now it's time for him to shine in the area where he is supposed to be the strongest, the NFL Draft.
I can't wait for Thursday.