7 Most Exciting Cleveland Browns Position Battles to Keep an Eye on This Summer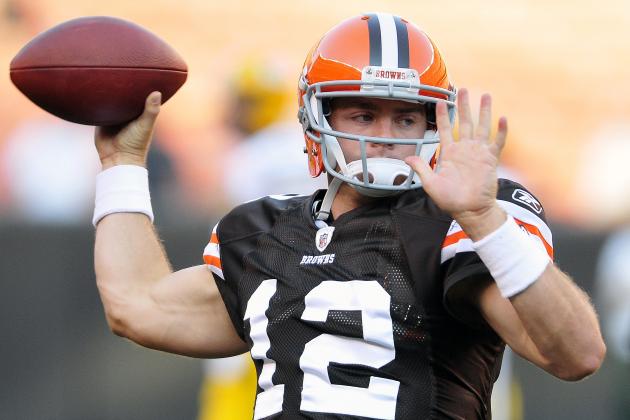 Jason Miller/Getty Images
Let's not forget that I won 45 college games. Bring it On!
The Cleveland Browns are entering 2012 with looming question marks in seven areas of the game. In case you are adding in your head—yes, that means almost every unit.
Even better, the boys in orange face (mathematically speaking) the third most difficult schedule of the upcoming NFL season. The result will be some heavy-duty pressure to get those positional questions answered in preseason so that the team can gird their loins (figuratively speaking, of course) for the season opener. Bring on the competition!
The good news is that question marks are better than cavernous vacuums, which is what Cleveland has dealt with the past several years.
The other good news is that the defense is in great shape. Right? Well…
Begin Slideshow

»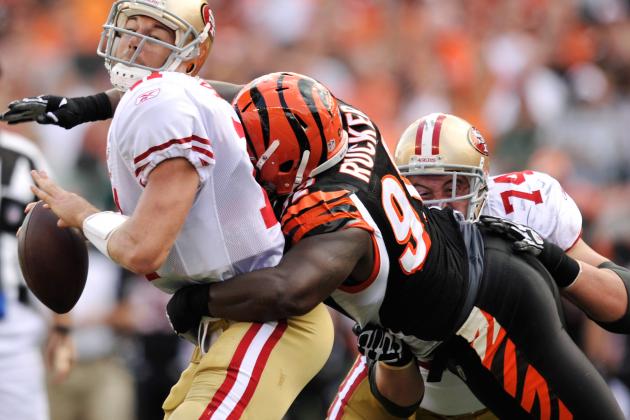 Jamie Sabau/Getty Images
Yep, we need him.
Two rookie tanks rolled into the AFC North when DEs Jabaal Sheard and Phil Taylor landed in Cleveland. Whenever one is tempted to despair over the Cleveland front office's mystically unproductive personnel strategies, it's wise to take a moment and reflect fondly upon these two.
Young Mr. Sheard wasted no time in establishing himself as a NFL keeper. He started all 16 games, made 55 tackles and eight and one-half sacks. He also batted down some passes. Although not without shortcomings, he will indisputably be starting on the left.
DT Phil Taylor racked up 59 tackles, four sacks and a forced fumble, while also starting every game.
Mike Holmgren and Tom Heckert may seem perplexingly myopic when it comes to offense, but it's hard to argue for a bigger pair of draft-choice gems. Check.
Fourth-year pro Ahtyba Rubin is an honest-to-goodness NFL Nose Tackle who also excels at 4-3 DT. These men do not grow on trees. And if they did, it would have to be Sequoias.
So the Browns are set, right? Well…they would be if the line stopped in the middle. RDE Jayme Mitchell struggled so badly that the team just released him. His backup was a tweener linebacker (Marcus Benard) who played in only four games.
Fortunately, Holmgren and Heckert (no doubt with some prompting from defensive coordinator Dick Jauron) stepped up to the plate in free agency and signed defensive ends Frostee Rucker and Juqua Parker. Between the two, they can defend both the run and the pass. Rucker will probably start on the right in place of the departed Mitchell, while Parker is penciled in behind Sheard.
The team also re-signed DT Brian Schaefering and are (on paper anyway) keeping Marcus Benard in behind Rucker at DE.
However, don't be surprised if the Browns don't also draft a few defensive linemen. Now that the New York Giants have beaten the Patriots twice in the Super Bowl on the backs of their ferocious D-line, it seems that the rest of the league is finally getting on board with the "lots of big, scary men shuffling in and out constantly" philosophy.
And that would create position battles for all of the reserve slots and, possibly, the right end.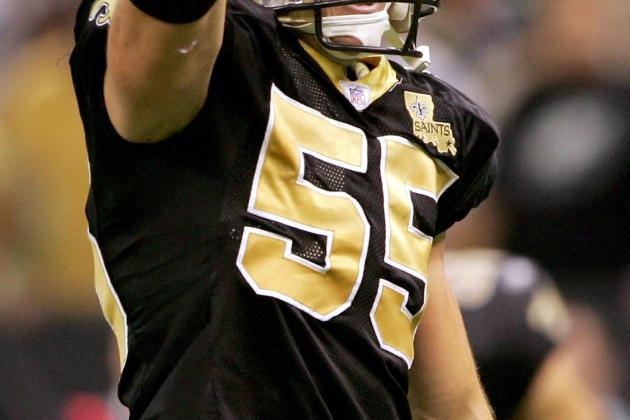 Doug Pensinger/Getty Images
Still on the field?
But linebacker is good, right? Sort of. If you want to take the ostrich view.
Right this minute Cleveland has a legitimate star at MLB in D'Qwell Jackson. And then there are Chris Gocong and Scott Fujita. So, all is well in the second level. Well…
Yes, Mr. Gocong started all 16 games in 2011, tackled 70 people, sacked three and one-half quarterbacks and knocked down three passes. Cool. Well, the aforementioned Jackson also sacked three and one-half quarterbacks. But he tackled 158 people. Not technically, but you know what I mean.
So you see there is just a tad bit of a drop-off between the star and the "other guy."
But Scott Fujita is solid. I mean, he's a Pro Bowler and a Super Bowl winner after all.
See, there's the problem. Fujita is possibly going to receive a knock on the door from the NFL's disciplinary system any second now for his purported involvement in the Saints' bounty program. Great.
There's no official word yet on suspensions or fines, but why do you think that the Saints have been not-so-quietly signing defensive free agents left and right? Where do you think Drew Brees' long-term contract went? New Orleans is stocking up in anticipation of incoming NFL discipline. Of course, that is just deductive reasoning on my part.
So, Browns' fans should not expect to see Mr. Fujita on the field for a while.
Kaluka Maiava might be a starter, if pressed and if he can stay healthy. But no one really knows how productive he will be.
So, keep an eye on those outside linebacker spots come June. It could be more interesting than expected—or hoped.
Chris Graythen/Getty Images
A four? Seriously?
Oh, come on! This is the secondary that stood second in the NFL in pass defense last year! What could possibly go wrong?
Well…Mike Adams left the team. Usama Young used to play in New Orleans (see previous slide).
T.J. Ward will start at strong safety and Young will be set at free safety—as long as he's playing. But if Ward were to be injured or Young were to be suspended, things start to get a bit shaky.
Yes, Eric Hagg played quite well for a rookie. But he was a reserve rookie going into the season. Rumors abound that veteran leader Sheldon Brown will move to safety if needed. That might be a good idea, but it's not a fait accompli.
Brown was playing corner, but with Cleveland re-signing Dmitri Patterson the lineup might change—or change according to situation. Brown is older. Patterson was the nickelback. But if Dick Jauron wants to push Patterson forward to starting RCB, Brown might end up floating.
Sophomore CB Buster Skrine showed some promise in 2011 and even James Dockery probably belongs on the team. So, corner has more depth than safety. Perhaps a safety or two in the draft? Just a thought.
Overall, this secondary has the most promise per position not only on the Browns, but possibly in the league. Joe Haden is one of the best young corners in the league. No "but." No "well…" He just is.
But what if the Browns draft CB Morris Claiborne? Wouldn't that throw the above secondary diagram into complete and total disarray? Well, yes it would.
Joe Robbins/Getty Images
Sign him up!
If the Minnesota Vikings whiff (there really would be no other word for it) on Tackle Ryan Kalil with the third pick in the upcoming draft, then the Browns need to seriously consider adding him into their decisional mix along with RB Trent Richardson and WR Justin Blackmon.
Or, Cleveland could trade down and use one of the picks on Guard David DeCastro out of Stanford. Hey, he made Andrew Luck look pretty good!
I admit to being uncommonly partial to the big guys up front, but the Browns truly could do worse than anchor the right side of the line. Anchor? Heck—how about just plug one of them in for the next 10 years! Colt McCoy would be ecstatic. He also might live through the year.
But, suppose that Holmgren and Heckert do opt for the offensive weapon over the offensive staple? Then it's open season for the positions of right guard and right tackle.
Bottom line—Cleveland had better hope that there is a battle for these spots. It seems that management is currently hoping Shawn Lauvao and Oniel Cousins can handle the starting jobs. I'd give that theory a resounding "maybe."
The Browns had no strength here in 2011, and they need the best that they can manage to hire and/or coach up between now and August. Throw them all in the ring and pick the two who look like they might be able to hold their ground. That would be new, different and refreshing.
The safe favorite—if there is such a thing—in the 2012 draft is probably Trent Richardson. That is, if you overlook that pesky "minor" knee surgery and the perils of putting so much money into the running back basket.
If Richardson holds up an orange-and-brown jersey on April 26, proceed to the next slide.
But if Cleveland waits until lower rounds to snag a runner, then it just might be "game on" in the running back corps come summer.
Assuming that the Browns land a rookie runner somewhere, there would be four (at least) rushers heading into camp. It's still a 53-man roster right? Four runners is at least one too many. Uh-oh.
In 2011, unhealthy Montario Hardesty and Brandon Jackson plus late addition Chris Ogbonnaya totaled 600 rushing yards and one touchdown. Perhaps this is one of the reasons that McCoy didn't have time to throw the football? Perhaps it is.
After two injury-riddled years, one can't be too optimistic about Hardesty. And admirable as Ogbonnaya's pluck may be—no one is going to confuse him with Frank Gore. McCoy's former Texas teammate should earn a change-up spot on the roster, but nobody really expects him to steal the starting job.
So that leaves a presumably healthy Brandon Jackson and the mystery "new guy." Jackson averaged 3.8 yards per carry in Green Bay. He scored four TDs in 13 games as a starter in 2010. He also had 43 receptions. While those numbers won't get him to Hawaii, they will probably get him into a position battle in camp in 2012.
It's not a foregone conclusion that the Browns' main rusher will be a rookie—particularly in Jackson's mind.
Christian Petersen/Getty Images
Yes! More of this, please.
Let's give Greg Little the benefit of the doubt and assume he will continue to improve and will be either the first or second WR, depending upon whether the team drafts a star and whether said star performs like a star in camp. With 61 receptions for 700 yards in a dismal offensive season,Little has a shot at hanging on to No. 1. Of course, he'll have to work on that dropping-the-ball thing.
If Holmgren and Heckert have any sense at all, there will be multiple rookie WRs on the premises. The highest-drafted WR will then take the other of the top two slots. Cleveland will almost certainly draft either a potential star at WR or a potential star at RB. The other position will then fill up in camp with a lot of wanna-bes.
Mohamed Massaquoi has to know that his hold on the roster is slight at best. If he doesn't come storming out of the gate with new-found speed or at least separation ability, it will be over.
I know this is sacrilege, but Joshua Cribbs simply did not get it done in either of his jobs last season. He absolutely had great moments, but that return-man-as-wide-receiver combo rarely works. Cleveland needs to put him back on special teams and hope that he will return to something approaching 2010 form.
Then there will be a complete logjam among Jordan Norwood, Carlton Mitchell and the aforementioned plethora of young ball catchers.
My money is on Norwood winning the No. 3 slot. We've seen what Massaquoi can do, and it does not seem enough.
None of these mini-battles will matter if the offensive line isn't filled out, but the competition should be fast and furious.
*For the non-Irish amongst you, this is a free-for-all brawl involving as many participants as possible. It's also a Fair in County Dublin, famous for…well, you get it.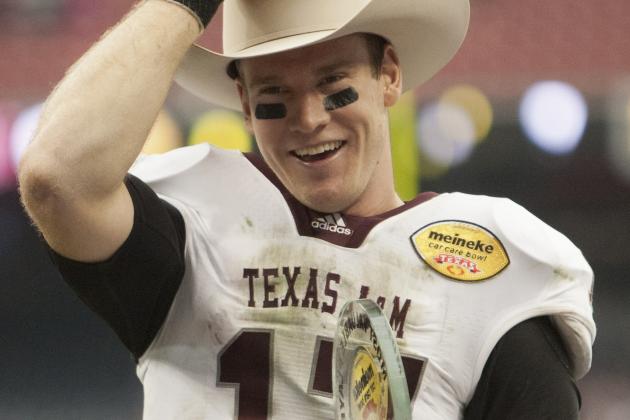 Bob Levey/Getty Images
Um, don't the Browns have one of these already?
This is, of course, the crux of the matter. Will Colt McCoy enter July as the starter? Will he enter May as the starter? Will he have competition besides Seneca Wallace? Well…
Even before the 2011 season ended, speculation about McCoy's future status with the Browns (or even without the Browns) had absolutely run amok. The latest dig at Colt's self-esteem is that Cleveland is going to trade draft picks for Rams' QB Sam Bradford. Sadly, the Browns' front office behavior doesn't make this sound completely outlandish.
Will that competition be of the breathing-down-your-neck-immediately variety in Ryan Tannehill or Brandon Weeden?
Or will it be of the holding-the-clipboard-until-we-can-get-Matt-Barkley flavor?
Or will it be Kirk Cousins or Brock Osweiler and "we'll see what they've got?"
Worst of all, could Mike Holmgren be seriously considering letting Wallace actually vie for the starting lineup? (Say it ain't so!)
The only thing we know for sure is that two or more signal callers are going to make McCoy's incipient misery their mission in life. This summer, Cleveland's going to be a white-hot quarterback crucible. Will this trail-by-fire result in the next Matt Hasselbeck? Maybe.
Even if it does, will that be enough to drag the Cleveland Browns into legitimacy as an offense? While it's incredibly tempting to be cynical and doubt it, the reality is that it could. But who that emerging offensive captain will be could not possibly be more uncertain.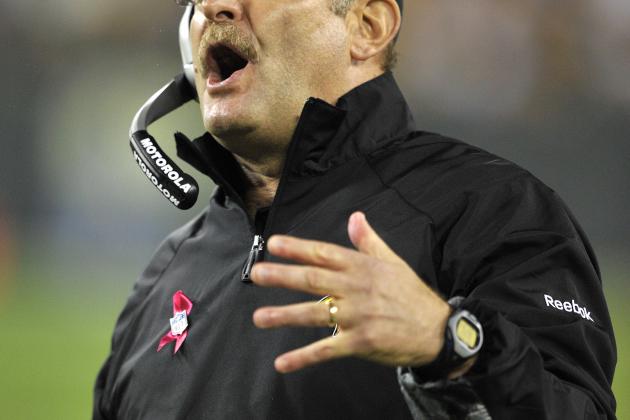 Jim Prisching/Getty Images
Noooo! Pass it!
If you think that position battles are confined to players, you have not been paying attention to the Browns' offseason coaching moves.
One move in particular. Cleveland hired Brad Childress to be their new, what? Offensive coordinator? QB tutor? Pat Shurmur babysitter? What will be Childress' true portfolio?
Frankly, it is probably to turn whoever ends up under center into a franchise quarterback—in the next eight months. Good luck with that.
Shurmur and Childress coached together for seven years in Philly under Andy Reid. Andy Reid and Mike Holmgren are best buds. That's how Shurmur got the job in the first place. Are we seeing a pattern?
But in Philadelphia, Shurmur was the quarterback's coach and Childress was the offensive coordinator. The hierarchy is a bit different this time around.
Pat Shurmur is on record as saying that he will be calling the plays and Childress will be up in the booth. While that's odd, one must remember that this was the arrangement that Childress had when he worked with Reid, so he is used to not calling the plays.
But Shurmur also said that they would "collaborate" on play-calling. Um, how, exactly, would that work? Would they take turns? Would they alternate possessions? Would they confab during the 25 seconds before the snap? And whose turn is it to watch the clock? Yeah, that's gonna work.
Is this an addition to the team? Or a bandaid? Did I say I wasn't going to be cynical? Well…