2012 NFL Draft: Why the Cleveland Browns Should Trade Down, Take David DeCastro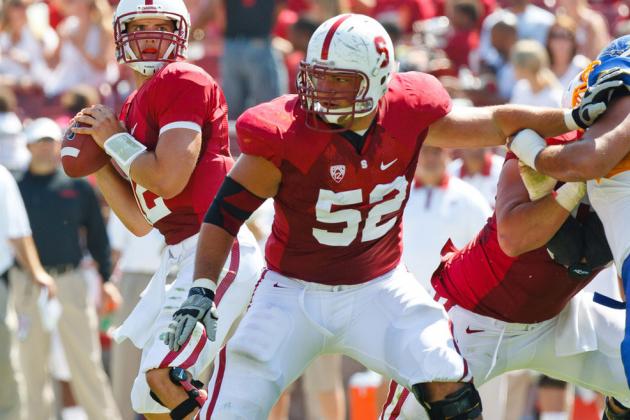 The Browns won't land Luck, but his bodyguard would help.
"You can't create players. You have to draft the board based on what your options are. As soon as you start taking players truly based on need, if they can't fill that need, then you have to come back the next year or the next pick and you're drafting again for the same spot and you haven't filled anything other than putting a name on a piece of cardboard and putting it up on the depth chart."—Bill Belichick, on the NFL Draft

Rumors in recent weeks have run rampant, as the Browns have entertained various draft trading and free agent scenarios in an offseason where the expectation is only seven wins, but they really need to win those seven games. That is, if Heckert & Co. plan to be drafting this time in 2013.

Let's face it, the Cleveland Browns have too many needs to name. The 2012 NFL Draft features several players near the top with the potential to meet one of those needs.

Justin Blackmon inspires comparisons to A.J. Green and Julio Jones, while others trumpet Trent Richardson as the best prospect since Adrian Peterson. Matt Kalil and Riley Reiff project as potential starters on the Browns' offensive line.

Stanford guard David DeCastro may be the best lineman in the draft. An offensive line featuring DeCastro, Thomas and Alex Mack could essentially impose its will on an entire flank of the opposing defense.

Additionally, if the Browns could score a second or third round pick this season, they could potentially plug-and-play five or six rookies: just the remedy for a team that needs to establish continuity and legitimacy.

You can follow me on Twitter: @StepanekButton
Begin Slideshow

»
If the Browns just took David DeCastro at fourth, I would applaud their chutzpah and approve of the pick, though fundamentally the Browns could milk a few draft picks out of DeCastro's status as a guard.

To maximize the value of their position, the Browns should realistically try to find a partner with whom they can trade down.

DeCastro projects as an immediate starter on most NFL offensive lines.

At 6'5" and 315 pounds, with a 4.56 shuttle and 34 repetitions on the bench press, David DeCastro's strength and quickness combine to make him an ideal candidate for the Browns as they try to establish a dominant offensive line.

Whether forming the NFL's nastiest left flank between center Alex Mack and left tackle Joe Thomas, or establishing much-needed legitimacy on the right side, the Browns could use DeCastro as badly as any other player in the draft.

As one of the nation's most scrutinized offensive linemen, DeCastro drew universal praise as one of the nation's premier football players.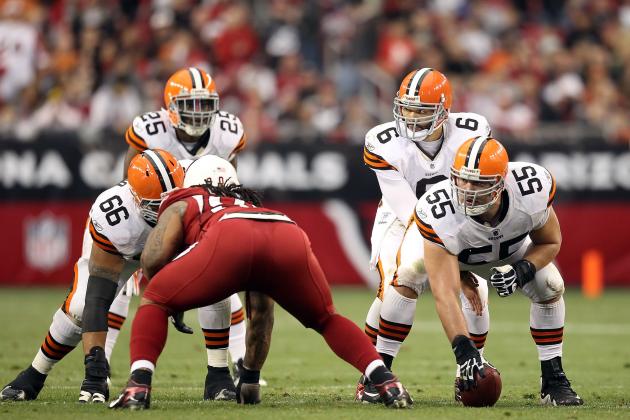 Christian Petersen/Getty Images

We've beaten it into the ground again and again: consistently good NFL teams almost exclusively feature experienced, quality guards and centers.

Examples abound from 2011, alone: Logan Mankins and Brian Waters in New England, Chris Snee and David Diehl in New York or Jahri Evans and Carl Nicks in New Orleans.

Last season, as is often the case, teams with quality guards won games. Plain and simple.

While left tackle justifiably receives a great deal of press attention, the AFC North and the NFL are still often won and lost in the trenches.

While a quality guard like DeCastro won't guarantee the Browns an AFC North crown, failing to establish a foundation in the middle of the offensive line will guarantee that the Browns won't win that AFC North crown.
The Browns' fourth overall pick figures to collect some 1,800 "draft points," in trade value. If a team like St. Louis, Seattle or Carolina trades up to the Browns' position, it will likely result from an overwhelming desire for one specific player.

If GM Tom Heckert and the front office can channel that desperation into second and third round picks this season, the Browns can add some serious firepower to their lineup and the draft point rubric goes out the window.

With additional picks in the second and third rounds, the Browns would have the opportunity to add seven players in the first 100 selections.

If the Browns add two offensive linemen, two running backs, a linebacker and a receiver in the first 100 picks, their fans will be ecstatic.

Players like Florida running back Chris Rainey or Nebraska linebacker Lavonte David could make all the difference in the second or third round.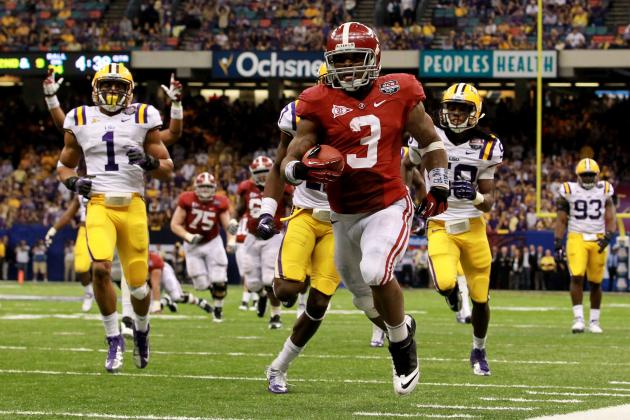 Ronald Martinez/Getty Images

With three picks in the first 37, the Browns could take a running back or receiver with their first selection and still more than adequately address their offensive line.

Every season, average running backs and receivers get to the Pro Bowl behind an outstanding offensive line.

Conversely, no matter how great the ball carrier, they'll never improve the play of the linemen.

While fans and pundits alike in Pittsburgh and Baltimore would invariably scoff at the Browns pinning their hopes on a wide receiver or a running back, drafting a guard in the first half of the first round and a tackle in the first half of the second round would considerably threaten rival defenses.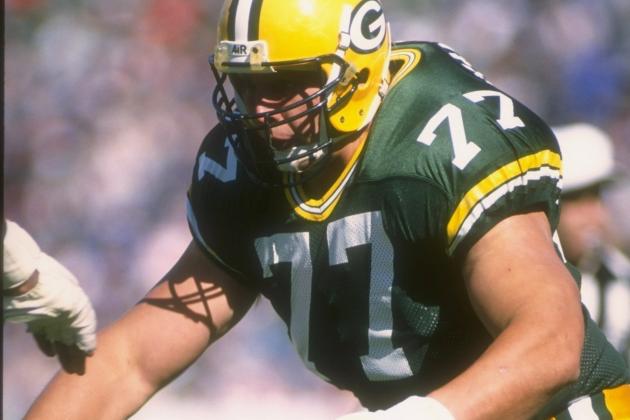 Jonathan Daniel/Getty Images
Tony Mandarich: sometimes it doesn't pan out.
DeCastro could bust. The Packers thought they had made a sound football choice when they selected Michigan State guard Tony Mandarich second overall in 1989, over names like Deion Sanders and Barry Sanders.

Mandarich looked like the sure thing: at 305 pounds he ran the 40 yard dash in a freakish 4.65 seconds and bench-pressed an unworldly 39 reps.

However, the likelihood of DeCastro turning out to be the next Tony Mandarich is far smaller than the possibility that Justin Blackmon draws comparisons to Braylon Edwards or Trent Richardson to Ricky Williams.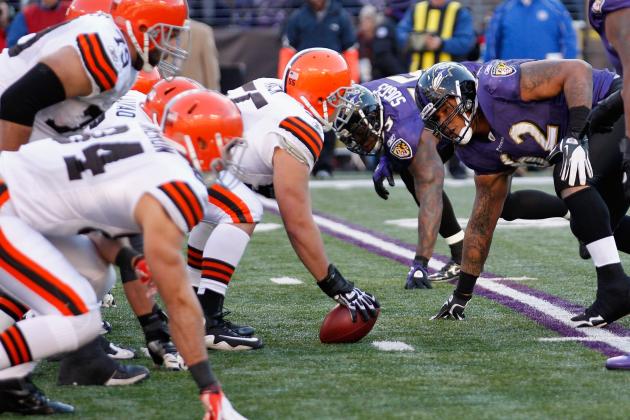 Rob Carr/Getty Images

Should the Browns trade down and land David DeCastro and score a second and third-round pick along the way, they will enter the season with plenty of new starters.

The difference will be that the Browns enter 2012 under this scenario with sure-fire plug-and-play starters at one or two more positions, while guaranteeing the Browns land a quality guard—no easy task.

If the Browns manage to upgrade at guard, receiver, right tackle, running back and outside linebacker within the first three rounds, they will establish a substantial nucleus from which to build for the future.

While winning the requisite seven games will challenge the 2012 Cleveland Browns to their core, the 2013 and 2014 Cleveland Browns could win substantially more contests as an obvious direct result of sound drafting in 2010, 2011 and 2012.