Nike Elite 51 NFL Uniforms 2012: Breaking Down Every Team's Jersey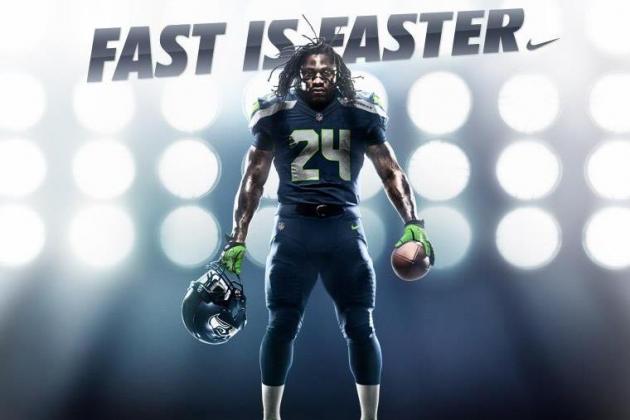 Image via Nike
The unveiling is here!
Nike has finally released its uniform designs for the NFL season, debuting the Nike Elite 51 NFL uniforms. The Elite 51 jerseys are are designed to be lightweight, body-contoured and breathable.
You can learn more about the specifics of the Elite 51 uniforms here.
And while that's all fine and dandy, I know what you are wondering: Does my team have a new uniform design? Did they tweak at all or are things staying the same?
Let's take a look at Nike's new uniforms, noting what works, what doesn't and what Nike smartly left alone.
Begin Slideshow

»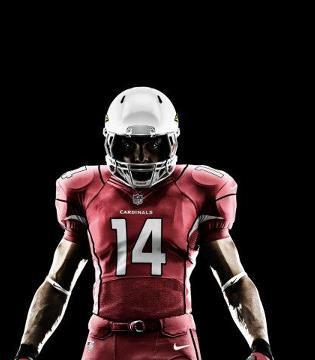 Image via Nike
The Cardinals uniform doesn't look much different, and that's smart—they were already pretty sleek to begin with.
Nike's tweaks made the unis look that much sharper. And I'm loving the all-red look.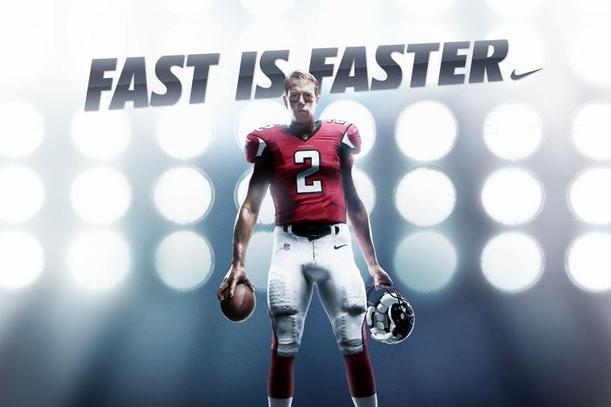 Image via Nike
Again, Nike didn't do much to this design, and for good reason—it's already pretty cool, and already a modern look.
Not much needed updating here.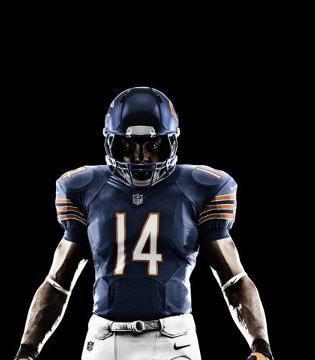 Image via Nike
Here's a shocker—the Bears didn't want a major update to the classic uniforms they already sport.
Nor should they want one.
The one difference not shown here is the "GSH" initials that the team wears on the jersey sleeves in honor of George Halas have been made larger.
A nice touch.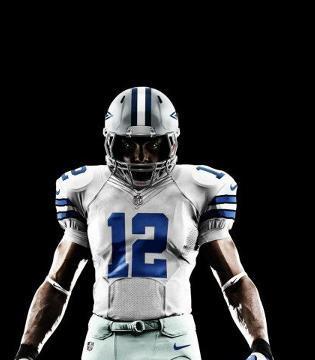 Image via Nike
Well, the pants might be a little lighter with a tinge more green sprinkled in, but...yeah, these are much are basically the same style as the Cowboys have been rocking.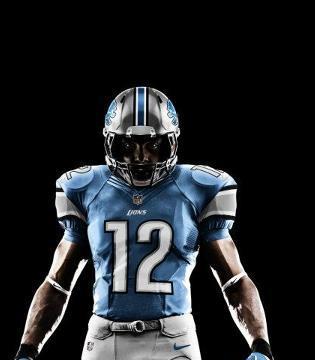 Image via Nike
Unless my eyes deceive me, it appears Nike went with a slightly lighter blue for these jerseys, which makes them really pop in my opinion.
Beyond that, the design wasn't altered much.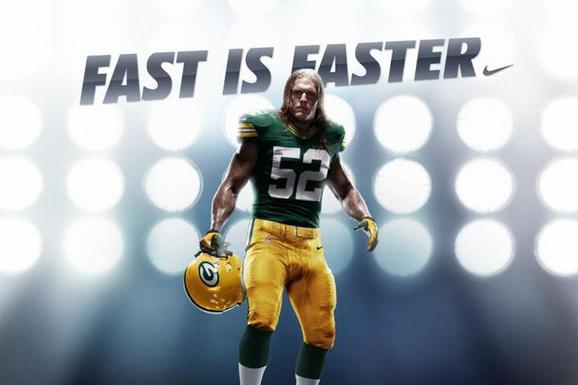 Image via Nike
You weren't expecting any changes here, were you?
Image via Nike
Another classic jersey that already had recent tweaks added and didn't need much in terms of an update from Nike.
Thus far, I think the biggest changes we've seen is the swoosh that now appears on all of these unis.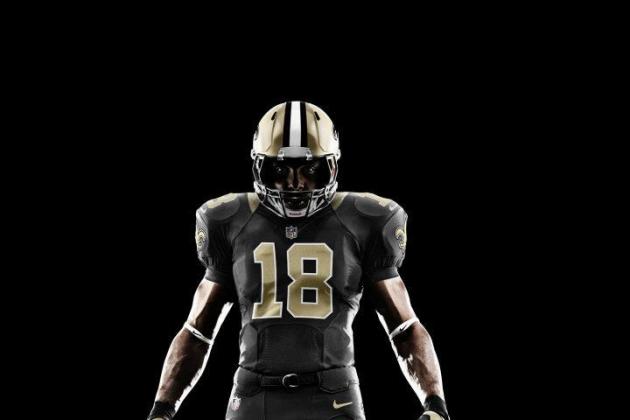 Image via Nike
The Saints should constantly rock the all-black uniforms. The tan pants with black stripe look is okay, but this all black look is straight-up menacing.
Not a new look by any means, but maybe Nike can convince them to ditch the home tan-pants on a full-time basis and go all-black, all-the-time instead.
Doubtful, but a thought.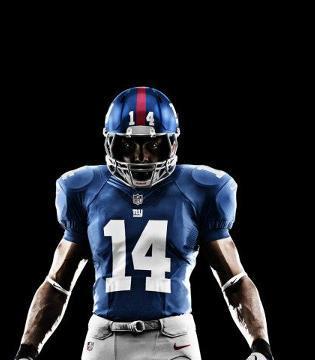 Image via Nike
The NFL champs didn't need a makeover.
And wouldn't you know it, they didn't get one.
Image via Nike
There was a part of me that was really hoping the Eagles would go back to the kelly green color and old winged-helmets they used to rock, perhaps with an updated, Nike twist.
Plus—and it could just be the lighting of the picture—but this seems like a slightly different green then the forest green the Eagles have been wearing. Not sure I'm feeling that.
But other than that, these aren't a major departure, and are still pretty cool.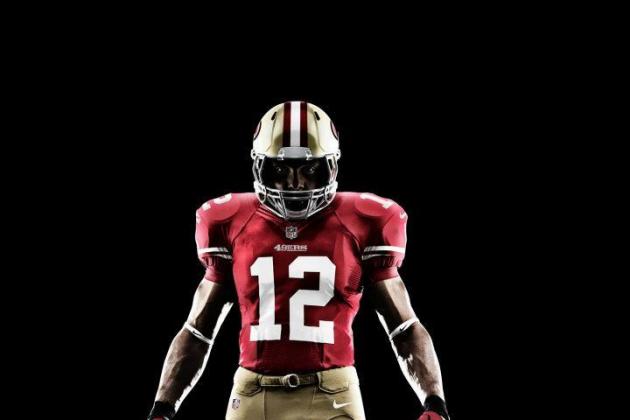 Image via Nike
This is such a classic look. The only discernible difference, and it is a slight one, is that the brightness of the red seems to have been ever-so-slightly dampened.
It gives it a cleaner, more updated look. Subtle, but nice.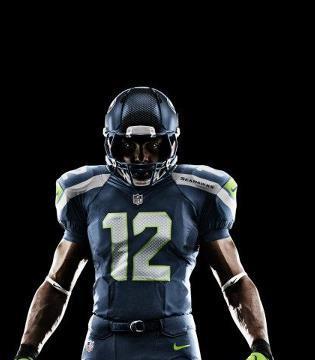 Image via Nike
Finally—something new.
Nike and the Seahawks first decided they needed more lime green in the unis, highlighting the numbers with that color.
I could live without that, but I do think the new stripes around the shoulder pad area are sweet. The new stripe is solid as well, though again, I'm not sure how I feel about all of that extra lime green.
It's an interesting look, to say the least, and fitting that it would be a Northwest team willing to work with Nike on a re-design.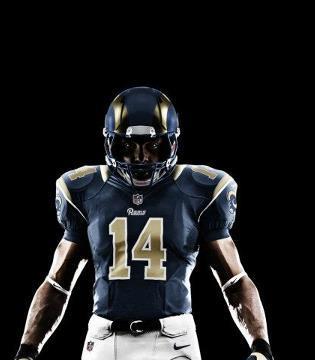 Image via Nike
These look cleaner than past iterations, namely because the stripe around the shoulder pads was made thinner.
I wish Nike and the Rams would have gone with navy blue pants and a tan stripe rather than these white pants or the tan pants they sometimes wear, but that's a personal preference.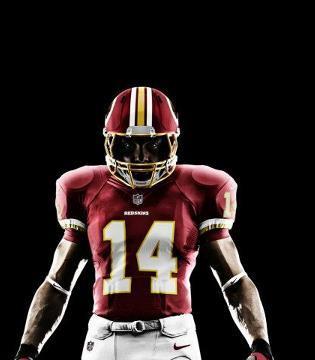 Image via Nike
First of all, I'm glad Nike decided to display the white home pants rather than those hideous yellow ones.
Beyond that, not much new to see here. The classic look with its sleek, modern update has been replicated by Nike.
Image via Nike
At least they didn't go back to the old, ugly peach-colored uniforms.
Yuck.
Plus, these lighter pants are preferable to the charcoal (tan?) pants the team often sports. This is a good, clean look.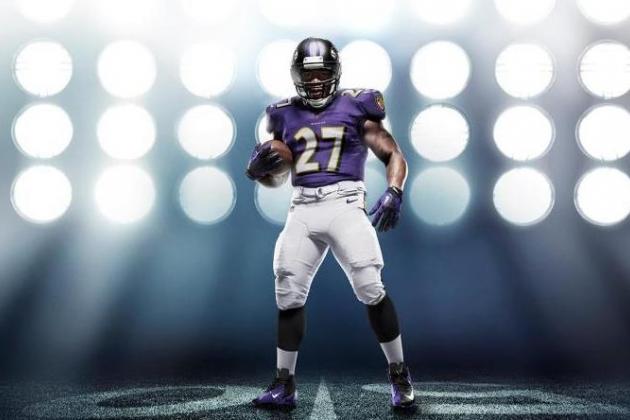 Image via Nike
Not much different to see here.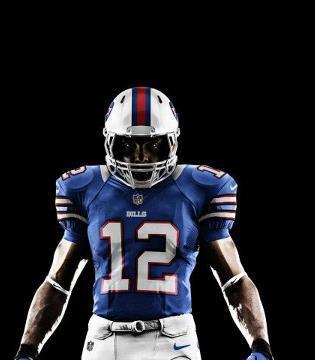 Image via Nike
I love that the Bills have embraced the old-school look, but given it a modern twist.
I think these are my favorite NFL uniforms.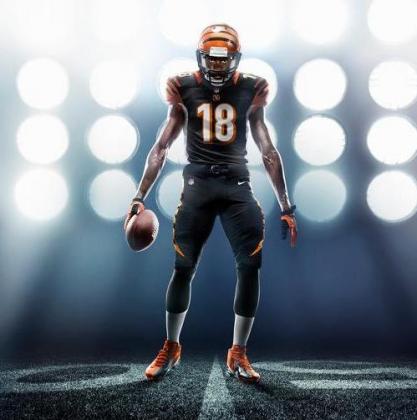 Image via Nike
Loving the all-black pants, and though it isn't obvious here, the tiger-stripe down the side of the pants has been slightly tweaked with more white and is really hot as well.
The Bengals have some of the coolest jerseys in the NFL, so its only appropriate they should get a little touch here and there to keep themselves looking fresh.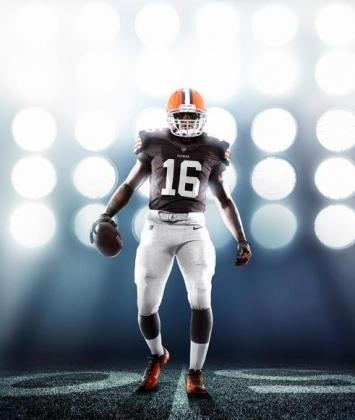 Image via Nike
Were you expecting something fancy?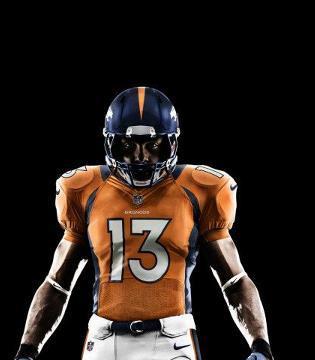 Image via Nike
These orange unis that the Broncos occasionally wear are so much cooler than the navy blue ones they sport. They should be the defaults.
Oh, and imagining Peyton Manning in this uniform must be pretty damn exciting for Denver fans right about now.
Image via Nike
Texans' fans must be pretty depressed right about now imagining Mario Williams in a Bills' jersey rather than this one.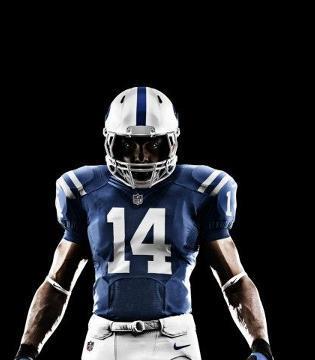 Image via Nike
Unlike the Colts' roster, the team's uniforms will remain the same heading into next season.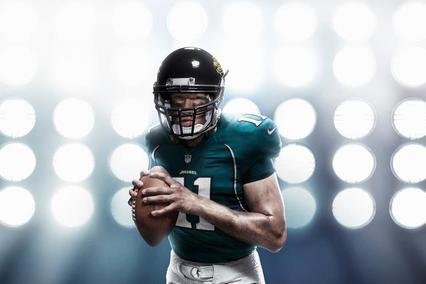 Image via Nike
Blaine Gabbert kind of looks like he has that "deer in the headlights" look even here, doesn't he?
Perhaps a bit more teal in the color, but other than that, not much difference here.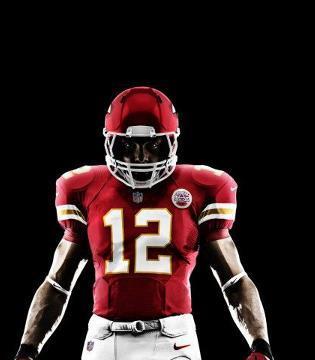 Image via Nike
A classic design, this one received very miniscule tweaks, with sleeker, less gaudy stripes on the sleeves and (not pictured here) up the side of the leg.
If it ain't broke, don't redesign it.
Image via Nike
There are a lot of places the Dolphins could use a new look—the front office, the roster, etc.—and the team's uniform is far down that list.
At least they got something right.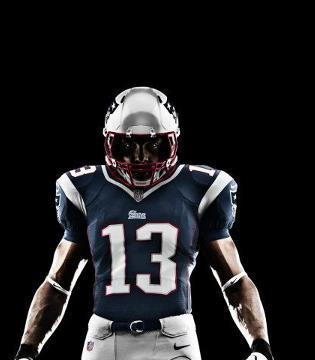 Image via Nike
I was really hoping they would get rid of that logo that reminds me of a love child between Captain America and Captain Planet.
Oh well. These will have to do.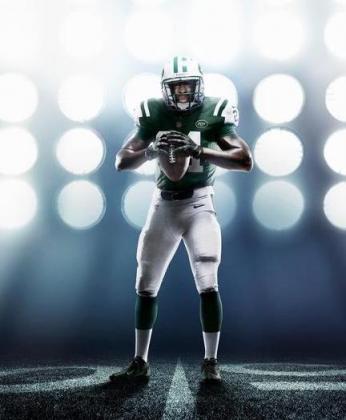 Image via Nike
I was hoping they would make a picture of Tim Tebow kneeling in prayer the new logo, but I guess I can understand sticking with the whole "Jets" theme.
I've always liked these uniforms, so I'm glad to see they kept them the same.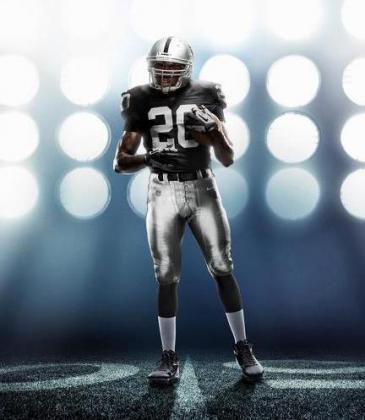 Image via Nike
No need to update these bad boys—the Silver and Black is timeless.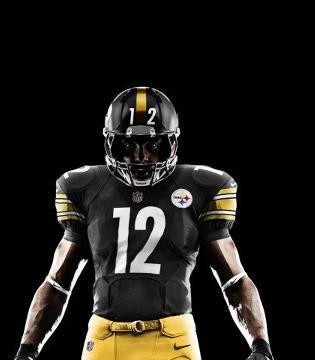 Image via Nike
They're the Pittsburgh Steelers, not the Pittsburgh Fashionitas.
If you were expecting a change, you're missing the point.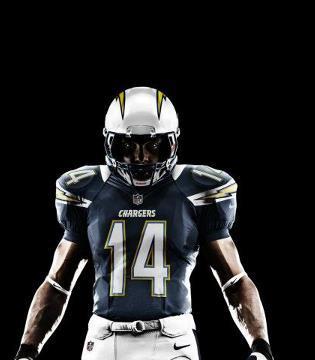 Image via Nike
While this uni is cool, can we all agree that the Chargers should make the powder-blue uniform its standard jersey?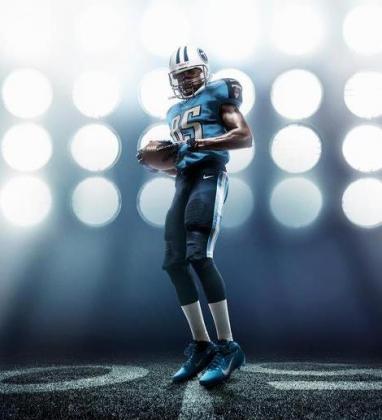 Image via Nike
Unless it is just the brightness of the image, this looks like a brighter blue the Titans have gone with, a sharp look if I do say so myself.
This is a sharp look, one way or another. Chris Johnson will look fly whilst flying down the field in these colors.
Hit me up on Twitter—my tweets will remain Linsane in tribute.