2012 NFL Draft: Colts Would Be Crazy to Take Robert Griffin III over Andrew Luck
April 2, 2012

Joe Robbins/Getty Images
Since the beginning of the of the scouting process for the 2012 NFL Draft, it has been a foregone conclusion that the Indianapolis Colts would select Andrew Luck with the first-overall pick.
If you believe Michael Wilbon, that conclusion simply isn't true.
Per the Washington Post, Wilbon was on Tony Kornheiser's ESPN 980 radio show ranting about the Washington Redskins when he dropped this bomb:
By the way, I will tell you this. It's not like I'm following this closely, but I had the occasion over the weekend to talk to a couple of people who have intimate knowledge of what the Colts are thinking. And you and I have talked very briefly on the show about are they still considering RGIII? Tony, I'm told they are.

And I'm told that the main reason they are is because there are people in the organization and people they consult — and now you consult all these different people about something as important as a number one overall draft pick, a maybe once in a generation pick. And they are of the opinion, some people that are having input into this pick, that RGIII is better in the pocket.

They have stats, they have analysis, they have information that says to them it's Luck who is faster to leave the pocket and not be as good in the pocket. And RGIII is better in the pocket, he's a better pocket passer, better arm. And that they are seriously still considering RGIII.
You've got to trust that Wilbon has impeccable sources, here. He didn't get to where he is by blowing a bunch of hot air around.
I can't believe that Jim Irsay has been tempted by the shiny object that is RG3's potential.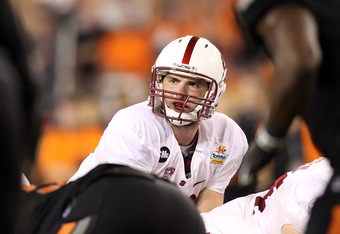 Christian Petersen/Getty Images
Irsay has the chance to transition seamlessly into another golden era of quarterbacking excellence with Luck, the most sure thing at quarterback coming out of college since...well, since Peyton Manning in 1998. 
I'm not trying to knock Griffin. I do think he has the potential to become one of the all-time greats. 
So did JaMarcus Russell.
Luck would have to devastate himself in an injury to not at least give you 10 good years of solid production. From what I've watched of the young man, he will do more than that.
This kind of thing happens every year in the media. Players like Brock Osweiler go out and have phenomenal pro days, and people are so restless for something big to happen that they begin to live in a fantasy world where tape doesn't exist.
Luck proved over a period of three years that he's capable or running a pro-style offense. 
Per the Mercury News, he has also been known to run a Manning-esque, no-huddle offense in which he calls his own plays—something many pro quarterbacks aren't given license to do.
He has impressed coaches and executives, who say he's a safer pick.
Per Yahoo! Sports' Jason Cole:
Luck is just a safer pick, one AFC executive said. They are both productive, high-quality kids from great families. You can't go wrong with either one. But if you're asking me about whom to take, I have to go with Luck, especially if you're Indianapolis after what they just had with [Peyton] Manning and the awful season they went through.

Get a guy who you know can play right away. At worst, Luck is going to be a good player who can come in and run the offense from Day 1. … Griffin might end up being better, no question. He's an amazing athlete. But the learning curve with him is going to be a little longer because of the things he did in college.
When you have the first pick of the draft and you need a franchise quarterback, you take the sure thing. 
The Colts need to take Andrew Luck.