2012 B/R NFL Community Mock Draft: Washington Redskins GM Explains His Picks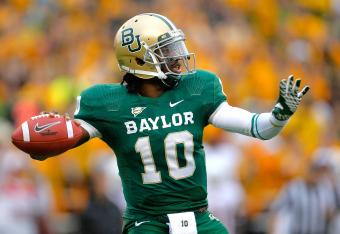 The Redskins drafted their franchise quarterback in Robert Griffin III with the second overall pick.
Sarah Glenn/Getty Images
I served as the Washington Redskins' general manager for the first-ever Bleacher Report NFL Community Mock Draft, a full seven-round mock draft in which each of the NFL's 32 teams was represented by a member of Bleacher Report's team of NFL featured columnists.
The Washington Redskins were an interesting team to draft for, given that they only have one pick in the first two rounds following their blockbuster trade up to the second overall selection. Their first draft choice is obvious, but the pick is still explained along with the rest of the Redskins' selections in this seven-round mock draft.
Round 1, Pick 2: Robert Griffin III, QB, Baylor
The Redskins traded their second-round draft pick and first-round draft picks in 2013 and 2014 in order to move up four spots from No. 6 to No. 2 overall in the first round. They did this for the chance to draft a franchise quarterback prospect in Baylor's Robert Griffin III.
The Redskins have not had a true franchise quarterback to lead their team for decades, but RG3 can be that player. Griffin is a tremendous talent with a terrific arm, the ability to throw accurately downfield, terrific pocket presence and fantastic athletic ability.
The Redskins paid a steep price to move up and select Griffin, but if he ends up being the star quarterback that he has the talent to be, the price is worth the trade.
Round 3, Pick 69 was traded to the Miami Dolphins in exchange for Round 3, Pick 72 and and Round 7, Pick 215.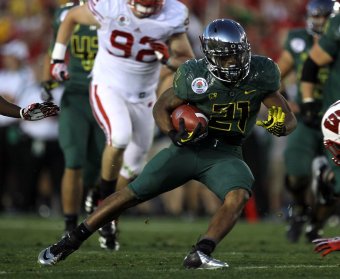 Stephen Dunn/Getty Images
Round 3, Pick 72: LaMichael James, RB, Oregon
The Redskins made a move down three spots to pick up an extra seventh-round draft pick to work with, as they were making a tough decision between a few choices still on the board. When the Redskins did pick at No. 72 overall, the Redskins made a decision to pick for value over need and selected Oregon running back LaMichael James.
While the Redskins had more pressing needs to address in the secondary, inside linebacker and the offensive line, James's value was too good to pass up here. James, who rates as my 32nd overall prospect in the 2012 NFL draft, was a huge steal in the third round, and the best player available.
James has terrific speed, and could be a difference-maker at the next level. By adding him to the backfield along with Griffin, the Redskins' offense becomes much more explosive.
In the interest of drafting to fill greater needs, Vanderbilt cornerback Casey Hayward would have made sense, while Clemson tight end Dwayne Allen would have made sense in the idea of drafting for value over need.
Round 4, Pick 109 and Round 7, Pick 213 were traded to the New England Patriots in exchange for Round 4, Pick 101.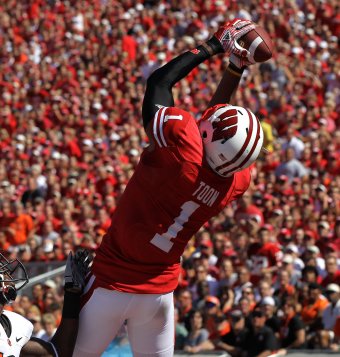 Jonathan Daniel/Getty Images
Round 4, Pick 101: Shaun Prater, CB, Iowa
Round 4, Pick 102: Nick Toon, WR, Wisconsin
Two players who the Redskins began keeping an eye on following their third-round selection were Iowa cornerback Shaun Prater and Wisconsin wide receiver Nick Toon, hoping that at least one of the two players would fall into the fourth round.
When both players fell into Round 4, the Redskins made a decision to actively work their way up the draft board, even though they held both the 102nd and 109th overall selections.
The Redskins found a trading partner in New England Patriots general manager Erik Frenz, and with both Prater and Toon still available at No. 101 overall, the Redskins moved up to the pick and took the players with consecutive selections.
The Redskins needed to draft a cornerback, and Prater was by far and away the best cornerback still available on the draft board. Prater is not a star at the position, but he is a smooth, physical and well-rounded cornerback, and will be able to make a contribution in the Redskins' defensive backfield.
Meanwhile, the Redskins no longer had a need at the wide receiver position, but Toon's value was too good to pass up in the fourth round, a point with which Matthew Brown, a featured columnist for the Redskins, agreed. Toon, who ranks as the 41st overall prospect in the NFL draft class, adds another impact player to the Redskins offense, as their offense continues to become more explosive.
Round 5, Pick 141: Tony Bergstrom, OT/G, Utah
The Redskins needed to address the offensive line at some point in this draft, and selected the best offensive lineman available here in Utah's Tony Bergstrom. Bergstrom is unlikely to end up as a starter for the Redskins, but he can provide much-needed depth at both guard and right tackle.
Bergstrom was good value in Round 5, and at this point, it made sense for the Redskins to focus on a need position that they had neglected up to this round of the draft.
Round 6, Pick 173 (from Minnesota Vikings): Jerry Franklin, ILB, Arkansas
This pick was one of two picks acquired in July 2011 in exchange for quarterback Donovan McNabb. Days later, the Redskins traded their own sixth-round pick to the Cardinals in a package for running back Tim Hightower, so in the end, they moved up four spots in the sixth round and no longer have their original sixth-round pick.
With the acquired pick, the Redskins drafted at another position of need: inside linebacker. Franklin was a very productive inside linebacker at Arkansas, and he can provide much-needed depth at the position.
How would you grade the Redskins' selections in the BR Community Draft?
Franklin may never be a starting-caliber NFL inside linebacker, but he was good value in the sixth round, and addressed the Redskins' most significant remaining need.
Round 7, Pick 215 (from Miami Dolphins): Tramain Thomas, FS, Arkansas
The Redskins traded their own seventh-round pick in the move up with the Patriots, but had acquired the selection two spots later in their trade down with the Dolphins. With that pick, the Redskins chose to focus on their biggest unaddressed need position, safety, and drafted the best safety available in Tramain Thomas.
Thomas was the big playmaker in the Arkansas secondary, a solid all-around safety with a knack for coming up with big plays in opportune situations. Thomas will likely only be a backup at safety, but he should be an effective special teams contributor and is a good pickup in Round 7.
Based on his sheer value, the Redskins originally had their sights set on Baylor nose tackle Nicolas Jean-Baptiste with this pick, who would provide depth on the defensive front. That said, the Redskins needed to spend more than one draft pick on the secondary, so drafting a safety with good value made the most sense.
Full results of B/R Community Draft, featuring picks of all 32 teams and all seven rounds
---
Thanks for reading!
For more coverage of the 2012 NFL Draft, follow me on Twitter @Dan_Hope.

This article is
What is the duplicate article?
Why is this article offensive?
Where is this article plagiarized from?
Why is this article poorly edited?

Washington Redskins: Like this team?