2012 NFL Draft: Browns Could Still Trade Picks with Rams, Asked About Bradford
March 28, 2012

Joe Robbins/Getty Images
There are more headlines coming out of the owners' meetings to pass on, this time centering on the Cleveland Browns. 
First, Cleveland Plain Dealer reporter, Mary Kay Cabot, brings us some very interesting comments from St. Louis Rams head coach Jeff Fisher about the earlier talks with the Browns and the continuing potential for a trade. According to Cabot, Fisher called the failed talks with the Browns "fruitful" and reiterated that the Browns were a "potential trade partner." Fisher went into detail about the possibility of trading up to the Browns No. 4 pick:
"I don't know if we'd consider going that high. Those conversations aren't going to take place until draft day because your guy's got to be there. It'll be interesting to see what kind of compensation they want. We're very happy with the compensation we've got right now over the next couple of years.''
Who would be the "Rams guy"? Oklahoma State WR Justin Blackmon is a possibility, and Fisher did say that he could see another team trading up for Blackmon. Perhaps he would want to beat them to the punch. He also called the possibility of the Rams moving up or down "very realistic," so this could mainly be gamesmanship to keep all avenues open for movement within the first round of the draft. It's still a bit of a surprise to hear Fisher mention the Browns so prominently as a trade partner after Holmgren seemed peeved about Fisher and the Rams choosing to trade the No. 2 to Washington instead of Cleveland, implying that Fisher's relationship with Redskins coach Mike Shanahan was the deciding factor. Cleveland GM Tom Heckert's comments earlier this week that the Browns "going to get a really good player at number four, but (they) could still get a really good player at five, six, seven, eight too" only fuel the speculation that the Rams and Browns could be dance partners in the 2012 draft after all.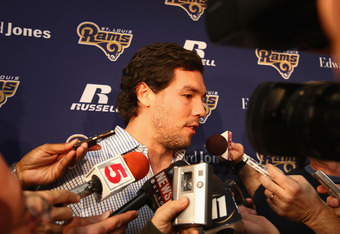 Dilip Vishwanat/Getty Images
Fisher also mentioned that teams had inquired about QB Sam Bradford, even though there "no consideration" on the Rams part to trade him. He wouldn't say whether the Browns were one of those teams, but Tony Grossi from ESPN Cleveland has sources who say the Browns did ask. No matter how many times Heckert says the Browns "are fine" with Colt McCoy at QB, their previous actions suggest otherwise. Oklahoma State QB Brandon Weeden and Texas A&M QB Ryan Tannehill remain strong consideration for the team in the first or second round.