2012 NFL Draft: 5 Offensive Studs Jets Must Target
Rob Carr/Getty Images

Unless the New York Jets think trading for Tim Tebow is going to fix their running game and the signing of former Oakland Raiders receiver Chaz Schilens is the cure for their passing woes, they must look to target multiple offensive players in the draft.
With Plaxico Burress leaving in free agency, the Jets will be left with a wide-receiver corps featuring locker- room cancer Santonio Holmes, second-year player Jeremy Kerley, the under-assuming Patrick Turner, who had a total of eight receptions last season, and the recently signed Schilens.
Last season New York's passing game ranked 21st in the league. The leading receiver was tight end Dustin Keller with 65 receptions, followed by Santonio Holmes with 51.
Mark Sanchez simply needs more blue-chip weapons. He especially needs a prototypical, tall deep threat who can complement the shorter Holmes and Kerley. He also can use a red zone target with the departure of Burress.
The once powerful ground and pound game that was the league's best just two seasons ago has fallen flat. Last season, the rushing offense ranked 22nd in the league with Shonn Greene taking over lead-back duties.
While Greene rushed for 1,054 yards, he does not appear to be the answer. An upgrade is needed, even more so when the depth chart consists of Joe McKnight and Bilal Powell.
The Jets are lucky that this year's draft class is deep at receiver, and they can find a serviceable running back in the middle rounds.
Here are five studs the Jets must target.
Begin Slideshow

»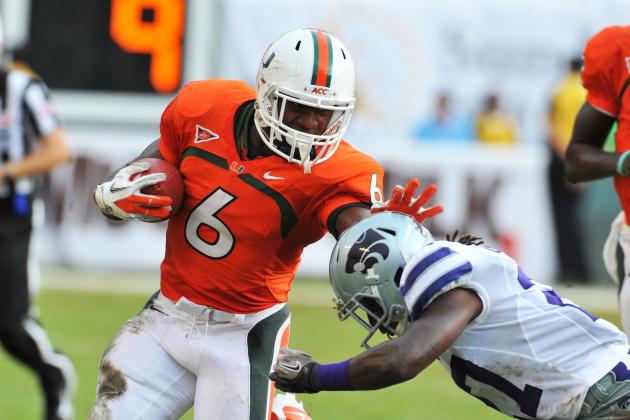 Al Messerschmidt/Getty Images

Lamar Miller is the second-best running back in the draft, behind only Alabama's Trent Richardson, who is projected to go in the top 10.
Miller is not that bad of a consolation prize if the New York Jets are willing to use their No. 16th pick on him. Although it might be a bit of a reach, Miller can come in and be the team's starting running back.
He is 5'11'' and 212 pounds, and showed his speed running a 4.40 40 at the combine. His time led all running backs. He also doesn't have much wear and tear since he only started one year at Miami.
Last year, Miller broke out as the 'Canes' lead back, running for 1,158 yards, averaging 5.4 yards per game.
He is a threat to take it the distance every time he gets into the open field and does not need a lot of room to get to top speed.
Still, to pick Miller at 16 may be a little high. The Jets will be better off trading down to get him at the end of the first round or early in the second.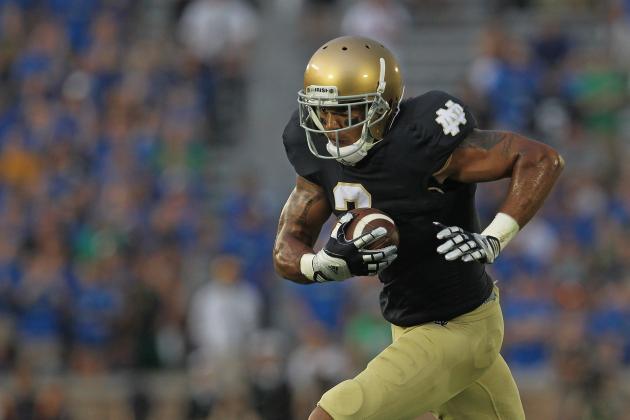 Jonathan Daniel/Getty Images

Michael Floyd, the 6'3'', 220-pound wide receiver out of Notre Dame, can be the perfect complement to Santonio Holmes and can become Mark Sanchez and the New York Jets No. 1 receiver for years to come.
Floyd has the size, the speed—4.47 40 at the combine—and the tools to excel on Sundays.
Last year at Notre Dame, he had 100 receptions for 1,147 yards and nine touchdowns.
Floyd has huge hands and can adjust to catch balls thrown above his head. He is also not afraid of going over the middle and has shown the ability to catch the ball in traffic.
He is ranked the second-best receiver in this year's draft. If he is available at 16, the Jets should not think twice.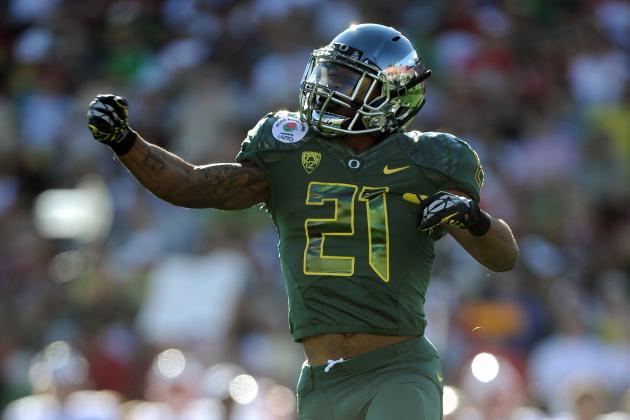 Harry How/Getty Images

Lamichael James is only 5'8'', but what he lacks in size, he makes up for in explosiveness. He is the home-run, change-of-pace back who can fit well with the between-the-tackles running game of Shonn Greene and the powering style of Tim Tebow.
Last year at Oregon, James rushed for 1,805 rushing yards and 18 touchdowns, averaging 7.3 yards per carry.
Just like Lamar Miller, he has the speed, 4.5 40 at the combine, to break out for a big run every time he gets past the first wave of defenders.
James also has decent catching ability. He had 17 receptions in each of his last two years with the Ducks.
While Miller is a borderline first- or early second-round pick, the Jets can get more value if they can snag James in the third round.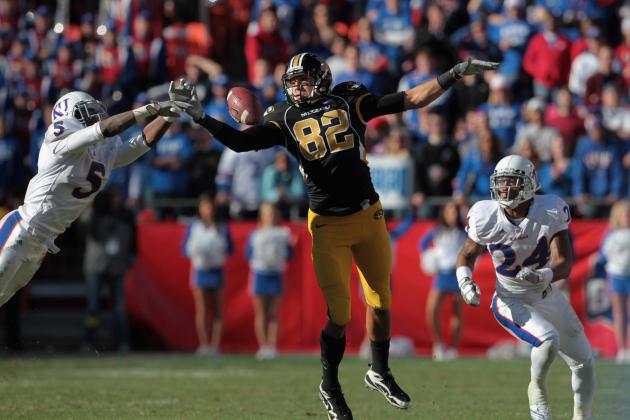 Jamie Squire/Getty Images

The New York Jets need their version of New England Patriot Rob Gronkowski, and Missouri's Michael Egnew can be it.
Egnew is a 6'5'', 252-pound tight end who is too big to be covered by a cornerback or safety and too athletic to be covered by most linebackers. He is a matchup nightmare just like Gronkowski.
Tight end Dustin Keller paired with Egnew would present opposing defenses with a major problem and give Mark Sanchez two more options to throw to on a given play.
Egnew can also line up as a receiver in the red zone. His height already complicates covering him, but he also has major jumping ability. At the combine, he led all tight ends in the vertical jump with a 36-inch leap.
He will have to learn how to block better at the next level.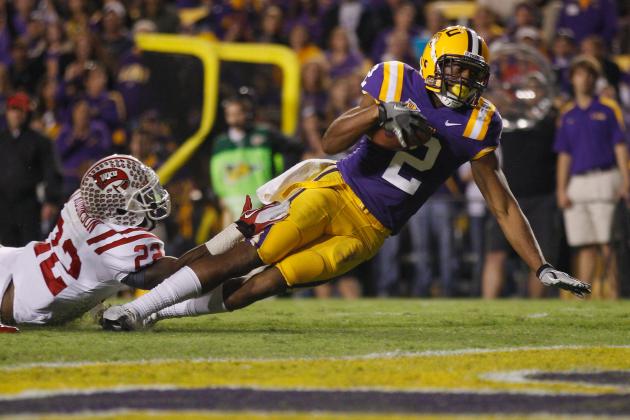 Chris Graythen/Getty Images

Rueben Randle is a 6'3'', 210-pound receiver out of LSU who is not a finished product. If the New York Jets draft him, they would do so for what he can become.
He has the ideal size and enough speed to be that prototypical receiver the Jets need.
Randle was the No. 1 receiver at LSU and was able to be productive despite inaccurate QBs and being in a more run-oriented offense.
Last year, he had 50 receptions for 904 yards with eight touchdowns. He is a legitimate deep threat who averaged 18 yards per catch.
Randle should be comfortable with New York's offense which somewhat mirrors LSU's, with an inaccurate QB and play-calling leaning more to the run.
If he's available in the middle rounds, the Jets should think about selecting him.