Weary Suitors of Tim Tebow: Who Is Ready to Take the Gamble?
March 20, 2012

Jim Rogash/Getty Images
The Peyton Manning saga is over. Manning is confirmed to have signed a five-year, $96 million dollar deal with the Denver Broncos and will be announced as the Broncos new quarterback this afternoon.
What does this mean to the NFL and its fans? Tebow Time is likely over in Denver, and now we must move from the Manning saga to Tim Tebow.
Tim Tebow is an interesting case for this year's offseason. Tebow electrifies football fans across the country like no other. There is no doubt that Tebow can bring attendance up in almost any stadium in the NFL. The main concern with Tebow is whether he can be a quality starting quarterback in the NFL.
Tebow's style of play is different than most quarterbacks; he relies more on his running game than his passing game. Quarterbacks like Cam Newton and Michael Vick have their fair share of running plays, but they can also fire a ball down the field for long yardage. Tebow has yet to really show this side of play, which brings a lot of doubt to his capability to lead a team as a QB.
So who would benefit from bringing Tim Tebow onto their squad? Here are a few of the top contenders that could pursue Tebow Time:
2011: 4-12, fourth place in AFC North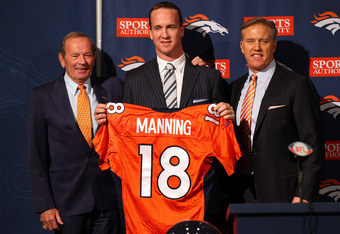 Justin Edmonds/Getty Images
The Cleveland Browns are a bit of a disaster. They have had two seasons above .500 since the team returned to Cleveland in 1999. Current QB Colt McCoy has not progressed in his development as a NFL quarterback as quickly as the Browns would like.
The Browns also saw the departure of their lead running back this offseason. Peyton Hillis signed for one year with the Kansas City Chiefs.
The Browns could benefit from Tebow's style of play, whether having him as a starting QB or alternating plays with Colt McCoy. If anything, McCoy may finally step up his game with the starting job on the line and having Tebow involved in more plays as a running back. To put it bluntly—Cleveland has to do something to have a chance of ending a season over .500.
2011: 5-11, third place in AFC South
Jacksonville drafted Blaine Gabbert with the 10th overall pick in the 2011 NFL Draft and was expected to sit behind starter David Garrard. This did not last as Garrard went down with a season ending back injury, putting the starting quarterback role in Gabbert's lap.
I wouldn't say Gabbert's rookie campaign was flat out terrible...but it wasn't great either.
Gabbert hovered just above a 50 percent completion percentage, while posting a dismal 12 TD to 11 INT ratio. This wasn't all Gabbert's fault, as the receiving squad in Jacksonville is sub-par at best. Even so, it is hard to brush off the fact that tight end Marcedes Lewis went from 10 TD in 2010 with Garrard to 0 TD in 2011 with Gabbert.
The Jags have no issue with their running game with Maurice Jones-Drew at the helm, but it also wouldn't hurt to have Tebow there as a dual threat. He wouldn't bring much to the passing game, but let's face it, the state of Florida loves Tim Tebow. With a new owner in Jacksonville, there is a high chance that he may bring in Tebow to fill empty stadium seats. Who knows, maybe we will see a totally different Tim Tebow in a more familiar, comfortable environment.
2011: 3-13, fourth place in NFC North
There are a few things to be said about the Minnesota Vikings. One, they play in a very tough division (the Packers, Lions and Bears all finished at .500 or better). Two, it appears that the whole team depends on the performance of Adrian Peterson, making the weight Peterson carries on his shoulders an unbearable load.
The Vikings, like the Jags above, drafted a quarterback early in the 2011 NFL Draft, taking Florida State QB Christian Ponder 12th overall. Ponder started 10 games in his rookie season and finished with a QB rating of just above 70 and ending with under 1,900 passing yards, 13 TD and 13 INT. He was also sacked 30 times, which is quite high given that Ponder didn't even start two-thirds of the Vikings games.
It's early to give up on Ponder, but adding Tebow could bolster the Vikings so they can have a chance to compete with the big guns in the NFC North.
Adding Tebow would invigorate the QB role and take some of the pressure off of Adrian Peterson.
The Pats have one of the worst running games in the NFL currently, illustrated by dismal performances from 2011 lead backs Green-Ellis and Ridley. Tebow wouldn't be playing the QB role in New England unless the Pats have a lead that can't be blown. The Pats could only benefit from Tebow's running ability and some heavy persuasion from offensive coordinator Josh McDaniels.
Kansas City Chiefs
Matt Cassel hasn't really lived up to his contract since he transitioned from the Patriots' backup QB to the Chiefs' starting QB. Being consistent has seemed to be an issue with the Chiefs' QB, and last year he fell to injury midway through the season.
Kyle Orton was brought in as a stand-in quarterback, performed rather poorly and has now moved on as the Dallas Cowboys backup to Tony Romo.
The Chiefs have Jamaal Charles (out all of 2011) and Peyton Hillis (personality issues) at RB, and it could help to bring Tebow into the mix to either bring more strength on the ground or force these two to perform.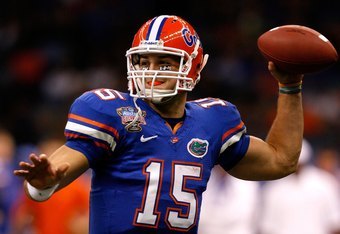 Matthew Stockman/Getty Images
With Matt Flynn leaving, the Packers have an empty spot for Aaron Rodgers' backup. This, and a combination of an average running game (shared by Grant, Starks and Kuhn), could put Tebow in a beneficial spot. He could spend a year or two learning the quarterback position behind Rodgers, assist the Packers with their running game and hopefully learn the tools to make him a quarterback more teams could feel comfortable showing interest in.
Denver Broncos
The Broncos will have no use for Tim Tebow as quarterback with Peyton Manning taking the helm. The Broncos also have a solid RB duo of Willis McGahee and Lance Ball. The reason Tebow may stay here with the Broncos and supplement the running game could be that the Broncos won't be able to unload Tebow to any other team.
Locked QB Matt Flynn and RB Marshawn Lynch in multi-year contracts.
QB Joe Flacco has brought them to the playoffs in every season of his career, and they also have Ray Rice at RB.
Gave QB Sanchez a ridiculous contract extension, and the New York media would destroy Tebow.
QB Carson Palmer is settling in and are already strong at RB (McFadden and Bush).
They just won the Super Bowl.
Michael Vick and Tim Tebow play the same style, but Vick throws better.
See above, and then add the three running backs that give no room for Tebow (Williams, Stewart and recently added Tolbert).
Do they really want to give something else for Drew Brees to whine about?
They seem pretty comfortable having their average quarterbacks Kevin Kolb and John Skelton battle out for the starting role.