2012 NFL Draft: St. Louis Rams Should Trade for Mike Wallace
March 19, 2012

Karl Walter/Getty Images
Mike Wallace had a phenomenal season racking up almost 1,200 yards and eight touchdowns over 72 receptions. He is the type of wide receiver that can get behind defenses and gain extra yards after the catch with his breakaway speed and agility.
Mike Wallace is a very gifted receiver and can easily make any wide receiving corps much better.
The St. Louis Rams have a serious need at wide receiver. After the recent departure of Brandon Lloyd to the New England Patriots, the Rams are left without a No. 1 receiver.
My solution is that the Rams should trade their sixth overall pick (acquired from the Washington Redskins) for Mike Wallace and the Pittsburgh Steelers 24th overall selection.
Does this trade make sense? Yes, let's analyze both teams.
St. Louis Rams
The Rams would upgrade their arguably biggest need by trading for Mike Wallace and would still be able to select in the first round later in the draft.
One could argue that the Rams could use their selection on Justin Blackmon from Oklahoma State.
Yes, Blackmon is an intriguing prospect, but if the Rams executed this trade with the Steelers they would not only resolve their need for a No. 1 receiver, but could also resolve their need for a No. 2 receiver by drafting Alshon Jeffery or Stephen Hill with the 24th selection.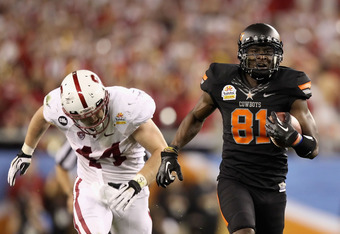 Christian Petersen/Getty Images
Additionally, Blackmon may not even be available by the time the Rams select at sixth overall. The Cleveland Browns are in desperate need for playmakers. They may draft Ryan Tannehill at fourth overall, but they could just as easily use this selection on Blackmon.
Also, the Rams missed out signing any key wide receiver free agents this offseason. There were rumors that they were in discussions with Mario Manningham, but he signed with the San Francisco 49ers instead of the Rams.
Lastly, with the 24th selection, the Rams could even use it to improve the interior of their offensive line with someone like Cordy Glenn from Georgia or Kelechi Osemele from Iowa State. This would help Jeff Fisher and Stan Kroenke protect their $86 million investment from further punishment.
Pittsburgh Steelers
 First of all, the Pittsburgh Steelers tendered Mike Wallace for a first-round selection.
The Rams' sixth overall pick is worth 1,600 points on the NFL Draft Value Chart. The Steelers' 24th overall pick is worth 740 points. The difference between these two picks is 860 points. 860 points is roughly the 19th or 20th pick in the first round, so this would count as a mid-first round selection.
Secondly, the Steelers need to clear up cap space. This would help remedy this issue, while getting enough value to make the trade worthwhile for them.
If the Steelers executed this trade, they could draft help on their offensive line by drafting an offensive tackle like Riley Reiff or drafting a much needed nose tackle like Dontari Poe who shot up draft boards after his fantastic combine by running a 40-yard dash of 4.87 seconds and benching 225 lbs 44 times.
This trade makes sense for both teams, whether it will ever happen is a topic for another discussion.
Let me know what you think, and I thank you in advance for your comments.