Cleveland Browns Retention Rate in Past Drafts: How Have the Browns Fared?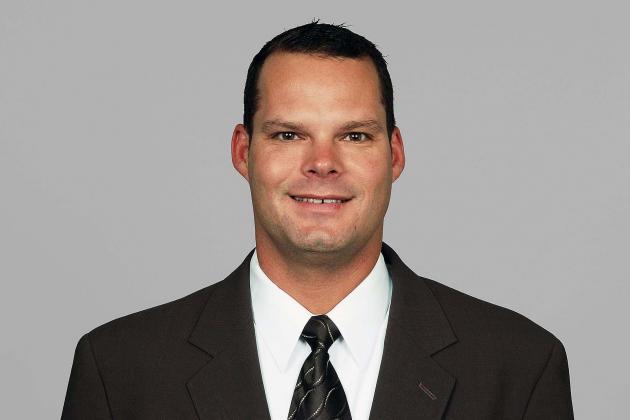 Getty Images/Getty Images
Tom Heckert, General Manager of the Cleveland Browns
As any sane sports fan would know the Colts released Peyton Manning after 14 years of hard work and loyalty to the franchise and the city.
As the whole world (even the factory of sadness) watches at the edge of their seats this week for Peyton Manning to choose between the 49ers, the Broncos, and the Titans, I got to thinking, do the Browns have any players on their roster from 14 years ago? 10 years ago? five years ago???
Well, I have decided to go through the past five drafts and try to guess how many players from each draft are still on the team. For all of you Browns fans reading, play along and post how well you do in the comment section (don't cheat), and see how you do compared to me.
Before writing this, I asked a friend with a laptop to sit across from me with all the draft picks from the last five drafts so that I am not tempted to cheat and he can give me the number of picks to make it more fair.
Going in chronological order starting with the 2011 draft with eight picks, Tom Heckert struck gold on some big name players such as Phil Taylor and Jabaal Sheard. As usual with most general managers, Tom Heckert will give each pick at least one year to prove they belong.
Guess eight of eight.
Begin Slideshow

»
Matt Sullivan/Getty Images
Jabaal Sheard tackling Rookie QB Blaine Gabbert
| | |
| --- | --- |
| Players | Still with the Team |
| Phil Taylor | Yes |
| Jabaal Sheard | Yes |
| Greg Little | Yes |
| Jordan Cameron | Yes |
| Owen Marecic | Yes |
| Buster Skrine | Yes |
| Jason Pinkston | Yes |
| Eric Hagg | Yes |
In the 2011 NFL Draft, the Browns Selected:
Woot!
I have made it past the easy round with an 8/8, hope you are doing well.
Total 8/8
Now on to the 2010 NFL draft.
In 2010, Tom Heckert started his first year as GM for the Browns with eight picks. With a small hint from my glorious memory, the Browns drafted Joe Haden with their first pick, T.J. Ward with the second and Larry Asante (another SS) with a late pick. Now, before I give the rest of the draft away, I know Larry Asante is not on the team.
Guess 7/8.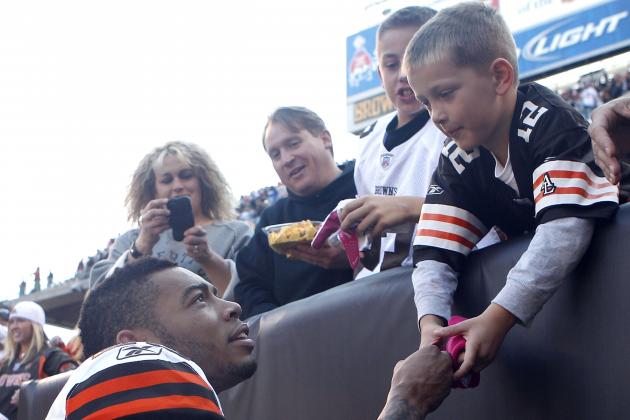 Matt Sullivan/Getty Images
Joe Haden 2010 first round pick
| | |
| --- | --- |
| Players | Still with the Team |
| Joe Haden | Yes |
| T.J. Ward | Yes |
| Montario Hardesty | Yes |
| Colt McCoy | Yes |
| Shawn Lauvo | Yes |
| Larry Asante | no |
| Carlton Mitchell | Yes |
| Clifton Geathers | no |
In the 2010 NFL Draft, the Browns Selected:
Well it may not have been a perfect score but I did get 7/8 missing on the Clifton Geathers being released.
Total 15/16 correctly guessed.
Now to the 2009 draft.
In this draft, we had the whole Mangini and Kokinis thing going on (before they said Kokinis went insane) and to my picture perfect (yea right) memory, this draft was remembered for the multiple first round trade downs to pick up multiple second round picks and Alex Mack with the first round pick. There were a total of 8 picks again and with the hint of the trade downs I believe that the Browns kept only 4 of the 8 picks from that draft.
Guess 4/8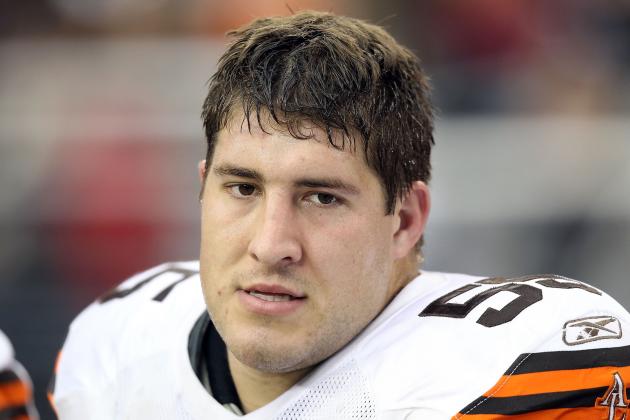 Christian Petersen/Getty Images
Alex Mack, first round pick for the Cleveland Browns
| | |
| --- | --- |
| Players | Still with the Team |
| Alex Mack | Yes |
| Brian Robiskie | no |
| Mohamed Massaquoi | Yes |
| David Vekune | no |
| Kaluka Maiava | Yes |
| Con Carey | no |
| Coye Francies | no |
| James Davis | no |
In the 2009 NFL Draft, the Browns Selected:
Wow I thought I was being harsh with 4/8 and I was one off. Well I guess we can say that Mangini can not draft well. I think we will just move on and forget this draft ever happened.
Total 22/24 Correct Guesses.
On to the 2008 NFL Draft:
Going into the 2008 NFL Draft, Browns fans were feeling true optimism after the Browns reached 10 wins and actually looked like a contending team since their return in 1999. Savage traded many of our picks to get players that are no longer on our team (Shaun Rogers, Cory Williams). For the life of me, I can not remember a single person coming out of this draft. In the 2008 NFL Draft, the Browns had only five picks.
Guess 0/5.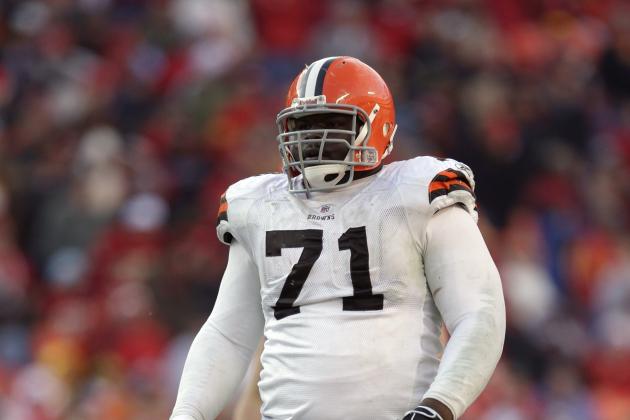 Jamie Squire/Getty Images
Ahtyba Rubin, 6th Round pick in 2008 Cleveland Browns

no
| | |
| --- | --- |
| Players | Still on the Team |
| Beau Bell | no |
| Martin Rucker | no |
| Ahtyba Rubin | Yes |
| Paul Hubbard | no |
| Alex Hall | no |
In the 2008 NFL Draft, the Browns selected:
Yay! Savage did better than I thought, he did find Ahtyba Rubin who has really excelled for only being a sixth round pick. Hopefully, no one tells Rubin that I forgot him, I do not want him chasing me down.
Total 26/29 Guessed Correctly
2007 NFL Draft:
In the 2007 Draft, the Browns found themselves picking the best left tackle in all of the NFL (while he enjoyed the day fishing) in Joe Thomas. In addition, they thought they found themselves a franchise Quarterback in Brady Quinn. I still remember the subway commercials.
In this draft there are seven picks and for sure you know one was a hit and one was a bust. I will say two picks to make myself feel better, because as a Browns fan you need all you can get.
Guess 2/7.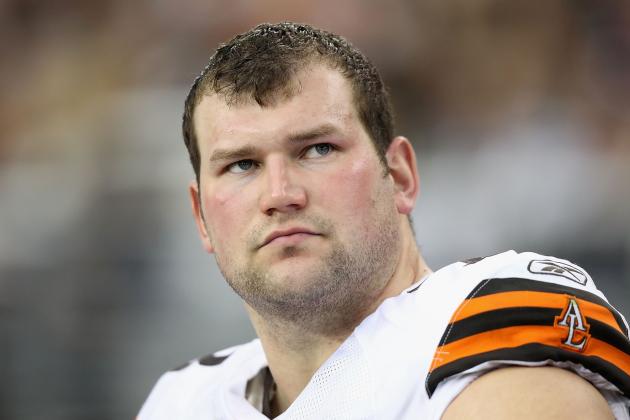 Christian Petersen/Getty Images
Joe Thomas 3rd overall pick in 2007 draft Cleveland Browns
| | |
| --- | --- |
| Players | Still on the Team |
| Joe Thomas | Yes |
| Brady Quinn | no |
| Eric Wright | no |
| Brandon McDonald | no |
| Melila Purcell | no |
| Chase Pittman | no |
| Syndric Steptoe | no |
In the 2007 NFL Draft, the Browns selected:
As I recall, some of these players such as Eric Wright and Brandon McDonald, I remember only one thing: Touchdowns.
And as a Browns fan you know we weren't the one scoring. To think, after watching Eric Wright play horribly in Cleveland, he is now playing for Tampa Bay for 37.5 million.
Total 32/36 correct guesses.
Not too bad that would be an 89 percent, which is a B+.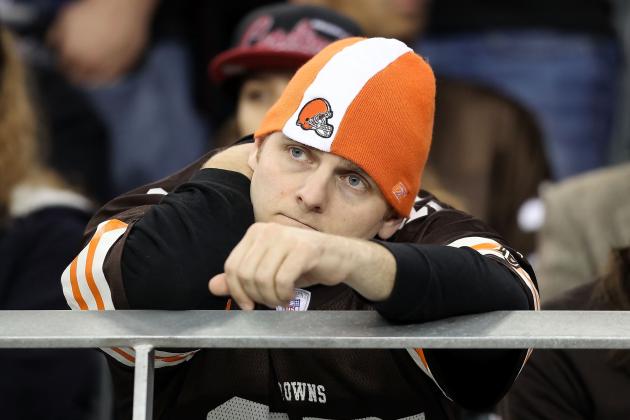 Christian Petersen/Getty Images
Sad Browns fan
Now that the game is over and I did OK for a Browns fan, lets look at what this all means.
In the last five drafts there are only 19 of the 36 picks still around. Which isn't as bad as it looks, but with closer analysis, you can see that out of those 19, 14 of them are from the last two drafts under Tom Heckert. While there are only five players left from the last 3 drafts.
If you go back farther than just five years, even to the return of the Browns in 1999 (excluding the last two drafts with Tom Heckert) there are only six players on the roster that were drafted by the Browns with D'qwell Jackson being drafted in the sixth year.
That number alone gives a major indication on why the browns have been so poor over the years. To think, Peyton Manning has played for one team longer than the browns have been back.
As long as Heckert stays on this path and keeps finding playmakers in the draft, the Browns should soon be contenders once again.
If the last two years are any indication, the Browns look to be going in the right direction even if it is at a glacial pace. Cheers to that undying hope that Browns fans have that someday we can be proud to have a Brownie last for 14 years.