Oakland Raiders: Under-the-Radar Players That Can Contribute in 2012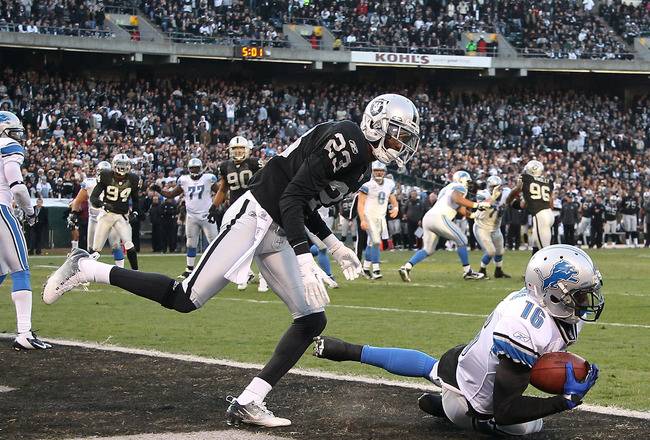 Ezra Shaw/Getty Images
So far in free agency, the Raiders have been bargain shoppers.
General manager Reggie McKenzie has done his due diligence in helping the team get in salary cap compliance. Due to "out of whack" contracts of the past, the Raiders are not exactly in good shape in cap terms.
McKenzie had to cut ties with some players who were on what fans like to call "the Al Davis Scholarship." Players of great athletic ability, or former first-round picks who have not played to their ability, but still had big paychecks.
Starters Stanford Routt, Kamerion Wimbley, and Kevin Boss, all were given directions to the nearest exit.
Some saw the light, jumped on McKenzie's good side and restructured their deals.
The Raiders took a similar approach in the NFL draft. With very few picks, McKenzie did what he felt was best when choosing under-the-radar players with very high upside.
With the release of many starters and some overpaid backups, the Raiders definitely are trying to fill their roster heading into 2012. While there are holes to be filled, this leaves an opportunity for some under-the-radar talent to step up in big ways.
Brandon Underwood, CB/S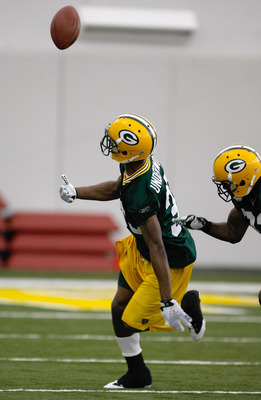 Scott Boehm/Getty Images
Almost immediately after the Raiders cut Stanford Routt, they made the acquisition of Brandon Underwood.
With an already depleted secondary, local media jokingly gave Underwood a starting job for the Raiders. Obviously, that is not the case as the Raiders have signed veteran corners in Ron Bartell and former 49er Shawntae Spencer. Yet, neither are a long-term solution to the position.
Still, Underwood has a shot to be a starter if he can impress in training camp. Especially with his versatility to play safety. However, with the Raiders not drafting any corners in the draft, I think Underwood will be tested at the position.
If McKenzie has made any deal that would make Al Davis proud, it would be in Brandon Underwood because he does have potential.
There is not much to report on with Underwood other than his measurables, rap sheet and possible mug shot.
Underwood was drafted in the sixth round of the 2009 NFL draft by the Green Bay Packers. He has not done anything yet in his short career other than make the news for domestic violence against his wife. Though his wife has said things were blown out of proportion, that is always a bad sign.
McKenzie, however, must see some promise in the young corner, and at 6'1 195lbs with 4.3 speed, I can see why.
Underwood has an uphill battle, but the opportunity is there to not only make the team but to start as well.
David Ausberry, TE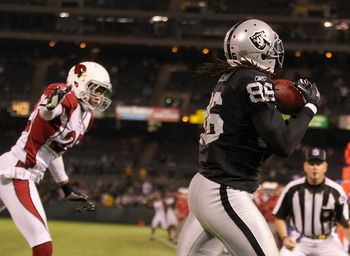 Ezra Shaw/Getty Images
David Ausberry had no impact at all in his rookie season, which is shocking considering he had the best preseason of any tight end on the roster. Sometimes, though, it is the contract that dictates the starter and not the talent.
Kevin Boss was given the starting spot almost by default. Ausberry was and is still pretty raw as a tight end, being that he used to play wide receiver. Richard Gordon was moved to fullback due to injury and Brandon Myers is, well, Brandon Myers. The addition of Andre Hardy is intriguing, but I don't see him being the next Antonio Gates.
Ausberry brings a certain kind of athleticism to the tight end position that a lot of teams are looking for these days; a guy that can run tight end routes like a receiver in the same vein as Jimmy Graham and Aaron Hernandez.
I am not sure if Ausberry will ever be as good as those guys, but he will most definitely get his shot to prove it in 2012.
One of the reasons his rookie season was not so good was because the Raiders' offense was not dependent on the tight end position, unlike the Zach Miller era. That will change with Greg Knapp's offense.
At 6'3 245lbs, Ausberry moves with some fluidity, so keep an eye out for him in 2012.
Honorable Mention: Richard Gordon, TE.
Gordon never really impressed me in the preseason until the last week against the Seattle Seahawks. He made a few impressive catches on third down. In the regular season, he was a pretty good blocker and showed versatility moving to fullback until his injury.
Demarcus Van Dyke and Chimdi Chekwa, CB
Ezra Shaw/Getty Images
I decided to share a slide for Demarcus Van Dyke and Chimdi Chekwa. I typically do not like doing this as I prefer to analyze each player individually. But Van Dyke and Chekwa are so similar, this was the best way to do it.
Both are lengthy corners with very good potential. They were rookie draft mates who many believe to have been picked too early in the draft, and both saw their rookie seasons cut short due to injury.
Of the two, Chekwa seems to have an edge over Van Dyke, but not a big one. They both could gain some weight for their position and could stand to improve their technique. But Chekwa seems to always be in a bit better position than DVD. Which is why I give him the edge.
But DVD is not a lost cause. His preseason in 2011 is remembered for being Larry Fitzgerald's practice dummy. But he was actually in very good position on that play. Same goes for when he was up against Marques Colston in week three of the preseason. We have to remember those two make pro bowlers look bad.
In the regular season, Van Dyke did get a bit better. He had some strong games against the Cleveland Browns and the Kansas City Chiefs, but he has to get over the fear of turning his head when the ball is in the air.
With the Raiders signing Ron Bartell and Shawntae Spencer, Van Dyke and Chekwa could still be backups in 2012.
However their value will come if they can improve and become nickel corners. If so, not only will they both be on the field a lot more, but suddenly this poor secondary can become a lot more scary.
Eddie McGee, WR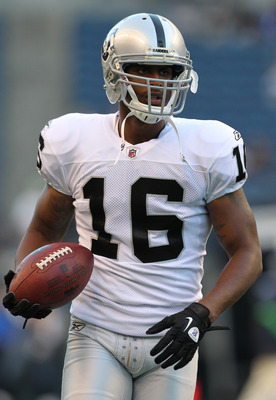 Otto Greule Jr/Getty Images
Eddie McGee, never heard of him? Me either until I saw an episode of "Raiders: Unplugged" on Comcast Sportsnet.
There, his fellow wide receiver teammates gave him a bit of spotlight by saying he will be a great one. I understand that is just good teammates being good teammates and I'm not expecting McGee to blow up the NFL in 2012, but it did interest me enough to do some research on him.
McGee was a receiver at the University of Illinois. Due to some injuries, he had to make the switch to quarterback. He wasn't exactly Andrew Luck, but he was not terrible.
Because he had to do a lot of switching between positions, McGee's stats are not that impressive at either position, but in true Al Davis fashion, the Raiders took a chance on an athlete.
McGee stands 6'4, 210lbs with 4.4 speed. Not too shabby.
He was on the practice squad for the entire 2011 season. There were rumors that former head coach Hue Jackson was flirting with promoting him to the roster a few times in the regular season. Particularly when Denarius Moore was injured. However, with the signing of Carson Palmer came the acquisition of T.J. Houshmandzadeh.
Well, now it is McGee working with Palmer this offseason. And that will go a long way in McGee making this team, because there is a spot for him.
The emergence of Moore and the progression of Darrius Heyward-Bey has made the receiver position less of a need, but the Raiders still need a red-zone threat.
McGee at least has a chance to be that piece of the puzzle.
Juron Criner, WR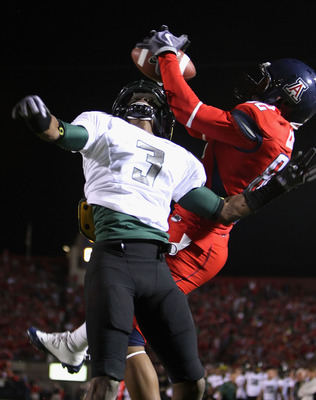 Christian Petersen/Getty Images
Juron Criner is the only 2012 draft pick I have on this list. Not because I think he is the only pick that will contribute, but because he is the most unique draft pick from this class.
The Raiders decided to draft size and body control over speed. Because of that, Criner may come into training as one of the Raiders' more natural receivers next to Denarious Moore.
I still think Moore and Darrius Heyward Bey will be the starters. Jacoby Ford may be too unique of an athlete to cut and, if I am right about Eddie McGee, that could mean Louis Murphy is the odd man out.
But there is room for all six receivers depending on how much the Raiders value the position.
Criner in particular is not going to be a speed demon like the rest of the receivers on the roster. However, he has reliable hands and exceptional body control, and he plays a whole lot faster than he times.
Keep in mind Larry Fitzgerald and Andre Johnson did not clock fast forty times, but on Sunday, it seems no corner can keep up, and like Fitzgerald and Johnson, Criner may be at his best in jump ball situations.
I'm not putting Criner in that category just yet. Honestly, I would compare him to Braylon Edwards, only with better hands in my opinion.
Taiwan Jones, RB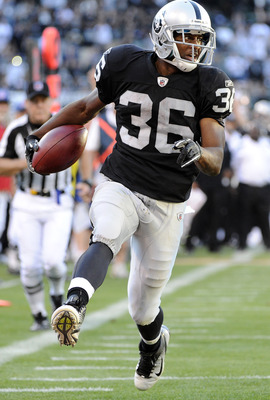 Thearon W. Henderson/Getty Images
Taiwan Jones is probably the fastest player in the NFL. The guy can run a 4.3 in his sleep, and probably faster than that when he's awake.
Jones was exciting in the 2011 preseason, but injury hurt his production and bothered him in the regular season as well.
With the safety net that was Micahel Bush gone, Jones will get a shot at the No. 2 running back spot with competition against Mike Goodson. Jones and Goodson both are considered speed backs who have break away speed. In terms of power, Goodson has an edge over Jones, yet Jones is a willing tough guy.
Jones is going to be an interesting weapon in this zone blocking scheme. I can just imagine how defenses are going to react when he and Darren McFadden are on the field at the same time.
The San Fransisco 49ers drafted LaMichael James in the draft, and I think Taiwan Jones will be used in the same vein whether he is the second or third running back.
Keep Reading

Oakland Raiders: Like this team?