San Francisco 49ers Free Agency: Have the 49ers Changed on Keeping Alex Smith?
March 16, 2012

Thearon W. Henderson/Getty Images
In a sudden turn of events, I heard Adam Schefter (on ESPN) report that the San Francisco 49ers have now entered the Peyton Manning "sweepstakes."  I find this move incredibly interesting for a number of reasons.  
The news of San Francisco's interest in Manning comes at a time where the Arizona Cardinals have eliminated themselves from the "sweepstakes."  If the Cardinals did not think they had a legitimate shot at getting Manning, then they would go-ahead and pay Kevin Kolb the 7 million-dollar bonus they owed him.  
And today, the Cardinals payed him.
The 49ers may have seen the door open for them as they anticipated that the Cardinals would indeed be paying Kolb.  And so, rather than seeing his options narrowed down to two teams (Tennessee and Denver), he's back to deciding between three.
Coincidentally, I just recently wrote an article about how the San Francisco 49ers would most likely re-sign Alex Smith because they initially claimed that they were committed to Smith.  And because of their commitment to Smith, the 49ers were not interested in participating in the Peyton Manning "sweepstakes."  
This, of course, is no longer true.
One of the most interesting things that I find about this story is the strange position that San Francisco has managed to put Alex Smith in.  
San Francisco made a bold move today.  By expressing their interest in Manning, they have not only contradicted themselves, but they have changed the perception of how Smith's contract negotiations are really going.
There have been some setbacks to Smith's re-signing.  Smith's agent and the 49ers were apparently still discussing some of the "minor details" of the contract, but for the most part, Smith would be back with the 49ers (at least, that's what the rumors said).  
However, now I'm under the impression that these minor details aren't so minor after all.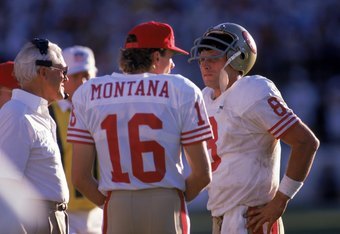 George Rose/Getty Images
I thought that one of the setbacks of the contract could've been that Smith wanted a longer contract with the 49ers.  The contract the 49ers offered him was only for three years. Word is Smith wants to be in San Francisco for a little longer than that.  
Now the fact that the 49ers are now looking in to getting Manning raises some more interesting questions: Are the 49ers no longer committed to Alex Smith?  If not, could it be because of Alex Smith's desire for a longer contract?  And if so, could this have anything to do with a belief that Colin Kaepernick would be a better back up to Manning than to Alex Smith?
The last question is the one that I can't help but obsess over, and it leads me to consider an important thought about this situation.  
If Smith wants to stay longer in San Francisco, then that might ruin the plans for the 49ers to eventually hand the keys over to Kaepernick.  This, of course, assumes that the 49ers do think Kaepernick is the future.  
And I'm not sure if that's the case.  
But perhaps the 49ers are trying to learn from their past history.  We all remember what happened when Joe Montana's former backup, Steve Young, replaced Montana; Steve Young ended up having a great career in San Francisco.  
By bringing in Manning and having Kaepernick (or some other younger quarterback) as his back up, the 49ers might be hoping that history repeats itself.
Now, this is all speculation so I can't say that this is probably what the 49ers are thinking right now.  But I would like to end this with yet another question that hopefully you can all help me answer:
Whatever the 49ers real intentions really are with Manning, should we all forget about the commitment and confidence that we all thought the San Francisco 49ers had in Alex Smith?